The U.S. Economy Took a Big Hit During the Government Shutdown
A new report from the White House shows the damage of two weeks of partisan bickering in Washington.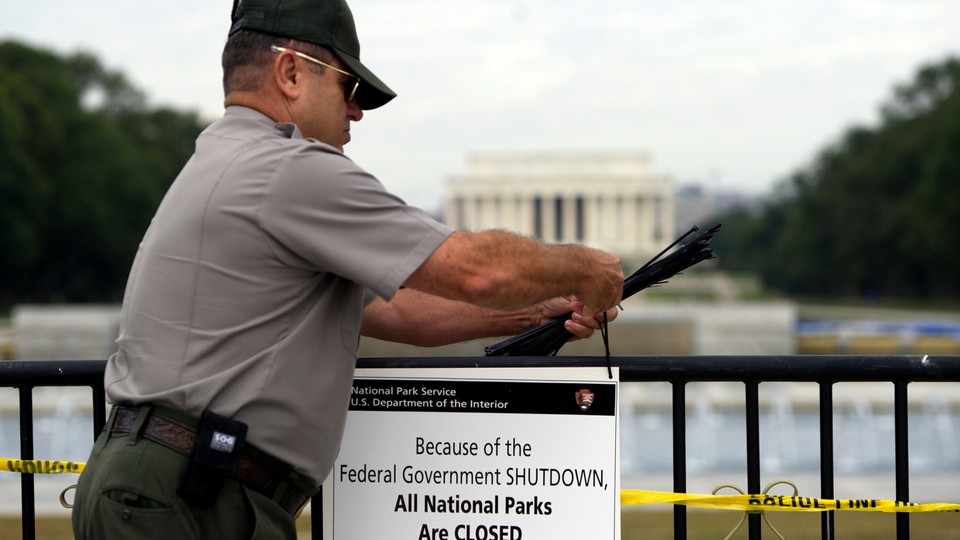 The White House on Thursday released some numbers on the economic impact of the October government shutdown, and they're bleak.
While the markets have made gains and the unemployment rate continues to drop, Obama administration officials warned that the economic impact of the government shutdown that lasted for the first two weeks of October would be severe.
"The report makes clear that the costs and impacts of the shutdown were significant and widespread, and demonstrates why this type of self-inflicted wound should not occur again," Sylvia Mathews Burwell, the director of the Office of Management and Budget, said in a statement.
Here are some of those numbers:
Federal employees were furloughed for 6.6 million combined days — the most of any previous shutdown.
At its height, 850,000 people were furloughed per day.
The federal government paid $2 billion to employees who were furloughed and not working during that time.
The Council of Economic Advisers estimates that the shutdown and debt crisis resulted in the creation of 120,000 fewer private-sector jobs in the first two weeks of October.
Almost $4 billion in tax refunds were delayed.
The Bureau of Land Management was unable to process about 200 applications for oil-drilling permits.
Two million liters of U.S. beer, wine, and distilled spirits were not shipped during that time because the Treasury Department's Alcohol and Tobacco Tax and Trade Bureau could not issue export certificates.
$500 million was lost in visitor spending in national parks and monuments.
The Small Business Administration couldn't process 700 applications for $140 million of small-business loans.
The National Park Service lost $7 million in revenue.
The Smithsonian Institution lost $4 million in revenue.
The Internal Revenue Service lost an estimated $2 billion in collections.
Burwell said in a statement that the shutdown could have long-term effects on the federal government:
The shutdown followed a three-year pay freeze for federal employees, cuts in training and support, and, for hundreds of thousands of workers, administrative furloughs earlier this year because of sequestration. These cuts will make it harder for the government to attract and retain the talent it needs to provide top-level service to the American people.
Earlier on Thursday, the Washington Metropolitan Area Transit Authority released some figures on how the shutdown affected the District's transportation system.
A $5.5 million loss in passenger fairs and parking revenue.
1.7 million fewer passenger trips during that time.