The Supreme Court Is Hearing Another Obamacare Challenge
Justices will take up a challenge to the rule that employer insurance must provide contraception right before the 2014 midterms.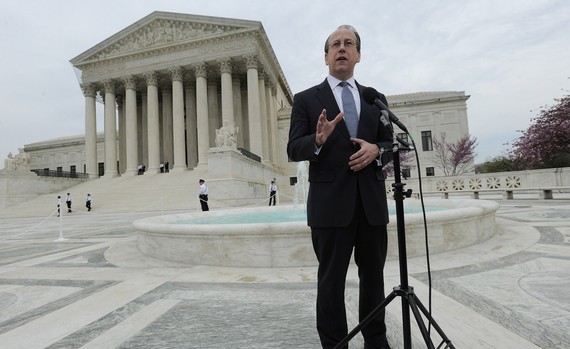 The Supreme Court agreed Tuesday to wade into another heated Obamacare case—and opened the door to a new round of "war on women" attacks ahead of the 2014 midterms.
The justices agreed to hear a challenge to the healthcare law's contraception mandate, which requires most employers to include contraception in their employees' health-insurance policies without charging a co-pay or deductible.
A ruling would likely come in June—just months ahead of midterms that could determine which party controls the Senate and thus the confirmation process for new Supreme Court nominees.
The politics of the contraception mandate have so far benefited Democrats. During the 2012 race, Obama made the policy the centerpiece of his defense of the unpopular healthcare law. And Democrats were able to wrap GOP criticism of the policy into a larger narrative that Republican Senate candidates were waging a "war on women."
The highest-profile challenges to the birth-control requirement come from for-profit companies whose owners say the policy violates their religious freedoms. Two federal appeals courts have tossed out businesses' lawsuits, saying corporations cannot exercise religion. The owners of the businesses could not sue because the mandate applies to their companies—not to them personally, those courts said.
But three federal appeals courts have allowed the cases to move forward and have ruled on the merits of whether the mandate infringes on religious liberty. All three have said, to varying degrees, that it does, and have shielded either corporations or their owners from complying with the coverage requirement.