The Real People Behind the Drop in Obama's Poll Numbers
The glitchy launch of ACA has led millions of Americans to have negative experiences that can't be undone—even when Healthcare.gov is up and running.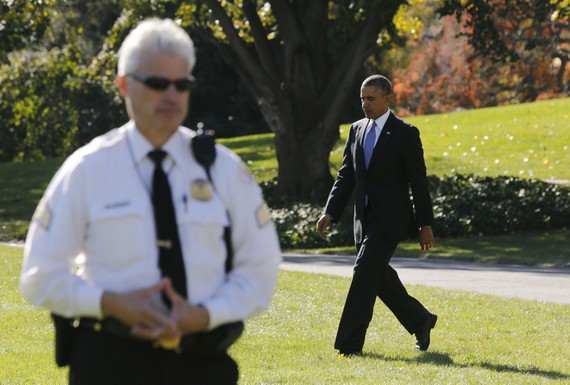 During campaign 2012 and early 2013, whenever people pointed out that the Affordable Care Act was not very popular, Team Obama and the White House would always push back with the same basic message: Just wait. Once people start getting the benefits of the program, their views will change. People will come around once they see how much the law does for them.
A month and a half after the start of open enrollment, a Washington Post/ABC-News poll show that views have, in fact changed—and become sharply more negative about the program.
Opposition to the new health-care law also hit a record high in the survey, with 57 percent saying they oppose the president's most significant domestic initiative. Forty-six percent say they are strongly against it. Just a month ago, as the enrollment period was beginning, the public was almost evenly divided in its assessments of the law.
CBS polling Wednesday put the number disapproving of the Affordable Care Act at 61 percent—a 12 point increase in negative views in just one month and a record-high for their poll—with "just one in 10 Americans" agreeing that "the sign-up for the exchanges has been going well."
Meanwhile, support for the president himself has reached record lows in poll after poll, largely because of the flight of independent voters and intensified distrust by conservatives.
"We obviously are going to have remarket and rebrand, and that will be challenging in this political environment," Obama said in remarks before the Wall Street Journal CEO Council Tuesday.
But the president isn't just having a marketing problem. While only 21 percent of the uninsured have visited a government health-exchange website, according to polling out Wednesday from Gallup, for the first time we have some hard data about what their experiences have been like. They've been as terrible as the anecdotes suggest:
Uninsured Americans who have visited a federal or state health insurance exchange website generally have been unhappy with their experience. Sixty-three percent of those who have visited say their experience using the health exchange was negative ...
A more detailed view shows the balance of intensity overwhelmingly on the negative side: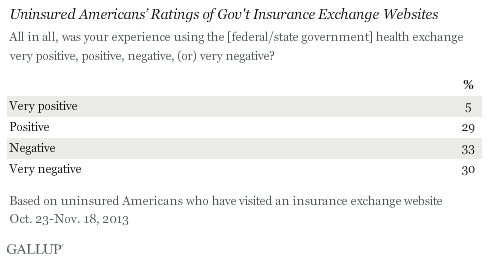 While it may be that "the product is good," as Obama has said—health insurance for anyone, regardless of preexisting conditions, and with subsidies for many—the products that insurance shoppers have to encounter first have been decidedly not good, according to those with experience of them. That goes for the state and the federal exchanges.
Also, the passage of the Affordable Care Act itself—along with the extraordinary years-long campaign against it—appears to have coincided with a decisive shift in American views about whether the government has an obligation to make sure everyone is insured. Reported Gallup on Monday: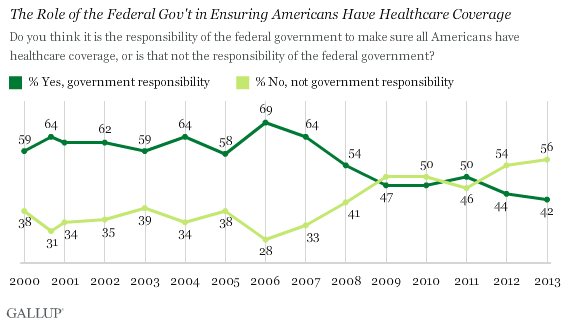 Put those two things together and it stands to reason some fraction of Americans are having negative experiences trying to use government websites to do something that they don't think the government should be in the middle of, period.
Nor has it just been the websites. The glitches across the system have run the gamut from call-center goofs to state-site issues to policy outcomes that seem unfair and will not be improved by the slow-and-steady repairs to Healthcare.gov.
In Colorado, a misheard security answer led to man's dog being signed up for insurance. In Washington state, a woman who was so excited upon learning she'd get substantial subsidies she wrote Obama a thank-you letter—one he quoted from in Rose Garden remarks—later discovered the state's exchange site had miscalculated for her (and about 8,000 other people) and that she was not subsidy-eligible after all. In D.C., congressional staffers are getting error messages when they try to use the DC Health Link site. In Maryland, the state exchange has been having technical problems, leading to low enrollment. In Oregon, no one has yet been enrolled a private plan because the state's exchange website has yet to launch, nearly two months into the open-enrollment period, forcing a reliance on paper applications.
And that's not even mentioning the millions of people who received notices that their existing individual-market policies no longer meet federal standards or would be cancelled for other reasons, forcing them to seek new insurance in a system not yet ready to help them find it easily, accurately, and quickly.
All of these people are having direct, personal experiences of the rollout of this phase of the Affordable Care Act. Even if they have not become stories, each of them is likely engaging in the most powerful sort of political communications possible—to people who trust them, within their communities. Brothers are emailing sisters. Parents are talking to children and vice versa. Friends are having conversations over dinner. This radiating negativity from people with direct unpleasant experiences of the rollout of the insurance exchanges is the greatest threat to a possible Obama comeback.
That won't change, even if Healthcare.gov is more or less fixed by November 30. Because as Obama has said many times, the ACA is more than just a website.