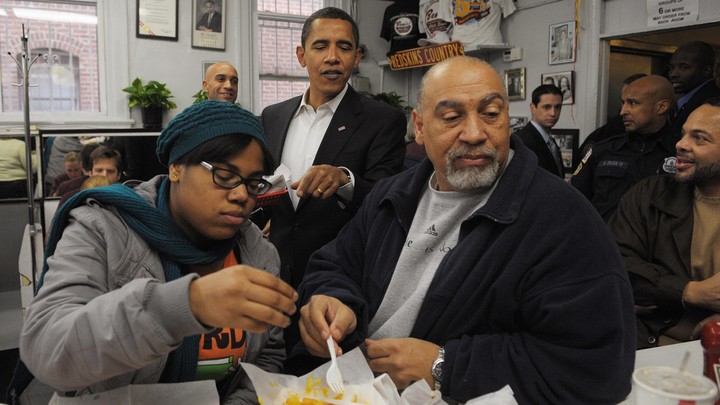 Earlier this week, Busboys and Poets owner Andy Shallal kicked off his campaign to be D.C.'s next mayor at Ben's Chili Bowl.
For the uninitiated: Bus Boys and Poets regularly hosts author readings and community events; Ben's Chili Bowl is where people go at 1 a.m., usually after several hours of drinking on U Street. Sure the venue, which is located in the Shaw neighborhood of northwest Washington, has become a symbol of the neighborhood's history since its founding in 1958. We get why politicians want to capitalize on that. But someone needs to tell these guys they're doing it wrong.
A list of offenders:
President Obama and then-D.C. Mayor Adrian Fenty. (Mandel Ngan AFP/Getty Images)
U.S. Census Bureau Director Robert Groves. (Alex Wong/Getty Images)
President Nicolas Sarkozy and his wife, Carla Bruni-Sarkozy. (France, we expected better!) (Kenzo Tribouillard/AFP/Getty Images)
DC Mayor Vince Gray (of all people!) doing Ben's Chili Bowl wrong. (Getty Images)
This here is President Obama doing it wrong. You might even say peak wrongness has been achieved. (Getty Images)

We want to hear what you think about this article. Submit a letter to the editor or write to letters@theatlantic.com.