The Odds vs. Realities of the American Dream
Hispanics are the most ardent believers despite the many challenges they face in overcoming gaps in income and education, a poll shows.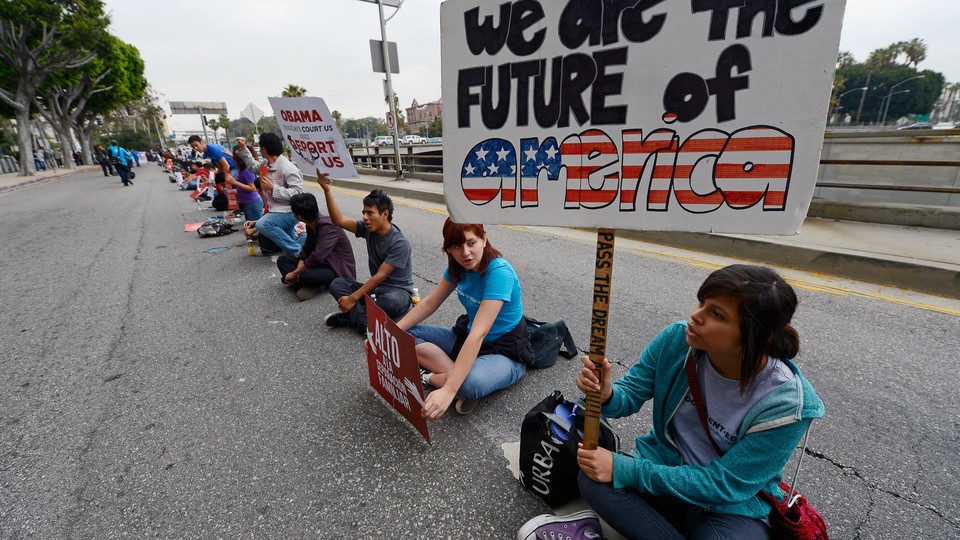 Despite facing the greatest barriers to reaching the middle class, Hispanics are the most fervent believers in the American Dream, a new College Board/National Journal Next America Poll shows.
Overall, Hispanics scored higher on questions regarding barriers to college completion except one. Blacks feel discrimination on campus more acutely than other groups, the poll found.
Poll results indicate that Hispanics were the most likely to drop out of college because of cost; the most likely to need a job while in school; the most likely to be in college part time; thought they lacked strong academic training to succeed in college; acknowledged not studying hard in college; and said they lacked role models.
Seventy percent of Hispanics set aside luck or fortitude and accept that a four-year college degree is the most sure-fire credential for lifelong success. As a group, they are noticeably more optimistic about the effect of a four-year-degree on their livelihoods than Asians (61 percent), blacks (55 percent), and whites (47 percent), the October nationwide poll indicates.
Hispanics and nonwhites with or without college degrees were much more likely than whites to embrace that power of a degree, the poll showed. More than 70 percent of Hispanics and 60 percent of nonwhites believe that a college degree will have a positive impact on their careers, compared with 44 percent of whites with a diploma and 49 percent of those without.
The path to graduation day is riddled with challenges, however. According to 2012 census figures, the median Hispanic household income was $39,000 — almost 43 percent less than the median Asian family and a quarter less than the U.S. median. Plus, the Great Recession hit Hispanics and blacks particularly hard. Whites had typically earned twice as much as blacks and Hispanics, and accumulated six times the wealth, according to Urban Institute research summarizing lifelong data in 2010. White families had an average wealth of $632,000; Hispanic families had accumulated an average of $110,000; black families had $98,000.
When an in-state four-year college price tag totals almost $90,000, according to College Board figures for the 2012-13 school year, it's pretty hard for a Hispanic family to help a kid through graduation, even if the student overcomes increasing achievement gaps.
Beyond cost, there's completion. Hispanics were four times more likely than whites to have finished neither high school nor college, the poll showed. Asians were nearly five times more likely than Hispanics to have a postgraduate or professional degree.
Lack of education translates into lower lifelong wealth. Someone with a bachelor's degree will earn 68 percent more than a high school dropout in the course of a lifetime, according to 2011 census estimates.
Relevant to college costs, Hispanics felt the decreasing dollars available to support public-college educations was most unfair, with 82 percent saying that all citizens have a stake in ensuring that college remains affordable for all Americans, according to the College Board/NJ poll. Blacks and Asians were roughly split between putting the onus on universities to hold down college costs versus expecting the government to offer more financial assistance (whites and Asians more proportionally felt schools were responsible).
About equal share of Hispanics (61 percent) and blacks (55 percent) believe that kids of all racial backgrounds have an equal opportunity to succeed. But the poll showed that Hispanics and Asians are much more optimistic about whether children of all backgrounds have an adequate chance. Fifty-seven percent of blacks believe the opportunity is adequate, compared with 75 percent and 74 percent of Asians and Hispanics respectively.
Viewpoints matured by experience aren't always as rosy in the older generations, but the optimism of youth persists across American class and racial lines. Questions in a recent Allstate/National Journal Heartland Monitor Poll posed to teens showed that youth are upbeat about the future. In that poll, Americans of all races and class structures generally agreed that children have good education and health care and are fairly treated.
But more directly, among Hispanics, the College Board/NJ poll shows that the challenges of the future deter them little.
Said Felipe Sepulveda, a Harvard sophomore who is the first in his immigrant family to enter college: "I think it's important for first-generation students to set a college-bound trend of succeeding so that the second generation and so on can follow this trend. In that sense, I feel like we can play a vital role in the Next America, as opposed to occupying low-paying jobs. I feel that being educated, there is a lot we can contribute to this great country."
The College Board/National Journal Next America Poll, conducted by Princeton Survey Research Associates International, surveyed 1,272 adults ages 18 and older from Oct. 14-24, in English and Spanish, through landlines and cell phones. It includes oversamples of 245 African-Americans, 229 Hispanics, and 107 Asian-Americans; the poll has a margin of error of plus or minus 3.9 percentage points for the overall sample, with larger error margins for the subgroups. The poll is one component of National Journal's Next America project, which examines how changing demography is changing the national agenda.
Fourth part in a five-day series. Click here to download the topline results from the poll and access in your download folder.