The Obamacare Enrollment Numbers Are Out and They Are Low
The administration said to expect low numbers and boy, were they right.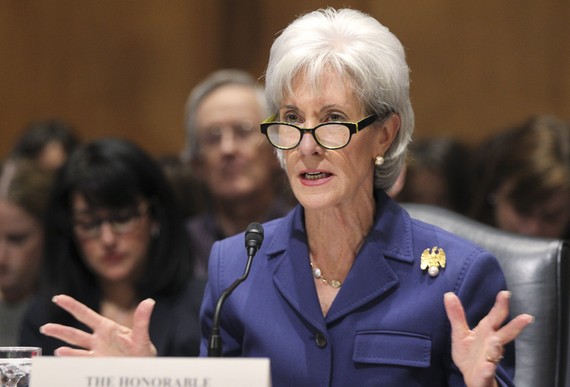 Only 26,794 people enrolled in plans through the federal health-insurance marketplace serving 36 states during the first month of open enrollment, the Department of Health and Human Services announced Wednesday. Another 79,391 enrolled through one of the exchanges run by the 14 states running their own marketplaces, along with the District of Columbia.
Those numbers are low. Very low.
"We fully expect that the numbers will be even lower than anticipated because of the significant challenges caused by the website," White House Press Secretary Jay Carney warned during his daily briefing in advance of the announcement. He was not kidding.
Health and Human Services Secretary Kathleen Sebelius emphasized on a call discussing the numbers that enrollment was "only a month into a sustained six-month outreach effort" and that the administration had "every reason to expect that more people will enroll." Enrollment included those who had only selected plans as well as those who had already paid for the first month of coverage—a definition that has raised eyebrows.
On the Medicaid front, 396,261 "have been determined or assessed eligible for Medicaid or the Children's Health Insurance Program," according to HHS's announcement.
Another 975,407 people "made it through the process by applying and receiving an eligibility determination, but have not yet selected a plan," HHS said.
Those numbers were dwarfed by the demand on Healthcare.gov and the state-based exchange websites, which saw more than 26.5 million unique visitors during the first month after launch. The call centers drew 3,158,436 calls.