The Latest GOP Efforts to Gum Up Obamacare
Think the Affordable Care Act is already a wonder of bureaucratic dysfunction? Just wait until Republicans get through with it.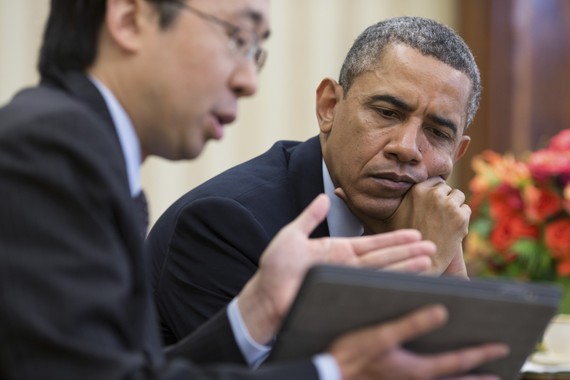 Having failed to block the Affordable Care Act at the Supreme Court or repeal it in Congress, the remaining way for Republican opponents of Obamacare to undermine the program is to kick more sand in its admittedly already rather stuck gears.
Here are some of the latest efforts.
An oversight hearing that could slow down repairs to Healthcare.gov: On Friday, the House Oversight and Government Reform Committee issued a subpoena for Todd Park, the chief technology officer of the United States, who has been detailed to the Healthcare.gov repair project. That led Clay Johnson, a former presidential innovation fellow and Obamacare build-out critic, to write: "Now, instead of continuing to fix Healthcare.gov (a mess he did not make), Mr. Park has to spend his hours preparing for his testimony .... No matter what side of the aisle you sit on, Todd is one of the good guys. Let him do his job."
Park, who had volunteered to testify after the administration's November 30 deadline for fixing Healthcare.gov, is scheduled to testify Wednesday along with a number of other senior IT officials involved in the repair project. Not on the lineup? Tony Trenkle, the former top IT official at the Centers for Medicare and Medicaid Services, who tendered his resignation last week. Kaiser Health News described him as "the federal official responsible for Healthcare.gov's launch and security."
In early October, Park said the problems at the site were volume-related. "These bugs were functions of volume,'' he told USA Today. "Take away the volume and it works.'' That early optimistic assessment of problems at the site has proven not to be the case, which is what Oversight Chairman Darrell Issa is most interested in talking to Park about.
A congressional bill to increase the red tape for navigators: Marco Rubio on Thursday introduced the "The Healthcare Privacy and Anti-Fraud Act," an amendment aimed at "navigators," people and organizations that receive grants to help enrollees sign up for insurance—especially the poor and near-poor. The Florida senator's bill requires "all employees of the entity" receiving a grant to enroll people through ACA be subject to a "criminal background check, fingerprinting, and credit report" and no one "found guilty of a felony, or guilty of a misdemeanor involving deceit or dishonest" work at any institution receiving such a grant. The bill would also ask navigators to "meet educational and licensure requirements that are identical or comparable to those currently applicable to health insurance agents and brokers within the State in which they seek to provide navigation services"; proposes a $5,000 fine for anyone who pretends to be a navigator; and suggests that the entities that employ navigators might be held legally liable for anything that a navigator does wrong.
While the ostensible goal is to protect the uninsured from fraud and identity theft, the real aim seems to be to make it so unpleasant and risky to be a navigator that clinics and hospitals that might otherwise assist in the ACA enrollment project decide it's safer to just sit the push out. But the biggest issue in implementation so far isn't fraud—it's prospective enrollees' inability to access Healthcare.gov to see their options. Constricting other pathways would slow enrollment even more, especially of the near-poor into Medicaid in the states that have expanded it.
A fresh round of "medical privacy" fear-mongering: Meanwhile, at the state level, there are separate efforts underway to undermine the navigators. Texas Attorney General Greg Abbott last week said he wanted more background checks for navigators, the Dallas Morning News reports, writing the state's insurance commissioner to urge her to "move quickly to establish state regulations that will protect Texans' medical privacy." But as has been well-established, ACA applications do not ask for any medical information other than whether or not an applicant smokes, so there is no threat to medical privacy from applying for insurance through Healthcare.gov.
Demanding background checks for ACA navigators in Texas would subject them to more stringent standards than people who play similar rolls for other federal-government health programs directed at the poor."Texas doesn't require criminal background checks of the state eligibility-determination workers who help people sign up for Medicaid, the Children's Health Insurance Program, food stamps and cash assistance," the Morning News reported. "Background checks are performed on those working for state contractors, though."