The Cheney Parents Defend Liz: She's Always Been Against Gay Marriage
The former vice president and his wife weigh in on the heated feud between their daughters.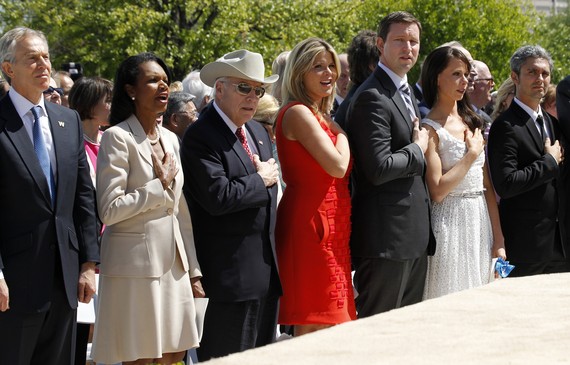 The Cheneys are a political family, so it's not too much of a surprise that the statement Dick and Lynne Cheney issued Monday in response to their daughters' latest public rift over gay marriage seemed more designed to quell the political problem the spat could cause for Liz Cheney, the Wyoming Senate candidate, than to resolve anything between their daughters.
Heather Poe and Mary Cheney's statements about how Liz Cheney treated them decently over the years have raised questions about whether Liz Cheney's opposition to gay marriage is long-standing or a novel strategic pose designed to woo conservative support. Liz Cheney has already been derided as a carpetbagger in the Wyoming, which she recently returned to after a career in the Washington area, and fresh questions about her commitment to conservative principles could only further damage her already long-shot campaign to unseat incumbent Mike Enzi.
"This is an issue we have dealt with privately for many years, and we are pained to see it become public," the Cheney parents said in a statement. "Since it has, one thing should be clear. Liz has always believed in the traditional definition of marriage."
"Liz's many kindnesses shouldn't be used to distort her position."
The Cheneys did not mention daughter Mary Cheney or her wife Heather Poe by name in the statement, but Dick Cheney has previously defended Mary's right to live as she wishes.
"One of my daughters is gay and [that's] something that we've lived with for a long time in our family," he said during an appearance at the National Press Club in 2009. "I think people ought to be free to enter into any kind of union they wish. Any kind of arrangement they wish."
"Freedom means freedom for everyone," the former vice president said.
Those are the exact same words Heather Poe threw back in her sister-in-law's face in a Facebook item Sunday: "I always thought freedom meant freedom for EVERYONE."