Seeking Solutions in a Poisonous Political Environment
In a divided town, the Washington Ideas Forum offers a chance for leaders to reimagine what government should look like.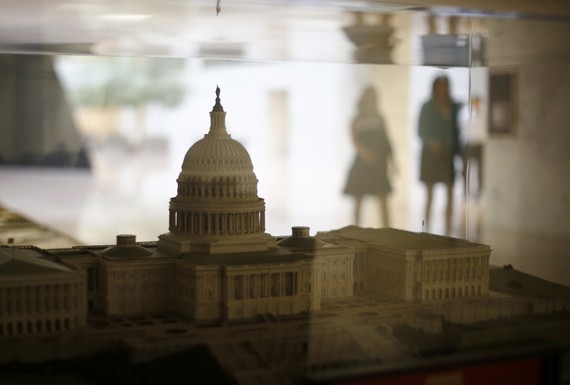 Jason Reed/Reuters
This has been a rough year in American politics. After months of panicked anticipation, the sequester finally took effect in March, slashing spending on national security, aid to the poor, medical research, and everything in between. In June, the world heard revelations of widespread NSA surveillance of American citizens. September saw bitter feuding in the House, followed by a 16-day government shutdown that cost the economy between $2 and $6 billion, the White House estimates. Enrollment in new health insurance markets created by the Affordable Care Act began in October, but more than a month later, many states are still struggling with dysfunctional websites and a lack of clarity about available policies.
Americans don't trust Congress to govern effectively. President Obama's ratings have hit an all-time low. It seems like Washington has run out of good ideas for fixing American politics.
But maybe not. Over the next two days, politicos, pundits, and policy wonks will gather for the Washington Ideas Forum, an annual festival co-hosted by The Atlantic, the Aspen Institute, and the Newseum. Among the interviewees: Susan Rice, who was recently named National Security Adviser after surviving bruising accusations related to the attacks on the American consulate in Benghazi in 2012; Secretary of Agriculture Tom Vilsack, who will give his take on the ongoing Congressional battle to pass a new farm bill; and Ted Cruz, who starred in a "fauxlibuster" staged in protest of the Affordable Care Act in September.
Cruz will be joined by seven of his colleagues from the Senate—Susan Collins, John Hoeven, Amy Klobuchar, Joe Manchin, John McCain, Chuck Schumer, and Sheldon Whitehouse—as well as House Minority Leader Nancy Pelosi. The lineup also includes a roster of Washington insiders, including Karl Rove, Gene Sperling, and Grover Norquist. For those who want a break from politics, a few tech leaders will also take the stage, including Nathan Blecharczyk, Air BnB's co-founder; Astro Teller, the head of Google X labs; and Travis Kalanick, the CEO of Uber.
With a mixed program that includes everyone from Tea Party Republicans and loyal Obama insiders to a Fortune 500 executive and journalists from The Atlantic, Fox, MSNBC, and the Washington Post, it will be interesting to see which "big ideas" gain traction. Will this be a call for bipartisan cooperation or confirmation that lawmakers are hopelessly divided? Will lawmakers offer solutions to the never-ending spending standoff or will they defend the status quo? In this political environment, is any idea powerful enough to inspire renewed confidence in the leaders who run Washington?