President Obama and His Gang That (Still) Isn't Shooting Straight
Incompetence, deception, and lack of accountability still hound White House and health reform.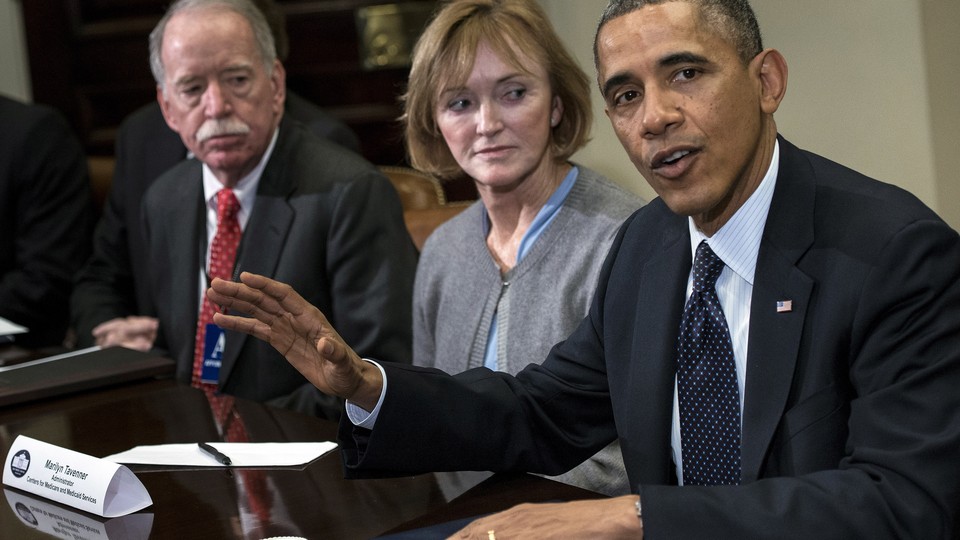 Incompetence, deception, and lack of accountability doomed the Obamacare rollout. That's old news.  What's new? The nagging durability of the White House's incompetence, deception, and lack of accountability.
1. The Washington Post reported on Sunday that the Obama administration will consider the new online marketplace a success if 80 percent of users can buy health insurance. That is absurd. First, it's another broken promise. The president and his advisers responded to the disastrous rollout last month by vowing to deliver an Amazon.com-quality website by the end of November. (If history remembers President Obama for one thing, other than his barrier-breaking 2008 election, it might be the outsized and unmet expectations that paved the path of his presidency.) Second, in what other line of work is 20 percent failure considered a success? If one out of every five meals served by a restaurant is inedible, the joint goes out of business.
2. The same story by Amy Goldstein and Juliet Eilperin revealed that the Health and Human Services Department hired technology contractors without requiring specific performance criteria. It is customary in the private sector to include benchmarks in technology contracts. Not so with the seat-of-their-smarty-pants Obama administration. "The meaning of success was defined for the first time during the panicky days of October, when White House officials belatedly recognized that the federal exchange had serious software and hardware defects," The Post reported.
3. Incompetence is one thing.  Secrecy is another. The administration that promised to be the most transparent ever settled on the "80-percent-is-better-than-nothing" construction without making it public. The Post story is based on unidentified sources. The president suggested for the first time last week that the site would not be perfect, but he did not go into detail. He should.
4. In a cringe-inducing interview Sunday on NBC's Meet the Press, House Minority Leader Nancy Pelosi refused to acknowledge that she misled voters in 2009 when she said Americans could keep their health insurance plans. "Well, it's not that it's not correct, it's that if you want to keep it and "¦ it's important for the insurance company to say to people, this is what your plan does: It doesn't prevent you from being discriminated against on the basis of preexisting conditions, lifetime limits, annual limits," Pelosi stammered under relentless questioning by host David Gregory. Obama acknowledged the broken promise after dragging his feet for days. Judging by Pelosi's performance, some Democrats are still in denial.
5. Jonathan Karl reported on ABC's This Week that the president plans to shake up his team, but not right away. Obama confidant David Plouffe said on the same show, "I think once the website gets fixed, and it will, you have to step back and say, OK, what do I need to do to have confidence going forward?" In other words, accountability can wait. On Monday, another former Obama aide, Robert Gibbs, said it's possible that the staff kept Obama in the dark before the launch about the website's problems. "There's not exactly a rush to get into the Oval Office and tell the boss," he said on MSNBC's Morning Joe. No rush. Nobody fired. No accountability.
{{ BIZOBJ (video: 4575) }}