Poll: Minorities Provide Bulk of Support for Obamacare
United Technologies/National Journal Congressional Connection Poll finds only 16 percent of nonwhites think Congress should repeal the health reform law.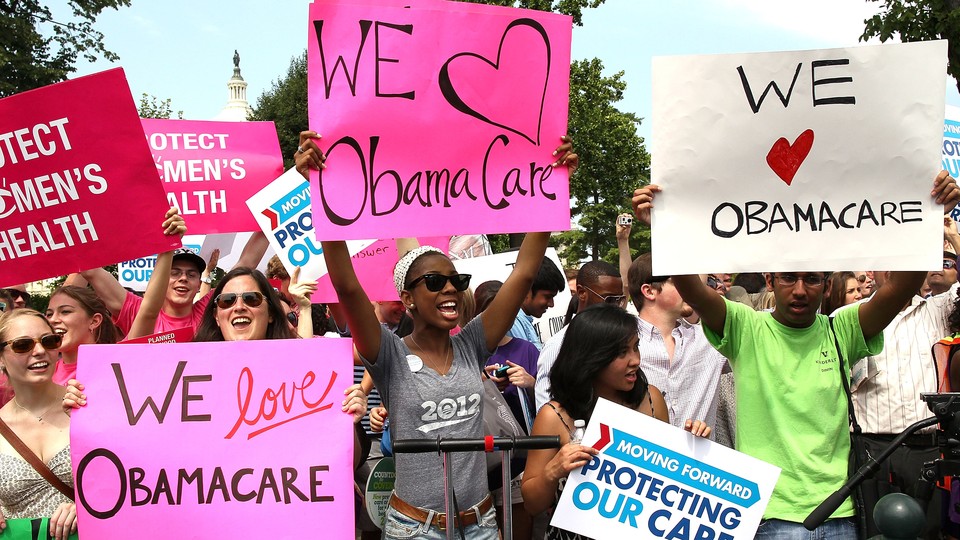 Minorities continue to offer a bulwark of support for the Affordable Care Act, according to the latest United Technologies/National Journal Congressional Connection Poll.
But the deepening discrepancy between their views of Obamacare and their support for President Obama's reelection last year shows skepticism about whether the big social-welfare program has worked touched even the White House's most ardent supporters.
A battery of questions about who benefits from the health care law, whether it should be repealed, and what's to blame for its rocky rollout all reveal a portion of the electorate that's far more favorable to the sweeping reform than the country overall and their white counterparts. Given the strong Democratic lean of that group, their support is not a surprise.
Asked about the implementation of the law, 62 percent of nonwhites said "the law is experiencing temporary problems and will ultimately produce a better health care system." Just 39 percent of whites think the same, while 46 percent of all adults share that view.
Not surprisingly then, just a tiny slice of minorities — 16 percent — think Congress should repeal Obamacare. Forty-two percent say lawmakers should wait and see how things go before making adjustments, and 37 percent urge them to provide more money for implementation. Among the total population, support for outright repeal of the law is nearly twice as high, at 38 percent. Nearly half of whites, 48 percent, feel that way.
Most respondents doubt the ACA benefits anyone other than the poor and those without insurance "" including a scant 42 percent who say it helps the country overall. But solid majorities of minorities believe the law helps a wide array of people, including the middle class (58 percent) and senior citizens (62 percent). Fifty-eight percent of the group say it helps the country overall. United Technologies/National Journal Congressional Connection Poll showing that there is a strong racial gap on whether the Affordable Care Act is making things better or worse for Americans.
In one question, respondents were asked what they would want Congress to do if many of the estimated 50 million currently uninsured American citizens couldn't receive a health care plan through Obamacare. A solid majority of minorities, 61 percent, think the government should "work to try and make the health care law work better to cover more of the uninsured," compared with 44 percent of the total population. Only 8 percent of minorities say the law should be repealed and no effort should be made to cover the uninsured, compared with 16 percent of adults overall who say the same. Thirty percent of minorities, meanwhile, support a separate option to "repeal or significantly change the law and try a different way of covering the uninsured," compared with 38 percent overall who support that strategy. The latter option likely includes support from some respondents who prefer a system such as single-payer health care, which would ensure coverage for all Americans.
The relatively strong support of minorities — along with liberal whites — is largely responsible for whatever support Obamacare still has after the disastrous rollout of HealthCare.gov. But that doesn't mean they're thrilled with the law, either. Roughly 80 percent of the country's nonwhite voting population supported Obama over Mitt Romney in 2012. That's much larger than the percentage of minorities who think Obamacare is a good idea. Barely half, 51 percent, think the law will make things better for "people like you and your family."
The United Technologies/National Journal Congressional Connection Poll, conducted by Princeton Survey Research Associates International, surveyed 1,013 adults by landline and cell phone from Nov. 14-17. It has a margin of error of plus or minus 3.6 percentage points.