Pelosi: It's Time to Fix Obamacare
Democrats are done defending the troubled rollout of the health-care exchanges and scrambling to reposition themselves in favor of improving the law.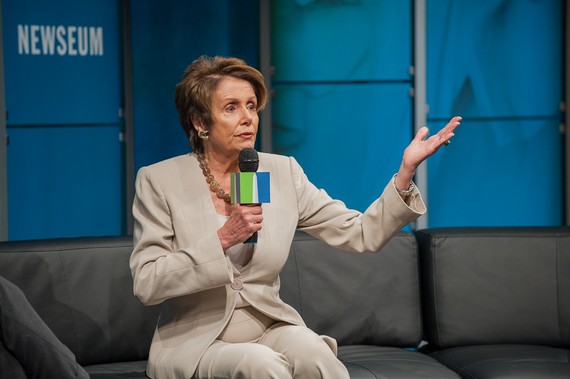 The botched implementation of the Affordable Care Act has Democrats increasingly nervous. More and more of the party's lawmakers are refusing to pretend the problems are merely bumps in the road and demanding that something be done. Some are even jumping on board with Republican-backed plans to delay or alter parts of the law.
Now, a month and a half after the failed launch of healthcare.gov and with enrollment numbers revealed to be dismal, the Obama administration and Democratic leaders admit that it's time to address the many Americans whose insurance policies are now being canceled, despite President Obama's promise that those who liked their plans would be able to keep them.
Obama will make an announcement Thursday about a proposal to fix this issue, and Democrats in Congress may also propose a legislative fix, Nancy Pelosi, the  Democratic leader in the House, told The Atlantic's James Bennet at Thursday's Washington Ideas Forum. "Stay tuned. It could be an administrative fix, it could be a legislative fix," Pelosi said. "I would rather it be done administratively, because then it could be done much more quickly without any accompanying agendas."
House Republicans led by Representative Fred Upton have proposed their own measure to address the cancellations, but Pelosi called that bill deceptive, just another attempt to gut the law.
"The initiative before the House looks like something that's a fix, but it isn't," she said. "We have to thread the needle. What they're doing ... is unraveling the whole fabric, and that's just not necessary, unless you want to undo—for the 46th time—a vote to get rid of" the Affordable Care Act.
Pelosi's comments seemed a clear indication that Democrats, weary of defending the beleaguered initiative, are rushing to reposition themselves as wanting to improve the law and help those adversely affected by it. They paint Republicans, meanwhile, as interested only in gaining political advantage, not making things better. Pelosi described the law's opponents as "antigovernment ideologues who just do not want a public role in this or for other reasons want it to stop."
But Democrats have clearly gotten the message that public discontent with Obamacare will not be assuaged by assurances that all will be well in time. "We'll fix it and move on from there," Pelosi said, adding, "We will overcome this."