Obama's Travel Dropped Sharply in 2013
The president's visits to Ohio and other politically important states fell dramatically in 2013, and no one seems really unhappy about that.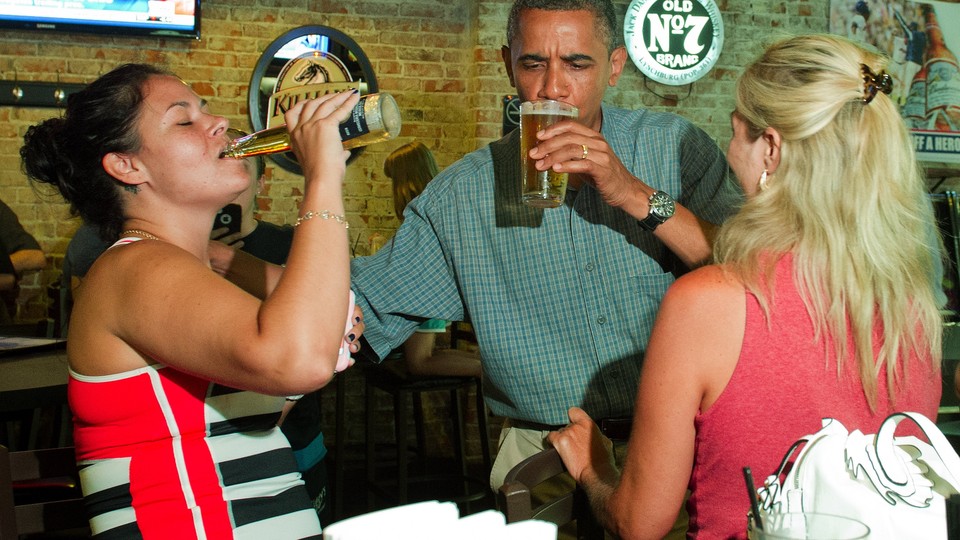 What a difference a year makes. It was only 11 months ago that residents of Ohio thought President Obama would never leave them alone. He was there, it seemed, almost every week, asking their deepest thoughts, sharing long bus rides, chatting at ice-cream socials, and even downing a few beers in a pub.
Twenty-two trips spanning 25 days, Obama was there — more than he was in any other state.
But now? A mere two visits in 2013 — quick in-and-out trips with a commencement speech and a visit to a steel mill. No overnight stays. No ice cream, no cheeseburgers, no Bud Light.
Ohioans, and residents of other election battleground states, have had these flings before. Every four years it is a different suitor, and 2013 was the collective morning after.
All nine of Campaign 2012's hotly contested states — Ohio, Florida, North Carolina, Virginia, Wisconsin, Colorado, Iowa, Nevada, and New Hampshire — went from seeing Obama for 137 days in 2012 to only 19 days this year. Some of those states, including Iowa and New Hampshire, have scored not even one visit in 2013.
In fact, the whole country has seen less of the president. Last year, Obama spent 178 days outside Washington. This year, through Thanksgiving, he has spent only 94 days out of town.
The letdown is natural. But it still can be a little jarring, especially in Ohio, because Ohio was special for Obama. He was particularly ardent in his pursuit of those 18 electoral votes. Who could forget the strolls in all those parks "" Schiller Park in Columbus, Washington Park in Toledo, Central Park in Mansfield, Triangle Park in Dayton? Or that ice cream social in Sandusky on a July day so sweltering the president had to race to eat his cone before it melted? That was the same day the president stopped for a cheeseburger at the Kozy Corners Diner in Oak Harbor and pulled his armored bus up to Ziggy's Pub & Restaurant in Amherst for a pint of Bud Light with the locals. And even for the most jaded Ohioan, all that wooing was kind of flattering and exciting.
Ohioans insist they understand, but polls suggest there is hurt. A statewide survey released earlier this week showed the president's approval rating in the state at only 33 percent — a sharp drop from the 50.1 percent of the vote he received against Republican Mitt Romney only a year ago.
Republicans in the state privately suggest that Ohio Democrats are celebrating Obama's absence, fearing that every visit will hurt Ed FitzGerald, the Democrats' top candidate against Republican Gov. John Kasich in next year's gubernatorial contest. "Unless things change," said one veteran strategist, "they really won't want him here next year."
But Jerry Austin, who has run several successful Democratic campaigns in Ohio, predicted that the state will see lots more of Obama next year "if his popularity returns and he is an asset to the Democratic nominee." Former Rep. Dennis Eckart, a Cleveland Democrat, agreed, saying this lull in visits "might be the calm before the storm, with 2014 being a key year."
Until then, though, Ohioans are left with only their memories of the courtship of 2012.