Obama's Terrible, Horrible, No-Good, Very Bad Year
Is the president's difficult stretch just a case of bad luck, or is it bad strategy?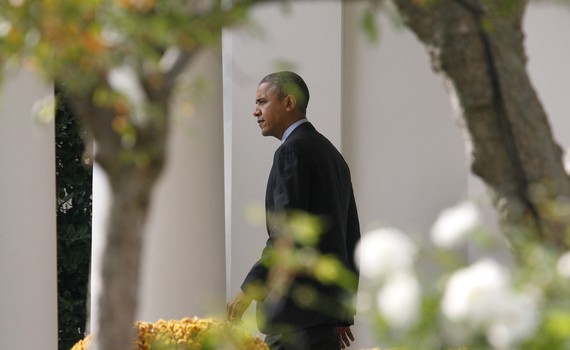 I
t doesn't get much better than the exhilaration Barack Obama felt when he looked out at the hundreds of supporters packed into McCormick Place at 12:38 on the morning of November 7, 2012. There he was, in his hometown of Chicago, flushed with victory, only the 15th incumbent ever reelected to a second presidential term. It didn't seem at all boastful when he proclaimed to cheers that the nation had just "voted for action, not politics as usual."
Now, a year later, here he is, in Washington, sobered by a succession of setbacks and no longer quite so sure that he is seeing anything but politics as usual. For the president, it has been a very tough year. Almost nothing that Obama publicly predicted would follow his reelection has come to pass. He had optimistically proclaimed in a Rolling Stone interview that his victory "might break the fever" with Republicans who had declared their top goal was to deny him a second term. With him never again appearing on a ballot, he said then, his hope was that Republicans "might say to themselves, 'You know what? We've lost our way here. We need to refocus on trying to get things done for the American people.' "
When CNBC's John Harwood reminded Obama of that statement in a recent interview, the president clung to the hope that "the majority of Republicans around the country" want to work with him. But he acknowledged that doesn't seem to include Republicans in Washington. Claiming, "I have bent over backwards to work with the Republican Party," he added, "Am I exasperated? Absolutely, I'm exasperated."
This, after all, is a president who thought he would be able to avoid most second-term traps. Instead, Obama has suffered through one of the most daunting rollouts ever for the second half of a presidency. His troubles began less than 24 hours after his victory speech, when he learned that CIA Director David Petraeus was quitting because of an extramarital affair. Before the month was out, the Republican-led investigations into Benghazi gained steam, with the controversy claiming its biggest victim only five weeks after the election when Susan Rice withdrew her name from consideration for secretary of State.
While this was developing, Obama was engaged in fiscal-cliff battles with Republicans, securing a victory on higher taxes for the wealthiest Americans but allowing the GOP to lock in the bulk of the Bush-era tax cuts. And, as a backdrop to the Washington infighting, on the day after Rice's withdrawal, a gunman shocked the nation by killing 20 children and six adults at an elementary school in Newtown, Connecticut.
The new year brought more bad news for the president. Instead of going for immigration reform as his top legislative priority, he squandered much of his political capital on a doomed effort to enact gun restrictions. In March and April, House Republicans battered him on Benghazi. In May, he learned that the Internal Revenue Service had inappropriately monitored conservative groups, putting him on the defensive. At the same time, he came under fire for Justice Department investigations of journalists.
In June, Edward Snowden started leaking highly sensitive and embarrassing National Security Agency documents. By July, Snowden was demanding asylum in Russia, leading Obama to cancel a planned summit with Vladimir Putin at the precise time he was looking to the Russian president to bail him out of a no-win battle with Congress over Syria. It was also in June that the White House had to acknowledge that Syria had crossed Obama's "red line" and used chemical weapons. That led to a request to use military force that seemed doomed before Putin stepped in.
Obama's annus horribilis wasn't over, of course. Still to come was the badly botched rollout of the Affordable Care Act, a mess still awaiting a fix. The result, on the one-year anniversary of his reelection, is that Obama finds himself near a personal low point in his approval ratings. Gallup's daily tracking poll released Tuesday had him at 39 percent approval, only 1 point above his worst showing, in October 2011. In the past 60 years, only Richard Nixon (29 percent) and George W. Bush (38 percent) had lower ratings a year after their reelection. (Ronald Reagan was at 64 percent, Bill Clinton at 60, and Dwight Eisenhower at 58.)
Some of this is just bad luck. But some of Obama's difficulties with Congress go back to the campaign he conducted in 2012 and were predicted a year ago by William Galston, Clinton's top domestic-policy adviser in his first term. Writing just days before the election, Galston warned that Obama would "enter his second term holding a relatively weak hand." He lamented that Obama was more focused on tearing down his rival than building a mandate for action in the second term. Today, Galston asks National Journal, "What kind of forward thrust did the president get out of the 2012 campaign?" The answer, he says, is "almost nothing." And that, he adds, allows side controversies to loom larger. "The absence of a clearly etched and publicly supported second-term agenda creates a kind of political vacuum into which problems can surge."
Add to that those House Republicans who think their mandate for obstruction trumps the president's mandate. "In a sense, they don't accept the results of the presidential election," says Bill Schneider of the moderate Democratic group Third Way. "To them, it is still November 2010 and they are still operating on that mandate." Given that GOP mind-set, Schneider says, it was "a bit naive" of Obama to think that his win would "break the fever." Combine that naiveté with bad luck, and there isn't much doubt that the exhilaration of McCormick Place is just a distant memory.