Obamacare Delays May Create Election Bomb for Democrats
Insurance cancellations and the employer mandate will both hit just before the 2014 midterms.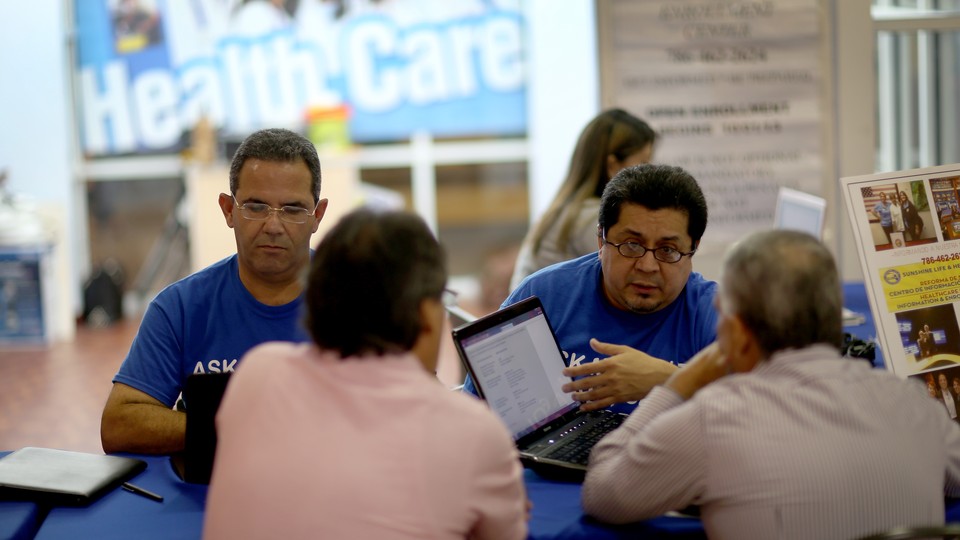 Some of Obamacare's most damaging political narratives will be getting a fresh look right before next year's midterms, thanks to delays in the law's implementation.
Canceled insurance plans are the most obvious example. President Obama said last week that insurers can un-cancel certain policies for another year, a move largely designed to appease nervous Democrats. But a one-year delay simply means that cancellation notices will resume next October — just weeks before many of those same Democrats will face voters for the first time since voting to pass the Affordable Care Act.
And that's not the only political threat lurking just ahead of the 2014 midterms. The White House also delayed the law's employer mandate until 2015. That means employers will be deciding in mid- to late 2014 whether they're going to offer health benefits under the mandate — and whether to cut employees' hours to avoid providing them with health care.
"They're concentrating everything in the fall of next year, and that's a very dangerous time to be doing it," said Douglas Holtz-Eakin, a conservative economist who leads the American Action Forum.
The fact that millions of individual insurance policies were canceled this year was not a side effect of the Affordable Care Act; rather, it was one of the trade-offs required to make the law's coverage guarantees work.
Those trade-offs can be politically difficult, but prolonging the issue until next year "just extends the pain for them," Holtz-Eakin said. He was surprised that the administration and congressional Democrats didn't simply bite the bullet now — a year before the midterms. He called it the "rip-the-Band-Aid approach."
"This is one where, inexplicably, the wheels came off. They usually think through the politics of these things pretty clearly," Holtz-Eakin said.
Still, although plans will have to be canceled again next October, there are reasons to believe the issue won't be as damaging as it has been over the past two months. For starters, it's not clear how many plans will actually be extended for another year. Several states have rejected Obama's proposal, and insurers aren't sure whether it's worth the trouble to resurrect policies they have already canceled.
Consumers whose plans are canceled next year will also have a much easier time finding a replacement. Because HealthCare.gov, the primary Obamacare enrollment website, was functioning so poorly this year, consumers were seeing their plans canceled yet had no easy way to even find out whether they could get tax subsidies to help buy a new policy.
Jim Manley, a Democratic strategist and a former communications adviser to Senate Majority Leader Harry Reid, D-Nev., said Democrats' anxiety over plan cancellations will subside if the administration meets its goal for fixing HealthCare.gov by the end of this month.
The impact of the employer mandate is less clear. Tracy Watts, who leads the national health reform team at the Mercer consulting firm, said employers generally firm up their health care plans by Labor Day, with some smaller firms waiting until October.
The biggest effect of the employer mandate, she said, will be on the roughly one-third of employers affected by the law's definition of a full-time employee. Businesses must provide coverage to everyone who works at least 30 hours per week (not 40), a threshold most employers aren't used to.
Republicans have already seized on anecdotal reports of businesses capping workers at 29 hours per week to avoid providing health care benefits. Mercer's research suggests that's not a common practice — only about 10 percent of employers say they're considering capping workers' hours instead of providing health benefits, according to the firm's surveys.
"Most of them are planning to extend benefits to that segment of their workforce," Watts said.
But Republicans surely will still attack Democrats over anecdotal reports of people having their hours cut. Some of the highest-profile anecdotes before the mandate was delayed came from partisan business owners who threatened to cut workers' hours for political purposes, like the Florida restaurant owner who said he would cut workers' hours and add an "Obamacare surcharge" to his customers' bills.
Moreover, the U.S. Chamber of Commerce is expecting deeper cuts than Mercer. The chamber's surveys found that more than 20 percent of franchise owners said they have already replaced full-time workers with part-timers to avoid the coverage mandate.
Manley said he's not worried about the employer mandate's timing. The vast majority of employers already provide health insurance, he noted, and modestly extending those benefits isn't a major change to the health care system.
"The Republicans are going to seize on everything they can, but I'm not so sure I see the employer mandate as a problem," Manley said "It's not a dramatic policy change. It's something folks are comfortable with."