More in U.S. Warm to the New Melting Pot
While most people accept immigrants for their willingness to take jobs Americans snub, the question of immigrants' cultural impact still shows a divide across racial, educational, generational, and partisan lines.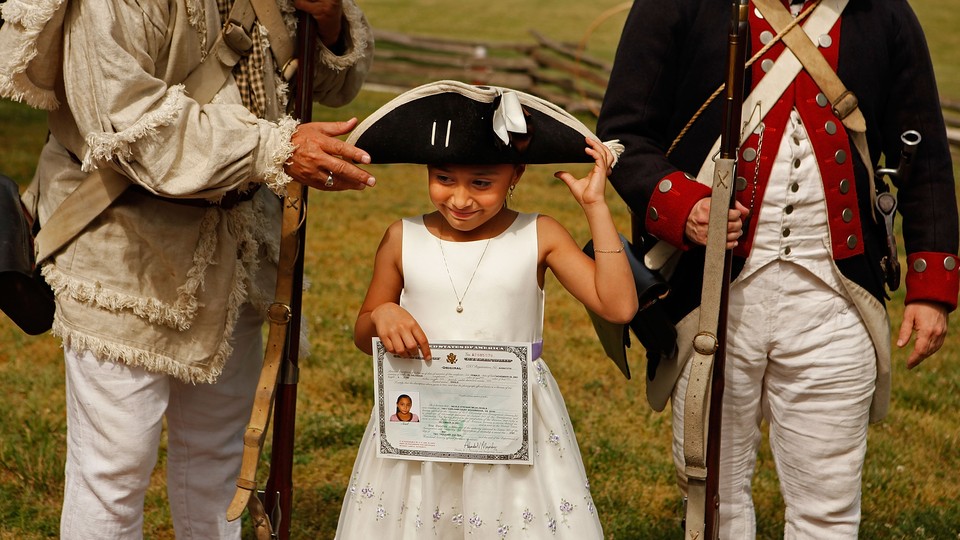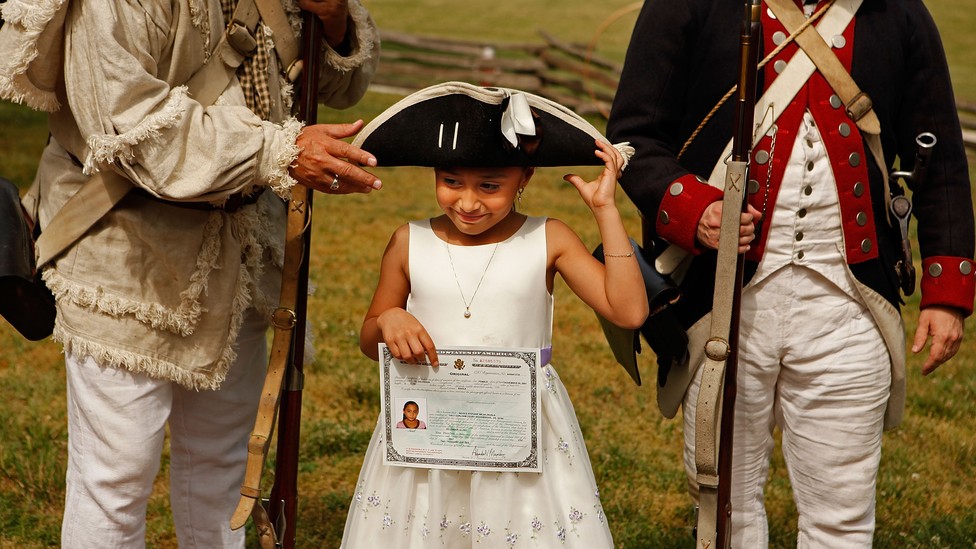 Most Americans do not view immigrants as a threat either to America's economy or its culture, but key elements of the Republican coalition continue to express unease at the pace of demographic change, the new College Board/National Journal Next America Poll has found.
The poll found little concern about economic competition from immigrants: 63 percent of those polled said "immigrants coming to this country today "¦ mostly take jobs Americans don't want," while only 19 percent said they "mostly take jobs away from American citizens."
Those numbers did not vary widely among almost all major groups. Roughly four-fifths of Hispanics, two-thirds of Asian-Americans, and three-fifths of both whites and African-Americans said immigrants mostly take jobs Americans don't want. So did about three-fifths or more of Republicans, Democrats, and independents, and comparable numbers of Americans at all income levels.
Nearly as broad an overall consensus emerged when the survey asked adults whether they believed "the growing number of newcomers from other countries are a threat to traditional American customs and values." In all, 56 percent of those surveyed disagreed with that sentiment, while just 41 percent agreed.
That wasn't statistically different from the last time the Next America Poll measured this issue in October 2012; at that point, 55 percent of adults rejected that statement, while 42 percent agreed. Both of those results show a shift toward greater tolerance since spring 2009, when the Pew Research Center tested the question. At that point, a slight 51 percent to 43 percent majority said that newcomers threatened American traditions.
Yet the question of immigrants' cultural impact — in contrast with their economic effect — continues to divide Americans across racial, educational, generational, and partisan lines. In the new survey, whites, particularly the older and blue-collar whites at the core of the modern Republican electoral coalition, expressed much more discomfort than other groups did about the cultural impact of immigrants.
The College Board/National Journal Next America Poll, conducted by Princeton Survey Research Associates International, surveyed 1,272 adults ages 18 and older from Oct. 14-24, in English and Spanish, through landlines and cell phones. It includes oversamples of 245 African-Americans, 229 Hispanics, and 107 Asian-Americans; the poll has a margin of error of plus or minus 3.9 percentage points for the overall sample, with larger error margins for the subgroups. The poll is one component of National Journal's Next America project, which examines how changing demography is changing the national agenda.
Not surprisingly, the poll found that the fastest-growing immigrant groups overwhelmingly reject the notion that newcomers are threatening American traditions. Asian-Americans disagreed with that statement by a resounding margin of 71 percent to 25 percent, and Hispanics dismissed it by 67 percent to 31 percent.
African-Americans, the poll found, also rejected the idea by a comparable 65 percent to 33 percent. That continued a major shift in opinion among blacks: Support for the idea that newcomers undermine American values has steadily fallen among African-Americans from 62 percent in 2009 to 47 percent in 2012 to only one-third now. (The belief that newcomers are undermining American values among Hispanics never reached nearly as high, but has also declined from 42 percent in 2009.)
Whites, though, remained closely divided on the question in the new survey, with 47 percent agreeing that newcomers are threatening American customs and values and 50 percent disagreeing. That's a modest shift toward acceptance from 2009, when a 52 percent majority of whites saw newcomers as a threat while only 43 percent disagreed. (Compared with last year, the results show little change among whites; at that point, 45 percent endorsed the statement and 54 percent rejected it.)
This narrow overall split masks sharp cleavages among whites that follow familiar political lines. Consistently, groups central to the GOP coalition expressed much more unease about the ongoing demographic change than other elements of the white community.
Among whites without a college education, a group that broke strongly for Mitt Romney over President Obama last fall, a 53 percent to 44 percent majority agreed that new arrivals are threatening American values. By contrast, among college-educated whites, who divided more closely in the presidential election, just 34 percent accepted the statement; 64 percent rejected it.
Likewise, a 54 percent to 43 percent majority of whites older than 50 viewed the new arrivals as a threat to American values; a solid 58 percent to 40 percent majority of whites younger than 50 did not. Older whites have become a cornerstone of the contemporary GOP coalition. Finally, whites who identify as Republicans or lean toward the party backed the statement by a 55 percent to 43 percent margin; whites who identify as Democrats or lean toward the party rejected it by 61 percent to 38 percent.
These class and generational differences were much more muted among nonwhites: minorities older and younger than 50 rejected the statement by a virtually identical 2-1 margin, and minorities without a college degree were only slightly more supportive of the idea than minorities with one.
The contrasting sentiments among whites capture some of the pressure facing Republicans as they navigate through racially charged issues like immigration reform. While other polls have found that even a majority of whites and Republicans favor a pathway to citizenship for immigrants here illegally, these results point to a deeper unease about America's changing face among groups on which Republicans now heavily rely. Evidence from this and other surveys suggest those bedrock attitudes provide part of the foundation for the resistance to government spending, particularly on transfer programs for the poor, central to modern GOP ideology.
The Next America poll found that whites that consider newcomers a threat to America's values consistently expressed more resistance to government activism than those who do not. For instance, while nearly three-fifths of whites who do not consider newcomers a threat said the economy would benefit from reaching President Obama's goal of significantly increasing the share of Americans with some postsecondary degree, only about two-fifths of whites who are uneasy about the demographic change agreed. Whites resistant to the change were also more likely than whites comfortable with it to believe that tax cuts, as opposed to increased education spending, would provide the biggest boost to their local economy.
Perhaps most tellingly, whites who are resistant to the demographic change were much less likely than whites who are comfortable with it to say they considered the persistent income gaps between whites and minority families a "major problem" for the country. Even more telling was the divergence on a question that gave respondents four options for closing that income gap.
Whites comfortable with the demographic change split closely, with 35 percent saying the best option for narrowing the gap was "more personal responsibility in the minority community," an additional 32 percent picked increasing the number of minority college graduates, and the final one-fourth preferring either increased integration or enhanced antidiscrimination efforts in the workplace. But among whites who believe newcomers are threatening American values, only about one-fifth picked increasing minority college graduates, and just more than one-sixth backed a civil-rights response. A solid 55 percent majority of these whites said the key to narrowing income gaps is for minorities to assume more personal responsibility.
Third in a five-part series. Click here to download the topline results from the poll and access in your download folder.