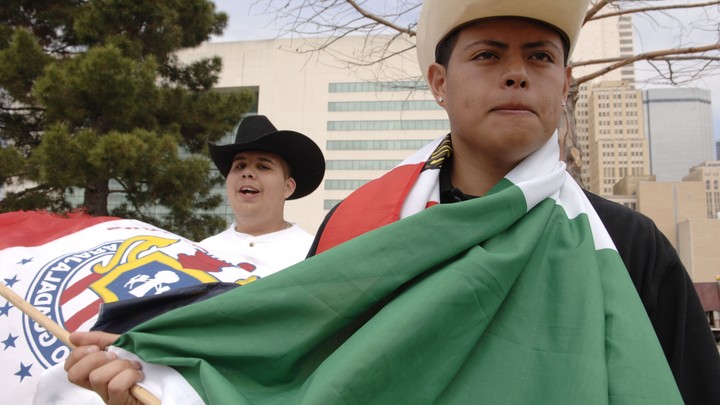 Every week, The Next America produces a collection of education articles that catch our eye. These date from Nov. 18-25.
PUSH MADE TO ADDRESS 'INSTITUTIONALIZED RACISM' IN TEXAS SCHOOLS. Latino activists urge a public-school curriculum that reflects the student body, calling on the State Board of Education to authorize high school classes in Mexican-American history and literature. Advocates in the Lone Star State, where more than half of the 5 million public-school kids are Latino, ask that such courses be offered for college credit and be approved as special topics in the arts and humanities. Huffington Post
$100 MILLION IN FEDERAL GRANTS DIRECTED TO TECH-FOCUSED SCHOOLS. President Obama announced a $100 million grant competition for high schools that partner with postsecondary institutions and companies. The program, called Youth CareerConnect, would promote tech-focused schools, like Brooklyn's Pathways in Technology Early College High School, that allow students to earn college and industry credentials. The Labor Department will provide the funding, and grant applicants will be required to offer matching funds of at least 25 percent. Chronicle of Higher Education and Wall Street Journal
STUDENTS PROTEST CANCELED 'CATCH AN ILLEGAL IMMIGRANT' GAME. Some 500 University of Texas students, including undocumented immigrants, participated in a rally to protest a controversial game planned by the student group Young Conservatives of Texas. Members had planned to wear signs that said "illegal immigrant" and reward fellow students with $25 gift cards for catching them. "We were expecting 100 people, and hundreds showed up," says Diana Morales, the president of the student immigrants-rights group that organized the protest. San Antonio Express-News
AFFIRMATIVE ACTION BANS CAN AFFECT MINORITIES IN ADJACENT STATES. A new study finds that minority applicants in Nevada and Arizona were adversely affected by California's ban on race-based affirmative action. Nevada and Arizona lack highly selective institutions, so high-achieving students there typically look to California. In Oregon, however, minority students didn't experience a loss, as the state has selective private institutions that do consider race in admissions. Inside Higher Ed
IN ROCHESTER, COLLEGES COULD DIRECT CITY SCHOOLS. Struggling city schools in Rochester, N.Y., could be turned over to area colleges, if Superintendent Bolgen Vargas has his way. As part of the Obama administration's Race to the Top initiative, New York state gives districts the option to turn failing schools over to outside organizations — like non-profits or charter-school management organizations. Area colleges remain noncommittal on the proposal. Rochester Democrat and Chronicle
TEACH TO ONE EARNS PROMISING MARKS IN MATH LEARNING. Personalized-learning models powered by technology fostered an average improvement of 20 percent more than the U.S. average in math assessment among students in seven tested schools, according to a newly released Columbia Teachers College study on the first-year impact of New Classrooms' Teach to One blended-learning model. All demographic sub-groups — including those focusing on language minority, special education, and low-income students — outperformed national norms except for black students. Chistensen Institute for Disruptive Innovation
ARNE DUNCAN: 'I REGRET' INSULT TO COMMON CORE CRITICS. Education Secretary Arne Duncan has apologized after trying to explain away criticism of his proposed Common Core program to school superintendents as "white suburban moms" complaining that their children were not as "brilliant as they thought they were." Duncan, trying to generate enthusiasm for the program and dispel criticism, instead created a stir. Breitbart
This article is part of our Next America: Higher Education project, which is supported by grants from the Bill & Melinda Gates Foundation and Lumina Foundation.
We want to hear what you think about this article. Submit a letter to the editor or write to letters@theatlantic.com.