McAuliffe's Winning Combo: Northern Virginia and Changing Demographics
Northern politics takes over the Southern state.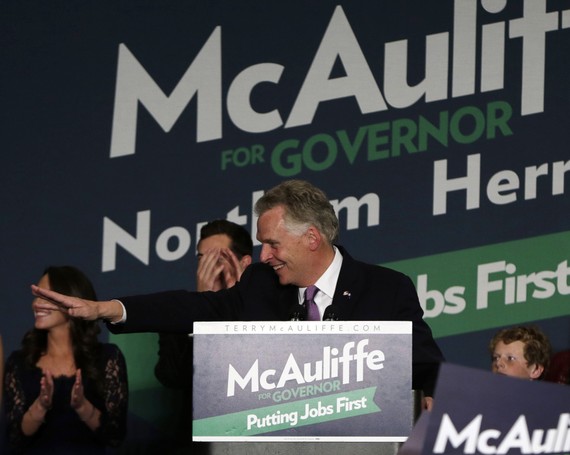 Terry McAuliffe's narrow win Tuesday to become governor of Virginia was the result of the changing and growing population of Northern Virginia. It was also the product of an electorate just as diverse—though not as large—as the ones that twice elected Barack Obama, according to analysts.
"There's been eight high-profile state-wide races in Virginia since 2005. Democrats have now won seven of those eight contests," Ruy Teixeira, a senior fellow at the Center for American Progress Action Fund, said on a call Thursday about turnout in the commonwealth. "Three senate races, two presidential contests, two of three gubernatorial contests. The only exception was [Governor Bob] McDonnell's victory in 2009."
That year, Virginia voters were 78 percent white and 22 percent minority. This year, they were 72 percent white and 28 percent minority—a change that made enough of a difference to once again throw the race to the Ds. The McAuliffe campaign ran a careful targeting effort to get voters to the polls and make sure that this year's electorate was more diverse than 2009's, according to Politico's debrief with the campaign's pollsters.
It worked. With McAuliffe's victory, Virginia can now be looked at as "sort of a purple state leaning blue," said Teixeira, co-author of 2002's The Emerging Democratic Majority. That book predicted that changes in the demographics of the electorate would ultimately swing red states into the blue column; those shifts took some time to show up, but now that they are here they show little sign of abating.
A post-election poll of Latinos and Asian-Americans in Virginia by Gary Segura of Latino Decisions showed they overwhelmingly supported the Democrat. McAuliffe won even though 56 percent of white non-Hispanic voters voted for Republican Attorney General Ken Cuccinelli, according to exit polls, thanks to the strength of McAuliffe's support among Latinos and Asians. Together, those two demographic groups contributed more than 50,000 more votes to McAuliffe than to Cuccinelli, Segura estimated. That's enormously significant, considering that McAuliffe only won by 55,220 votes.
Chris Cillizza of the Washington Post calculated things a different way, looking at gains McAuliffe made in Northern Virginia:
... his victory was not built on the raw number of counties (and cities) he was able to turn from red to blue but rather the gains he made in a handful of population-rich counties clumped in northern Virginia. McAuliffe took 59 percent in Fairfax County with a margin of roughly 66,000 votes. Democratic nominee Creigh Deeds lost the county in 2009.  In neighboring Prince William County, McAuliffe won with 52 percent, a margin of roughly 8,000 votes. Four years earlier, McDonnell won 59 percent in Prince William—wracking up a 13,000 vote margin. In Loudoun County, a fast growing western Washington exurb, McAuliffe won by four points and 4,000 votes; McDonnell had carried the county with 61 percent and by almost 15,000 votes in 2009.

Add it all up and here's what you get. McAuliffe left Loudoun, Fairfax and Prince William with a 78,000 vote edge over Cuccinelli; four years earlier, McDonnell left that trio of NoVa counties with a 32,000 vote lead over Deeds. When you consider that McAuliffe's statewide margin was only 55,000 votes (or so) over Cuccinelli, you begin to grasp just how critically important the inner and out suburbs of Washington have become to the fate of candidates statewide in Virginia.
That's an extraordinary margin—and swing—when you consider that the counties, which are growing, nonetheless did not add that many new people over the past few years.
According to data from Qian Cai, director of the Demographics  Workforce Group at the University of Virginia's Weldon Cooper Center for Public Service, the net migration of new people into the big three Northern Virginia counties between 2010 and 2012 was as follows:
Loudon County: 12,913
Fairfax: 9,351
Prince William: 9,167
Each county added many more people, as well, but many of those were non-voting infants.
McAuliffe just did a great job of getting those counties to turn out for him, wooing many more voters, compared to Deeds, than there were new people added to the counties. Fairfax County, in particular, was a stronghold for McAuliffe—which makes sense when you consider it's also the county he's lived in for the past 20 years. Deeds, for his part, was from Bath County in Central Virginia, and later represented the Charlottesville area.