Lawmakers Raise Doubts About Budget Process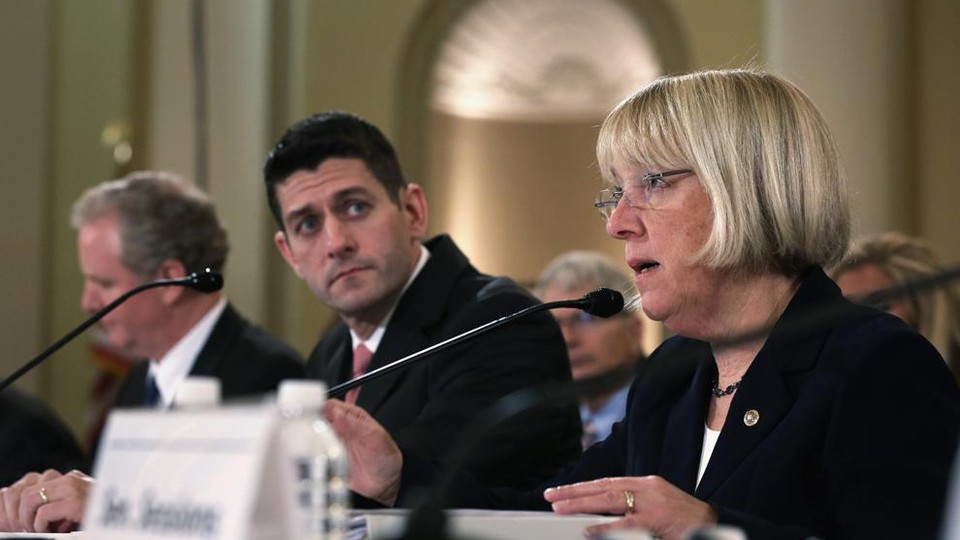 Some members of the budget conference are worried the committee won't strike a deal on its most basic task — agreeing to a topline number for the 2014 budget — in time for appropriators to do their work and avoid further fiscal calamity.
Rep. Harold Rogers, R-Ky., and Sen. Barbara Mikulski, D-Md., both Appropriations Committee chairs, asked that the budget conference reach an agreement on what the spending level should be "no later than December 2 and probably by November 22, prior to Thanksgiving," according to a letter dated Oct. 31.
Congress needs time, they argue, to prepare and vote on bills to fund the government and send them to President Obama's desk before Jan. 15 if it is to avoid another crisis, the letter says.
"This is a matter of some urgency," agreed Rep. Tom Cole, R-Okla., who is a member of both the budget conference and the House Appropriations Committee. He noted that Nov. 22 "is nine days away, and we don't have any meetings between November 22 and December 2."
Rep. Nita Lowey, D-N.Y., another conferee who is ranking member of the House Appropriations Committee, said, "I hope that our [budget conference] committee will really begin working in earnest to forge an agreement in coming days."
The committee held its second public meeting Wednesday, and Lowey was among the panel members who said afterward that, so far, there appears to be little going on outside discussions between Sen. Patty Murray, D-Wash., and Rep. Paul Ryan, R-Wis., who cochair the conference.
"The Appropriations committees are rightfully very concerned," Murray said Wednesday. "We understand that."
The two chambers are about $91 billion apart in the amount of discretionary spending in their respective 2014 budget proposals. But little has emerged publicly on what, if anything, Murray and Ryan have been able to agree on, which Ryan made plain: "The hard part is figuring out where we agree," he said.
It was clear Wednesday that committee members weren't yet clear on those areas either. During the meeting, Cole asked Congressional Budget Office Director Steve Elmendorf, on hand to answer questions, whether the office could create a list of spending cuts that both parties included in their budget bills as a potential starting point for a compromise. Ryan, however, cut in.
"We have all looked at each other's budgets and looked at where those overlaps exist," he said.
But that wasn't reflected in the meeting, as conferees seemed to find little common ground and avoided discussion of specific cuts. Both sides agreed they favor closing tax loopholes, but Republicans stuck to the idea that those conversations should be included in a larger discussion about tax reform, rather than in a conference deal. Democrats pushed back, continuing their calls for loophole closures in exchange for spending cuts.
Sen. Pat Toomey, R-Pa., said that while conversations are ongoing, he doesn't believe the committee has much to show for it. "I'm not aware of very much progress," he said. "I think we're still at an impasse."
"Just, uh, sorta stuck" was the way Sen. Lindsey Graham, R-S.C., described the negotiations, but he added that he remains "hopeful" that a deal will be done by the committee's Dec. 13 deadline.
Concern about the lack of progress was especially palpable from members outside the committee, who said they aren't being briefed on anything being discussed in the negotiations. One influential conservative lawmaker, who spoke on condition of anonymity, said he's received some intelligence on the conference committee's progress — and that the outlook isn't good. "Nothing's going to get done," the lawmaker said.
Ryan, when asked to address his colleagues' concerns, replied, "I'm not going to get into that."
However, Rep. Tom Price, R-Ga., another conferee, described Wednesday's summit as "a step forward," adding after the meeting adjourned: "I think we're moving."
Price agreed that appropriators need a topline number soon, but he dismissed the Dec. 2 deadline. "It needs to get done," he said. "The deadline for that is squishy, though. It's a little malleable. But I think we'll get there."
Sen. Rob Portman, R-Ohio, was also optimistic. He said he has been meeting privately with committee members from both sides of the aisle and has seen some progress in those discussions. A group is gathering Thursday to go over potential areas for a deal, although Portman wouldn't name names. "I wouldn't want to get them in trouble," he said.
Yet Wednesday's meeting showed that even members of the same party are not finding common ground easily. Sen. Chuck Grassley, R-Iowa, for example, cautioned his fellow conferees against seeking to soften the sequestration cuts to allow more military spending.
"Compromising on sequester for more money for the military, I think, is shortsighted, and hopefully those suggestions that you hear primarily out of the House of Representatives won't be pursued," he said.
"And if they are pursued, I think it's shortsighted from the standpoint of the cooperation that you have to have on the field between people of the same political parties," Grassley said. "It's kind of like [pinning] Senate Republicans to the wall."