Just Use the Damned Word: Filibuster
Defining obstructionism down
How not to do it: home page of the NYT just now. [And see intriguing update below.]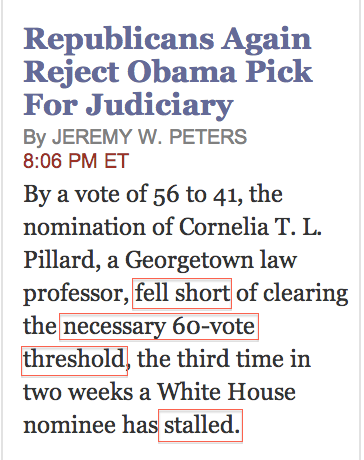 Careful students can follow along as we review what's wrong here:
1) "Necessary 60-vote threshold" implies some regular constitutional requirement, like the supermajorities necessary for impeachment trials or treaty approval. In fact incessant use of the filibuster is a recent, shift-of-norms phenomenon—and one of the goals of its practitioners is "defining obstructionism down" precisely so that its abuse will be treated as "necessary" and routine.
2) "Fell short" and "stalled" are intransitive verbs suggesting a weakness, failure, or insufficiency. In fact the nomination received a clear majority of 56 Senators, who as it happens probably represent about two-thirds of the population, but it was actively blocked rather than petering out on its own. To be fair, the headline uses the word "reject."
Courtesy of the WaPo, here is a how-to illustration of the way a lead story can note these realities:

On point #1, we've got the plain word "filibuster." On point #2, we've got the transitive verbs "blocked" and "denied."
What's really going on here? Below you see the current lineup of the D.C. Circuit Court of Appeals, usually considered to be the most important appeals court not simply because of its jurisdiction over many federal regulatory cases but also because so many Supreme Court nominees come from there.

You'll see that the twice-elected Bill Clinton has three appointees on the court, as does the twice-elected George W. Bush. The single-term George H.W. Bush has one appointee, as does the current, twice-elected Barack Obama. The Republican filibuster strategy is an attempt to stall as long as possible before allowing Obama to fill those vacant seats. It's a kind of reverse court-packing, as Garrett Epps has explained; by extension, it's an attempt to spread abuse of the minority-blocking power in the Senate to another branch of government. Agree with the policy or disagree, but call it what it is. Please.
---
I take it back! Or something. Two minutes after posting, as I check the NYT story again to add its URL link, I see this quite hearteningly different first paragraph:
WASHINGTON — President Obama's latest choice to fill one of the vacancies on a powerful appeals court went down in a filibuster on Tuesday as Senate Republicans blocked another White House nominee — the third in two weeks — and deepened a growing conflict with Democrats over presidential appointments.
On the one hand, the previous version was up there for quite a while. Its posting time said 8:06 p.m.; I did a screen grab three-plus hours later. On the other hand, it's different now. However this came about, thanks.