If You're in Congress, Good Luck Keeping Your Job
In 2014, campaigns will be built and won on outsider strategies.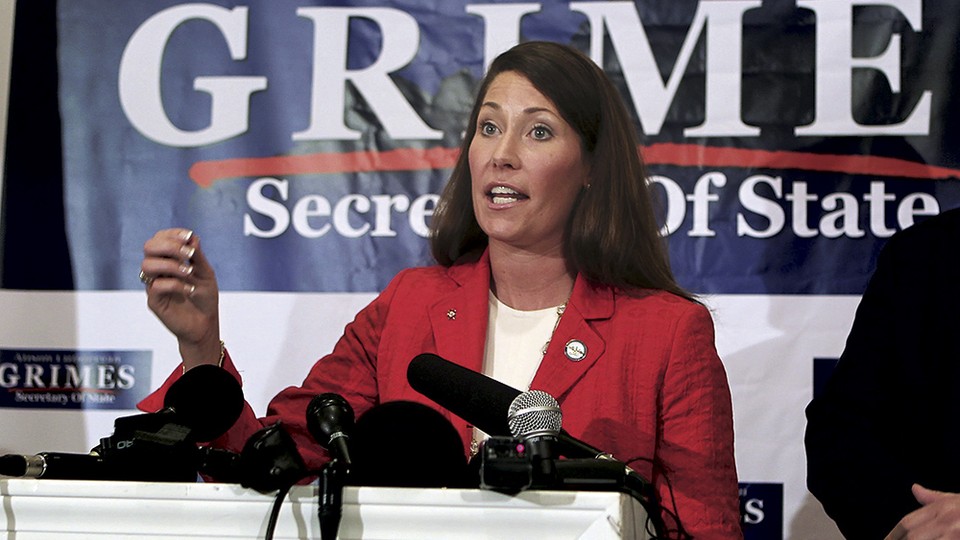 These days, Duck Dynasty trumps Eric Cantor.
Political neophyte Vance McAllister had never stepped foot in the District of Columbia — even as a tourist — when he declared his candidacy for the special election in Louisiana's 5th Congressional District. The businessman's opponent in a two-man runoff, an experienced state senator, had the support of the House GOP majority leader and almost every notable Republican in the Bayou State.
But McAllister was equipped with an endorsement from the stars of America's favorite reality show. And as it turns out, voters like those guys a heck of a lot more than they like Cantor, Bobby Jindal, or any other politician. McAllister, considered a heavy underdog, won by 20 points.
In doing so, he reinforced an essential lesson for both parties ahead of 2014: With public disapproval of Washington at an all-time high, voters demand outsiders. "It is the overwhelming reason why Vance won this race," said Josh Robinson, a strategist with the campaign. "And it will definitely play itself out in 2014. Voters are just sick and tired of what's coming out of Washington, whether it's the government shutdown or failed implementation of Obamacare. People in Congress can't seem to get anything right in the average voters' eye, and they're fed up with it."
They certainly are — historically so. One poll this month registered congressional approval at a paltry 9 percent. But it's not just the governing institution that's deeply unpopular. The shutdown left the Republican Party's image in tatters, less popular now than at any time since modern polling began. Now President Obama, undermined by the catastrophic rollout of his signature health reform law, has watched his own approval ratings sink as low as 37 percent, according to this week's CBS News/New York Times poll.
Voter dissatisfaction with politics is nothing new, but the country hasn't had such widespread deep-seated anger — directed at both parties — in modern times. Right now, voters don't like anyone. But on Election Day, they'll have to choose one party's candidate or the other, and they'll be drawn toward the one who looks, talks, and acts the least like the lawmakers already in the Capitol.
"Gone are the days of the ads where you have the member in the office where he looks like he's working hard," said one National Republican Congressional Committee aide, who requested anonymity to discuss strategy. "They're being replaced by biography ads talking about what they were doing before [they were a candidate], and why it's so important to be running for Congress as an outsider."
This dynamic is already leaving a mark on the 2014 landscape and beyond. Take Mitch McConnell, the five-term incumbent and Senate GOP leader who practically defines "Washington Insider." He's running in red-state Kentucky at a time when Obamacare's problems should be strengthening every GOP candidate. Yet, dogged by bottom-scraping approval numbers, he's still locked in a tough race against Democrat Alison Lundergan Grimes, who — not coincidentally — is a fresh-faced 34-year-old with a limited political background.
The Democratic Congressional Campaign Committee, meanwhile, has recruited candidates from outside the political arena. Not a single one of the committee's top recruits — the 20 people who are part of the DCCC's Jumpstart program — is a state lawmaker, the traditional pipeline for congressional candidates (although a handful formerly served in a state legislature).
And Scott Walker, the Wisconsin governor and himself a possible presidential contender, suggested that Republicans must keep the newcomer mentality in mind when choosing the party's next presidential nominee. "I think it's got to be an outsider," he said on ABC's This Week. "I think both the presidential and vice presidential nomination needs to be a former or current governor, people who have done successful things in their states, taken on big reforms, who are ready to move America forward."
Not everyone's outsider status will be validated by popular local TV stars (Duck Dynasty, whose stars own a company that makes duck calls, takes place in the 5th District, a sprawling rural area that covers Louisiana's northeast corner). But the McAllister team's tactics, operatives say, should be written into the playbook of every campaign. "From day one, every ad we did, every mailer we did, was about how he was not a career politician, he's a business guy," said strategist Robinson.
As for his opponent, the McAllister campaign similarly never deviated from its message: He was just another politician. "While he may be a good guy, it's clearly not working," Robinson said. "So why don't we elect someone different?"
Running outsiders won't be a silver bullet in 2014. Partisanship still matters a great deal. When Democrats with no political background run for a deeply red seat, they're still going to lose. An anti-incumbent wave, which prognosticators have traditionally loved to predict, is still closer to a dream than a reality.
But in the margins, voters will lean toward someone fresh. After all, they hate everyone else.