How San Francisco Is Changing the Way People Think of Green Space
"Parklets" are cropping up in cities around the country. And they could have huge benefits.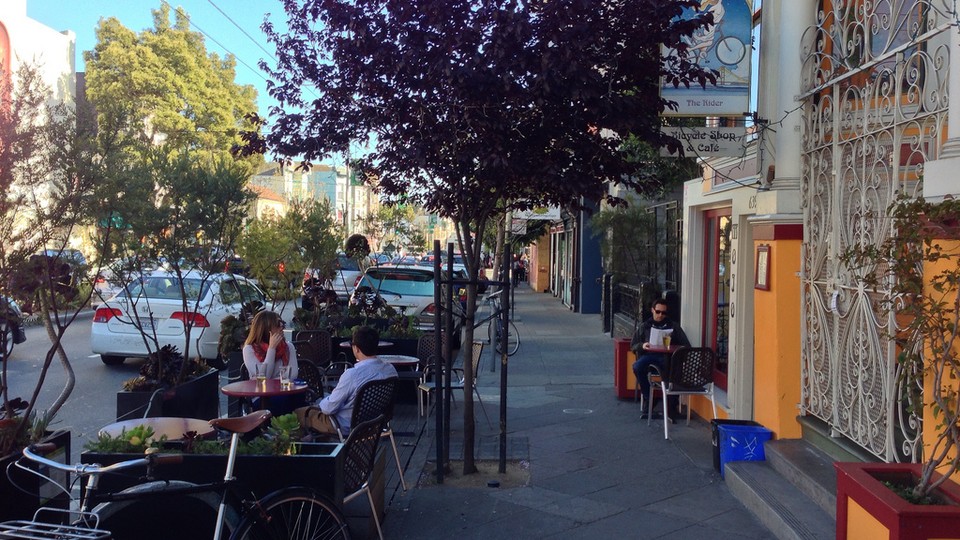 Tables and chairs sit neatly arranged on a wooden platform in the heart of San Francisco's Mission District. When the sun is shining, customers spill out of cafes and restaurants and crowd onto the platform. But this isn't just outdoor seating. It's a park.
The platform is part of San Francisco's Pavement to Parks program, a collaboration between the city planning department and a number of other municipal agencies, including the mayor's office. The program converts squares of pavement into plazas and postage-stamp-sized parks, called parklets. It started four years ago as a kind of experiment and has since become a fixture of civic life in San Francisco.
The first parklets to win the city's stamp of approval showed up in 2010 when Pavement to Parks launched a pilot program. Elevated platforms took the place of parking spaces and city planners added an assortment of tables, chairs, benches, and potted plants.
The response was overwhelmingly positive. "Right away, people liked the idea," says Ilaria Salvadori, the current director of the program. "Parklets provide so many benefits to city residents. It's a way to get more open space into the city and create places where people can spend time outside and sit and meet and talk and it's all right at your doorstep."
Close to 40 parklets have been installed so far, and that number is set to double. Popular support helped the initiative get off the ground. Much of its success, however, stems from a public-private partnership that allows the city to make the most of limited resources.
City planners vet project proposals and oversee their creation, but the cost of permitting, installation, and upkeep is borne entirely by storefront business owners, nonprofit and community organizations, and city residents.
"I don't think there was ever a question that this would be a good idea," Salvadori explains. "The model we've created allows us to get more parklets up and running at no hard cost to the city and it gives people a chance to have a say in improvements to their community."
It may also be good for the bottom line.
In 2011, the San Francisco Great Streets Project conducted a survey of how parklets impact local business. Though the sample size was relatively small, business owners polled said that sales either held steady or increased after a parklet was installed and a number of respondents reported an increase in foot traffic to their stores.
More research needs to be done to determine how parklets shape economic activity. But hard data aside, store owners say they have a certain draw.
"When a project opens up there's usually some type of attention given to it so if you're a business owner, that's guaranteed publicity," comments Madeline Brozen, the program director for the Complete Streets Initiative at UCLA's Luskin School of Public Affairs. "There's also improved visibility because you're building something that people can see from the street."
Parklets can also act as an extension of a brick-and-mortar storefront.
"One of the reasons we decided to sponsor a parklet was that it gives us a lot of flexibility as far as extra seating," comments Jodi Geren, one of the owners of San Francisco's Four Barrel Coffee. "The space is open to anyone but it also gives customers a place to sit. We probably spent the same amount of money building the parklet as we would have if we added on to our business, but there really wasn't anywhere for us to build. We were completely maxed out on space."
The most common criticism of the program is that it drains city revenue by displacing parking meters.
Sponsors are required to pay an additional fee for each parking meter that's taken out of commission. But it's not enough to fully offset lost revenue. The city doesn't charge more, Salvadori explains, because a decision has been made to prioritize public space over parking meters.
"The argument that we'll lose money from metered parking comes up with almost every project the city planning department works on," Salvadori says. "So it's not particularly different here, but we have never encountered any major opposition. I think this is partly because, by requiring businesses or individuals to sponsor a parklet, we head off criticism from the start. It's not the city imposing anything on anyone, it's city residents actively deciding that they want to build in a particular area."
On balance, parklets are proving more popular than not, and other cities have begun to notice. They've cropped up in Boston, Chicago, Los Angeles, Oakland, and Philadelphia, and a number of cities have established formal programs modeled after San Francisco's Pavement to Parks.
Experts caution, however, that there isn't a one-size-fits all model when it comes to urban planning.
"Every city has to figure out what works in their particular area," Ariel Ben-Amos, a former senior planner and analyst with the Philadelphia Mayor's office of transportation and utilities comments. "Every city has its own specific challenges that need to be met. At the end of the day, though, the central idea is to create public space where it's missing."
And Pavement to Parks has done just that.