How Liz Cheney Became the Black Sheep of the Family
Her public and highly charged dispute with her gay sister Mary Cheney shows just how much attitudes have changed.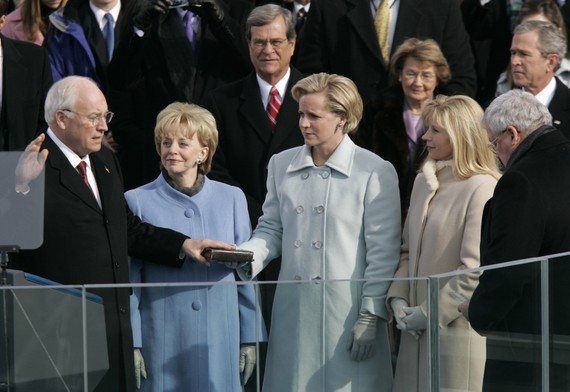 Every family has its black sheep, the opinionated outlier who is out of sync with the values of the others. Once upon a time that person might have been the gay or lesbian child. Times have changed, though, and today the black sheep can also be the family member who insists her lesbian sibling should be deprived of rights to which she is legally entitled.
With her self-serving public remarks against gay marriage on Fox News Sunday, Liz Cheney has now made herself into the black sheep of the Cheney family. Not even Cheney pere takes so extreme a position against the emotional well-being of a member of his hearth.
Liz Cheney is running as a challenger in the Republican primary in Wyoming against incumbent Sen. Mike Enzi. She's so far down in the polls a loss seems foreordained. But Republican voters in the state of Wyoming are still iffy on the question of same-sex marriage—the majority of them oppose it—and Liz Cheney has since the summer been saying she's in sync with that, too. "I love Mary very much, I love her family very much," Liz Cheney said Sunday on Fox News, explaining her position. "This is just an issue on which we disagree."
That led to a fierce rebuke from Mary Cheney's legal wife Heather Poe, who wrote on Facebook:
I was watching my sister-in-law on Fox News Sunday (yes Liz, in fifteen states and the District of Columbia you are my sister-in-law) and was very disappointed to hear her say "I do believe in the traditional definition of marriage."

Liz has been a guest in our home, has spent time and shared holidays with our children, and when Mary and I got married in 2012 - she didn't hesitate to tell us how happy she was for us.

To have her now say she doesn't support our right to marry is offensive to say the least

I can't help but wonder how Liz would feel if as she moved from state to state, she discovered that her family was protected in one but not the other.

I always thought freedom meant freedom for EVERYONE.
Mary Cheney shared Heather's post on her own Facebook wall, adding: "Liz — this isn't just an issue on which we disagree you're just wrong — and on the wrong side of history."
She elaborated in an interview with The New York Times's Jonathan Martin:
Mary Cheney, 44, said in a phone interview Sunday that she presumed her sister shared her father's views on marriage, and that view was reinforced because Liz Cheney "was always very supportive" of her relationship with Ms. Poe and the couple's two children. She learned otherwise in August when Liz Cheney declared, shortly after announcing her Senate candidacy, that she was opposed to same-sex marriage rights. Mary Cheney said it is now "impossible" for the sisters to reconcile as long as Liz Cheney maintains that position.

"What amazes me is that she says she's running to be a new generation of leader," Mary Cheney said, citing her 47-year-old sister's slogan in her campaign against Mr. Enzi, 69. "I'm not sure how sticking to the positions of the last 20 or 30 years is the best way to do that."...

The Cheneys have tried to be "as neutral as they can," added Mary Cheney, who just returned from a pheasant hunting trip with her father in South Dakota. "My parents are stuck in an awful position.
Liz Cheney's position may play in a Wyoming Republican primary, but it's been  the minority opinion in the United States since 2011, according to Gallup.
The sisters do not plan to attend the same Thanksgiving dinner.