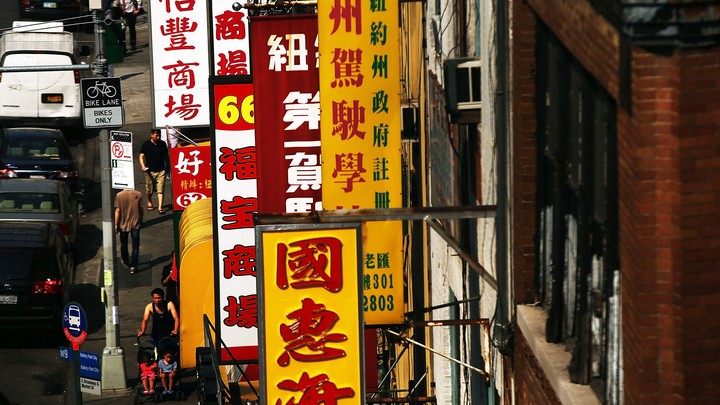 The Next America collects stories about economic growth and challenges to diverse communities. These are from Oct. 15 to 31.
Gentrification Threatens Chinatowns. An analysis of the Chinatowns in Boston, New York City, and Philadelphia show the Asian populations there are in decline, partly because of rising rental costs and median housing value. A joint report by the Asian American Legal Defense and Education Fund also found pressures because of institutional expansion, rezoning, and commercial development. The report recommended greater support for low-income and senior housing and subsidies to small businesses to help preserve the neighborhood communities. China Daily
Hispanic-Owned Businesses Worth $1 Billion to Golden State's Economy. California, representative of the future demographics of the U.S., now gets an economic boost each year to the tune of $100 billion from its approximately 700,000 Hispanic-owned businesses, which chip in more than 650,000 jobs. Thirty-nine percent of California's 38 million residents are of Hispanic heritage. "Hispanics buy from Hispanic businesses like stores and restaurants because what they consume is not provided by other companies," said Hugo Merida, president of the Los Angeles Metropolitan Hispanic Chambers of Commerce. Hispanically Speaking News
Report: Entry to Middle Class a Steeper Climb for Minorities. Good-paying jobs of the 20th century served to lift people of color into the middle class, but today the route is harder. A report by the Altarum Institute (pdf) notes that, adjusting for age and gender, mid-career white males earn about 30 percent more than people of color. "The full set of causes for these earnings differentials is unknown, but it clearly includes inequities in health, education, incarceration rates, and employment opportunities — all areas that can be influenced by targeted policies and programs," the study reported. "Minorities make up 37 percent of the working-age population now, but they are projected to grow to 46 percent by 2030, and 55 percent by 2050." If racial equity allows a broader middle class, the nation would benefit, thanks to a higher gross domestic product, more taxes generated through wage taxes, and bolstered corporate profits, the study contends. Bridge
Third-World Modeled Microcredit Working in New York Burrough. An approach to loans by the Grameen Bank that has worked in Bangladesh has come to Queens, where needy immigrants offered microloans of $1,500 to $8,00 loans and avoiding payday lenders. In accepting a loan, borrowers with an entrepreneurial bent agree to "exercise responsible financial behavior" with the intent to "use money to make money." In the program's U.S. adaptation, Grameen America dispenses funds to groups of five that self-monitor and make weekly payments of 15 percent annual interest. The New York Times
Tech Field Key to Empowering More Black Businesswomen. Three African-American women appear on Fortune's annual "50 Most Powerful Women in Business" list, which is increasingly infused with technology leaders. Ten women on the 2013 list are executives at technology firms, but only one is a black woman. "Girls from African-American and Latino communities do not have a lot of role models," said Kimberly Bryant, founder of BlackGirlsCode. "The cross section of gender and race is the biggest issue in tech today. The whole tech ecosystem must be disrupted." The Grio
Struggling NYC Latino Nonprofits Blame Mayor's Policies. Of New York's 40,000 nonprofits, which employ about 15 percent of the city's nongovernmental workforce, only 2,500 do business with the city. According to requirements, an organization must have capital available to secure city funds, and that's a large obstacle for Latino groups because of their common dependence on public funds. "For our community, philanthropy is foreign to us," says José Calderón, executive director of the Hispanic Federation, who maintains that the economic downturn and Mayor Michael Bloomberg's policies have hurt the 60 community organizations in his alliance. Latino institutions garner less than 2 percent from charitable foundations, creating obstacles for raising private capital and leading Calderón to claim that the current rules result in Latino organizations getting few city contracts. City Limits (English) | El Diario (Spanish)
'Flama' to Launch on YouTube. Univision Communications plans to feature short videos and series from comedy and sports to lifestyle and documentaries on its forthcoming Flama online network. In partnership with Bedrocket Media, a digital-media producer, Univision will target people ages 15 to 34 who are interested in Latin culture. The Huffington Post
Pa. Nonprofit Amish Country Aiding Latinos. Change has been significant in Lancaster, Pa., long known for its settlements of Pennsylvania Dutch and Amish residents. An influx of agricultural immigrants who arrived 30 years ago has changed demographics, so that now 40 percent of Lancaster's 60,000 residents are Hispanic, and about 60 percent of Latino families are at or below the poverty level, said Carlos Graupera, founder and CEO of the Spanish American Civic Association. For its ongoing efforts, the SACA has received the Justice Grant from the Opportunity Finance Network. NBC Latino
Equal Access at Core of Silicon Valley Trailer Park Fight. Buena Vista Mobile Home Park, one of the remaining affordable housing options in Palo Alto, Calif., may close as the owners consider selling the land to a developer. The mostly-Latino residents are fighting to remain so their children can remain enrolled in one of California's premier school districts. NPR
We want to hear what you think about this article. Submit a letter to the editor or write to letters@theatlantic.com.