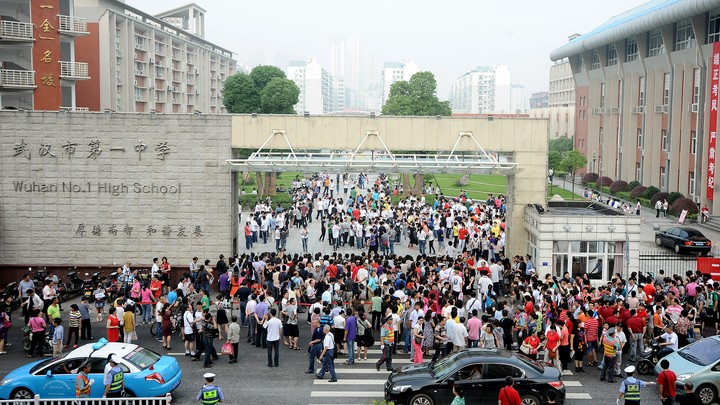 More American college students than ever before choose to study abroad. Still, American students aren't nearly as global-minded as their peers from other countries.
Here are six figures from the the newly released annual Open Doors Report on International Educational Exchange that break this down.
1. 283,000 - The record number of students the United States sent abroad last academic year, an increase of about 3 percent.
2. 820,000 - The approximate number of foreign students who studied in the United States last year. China alone sends nearly as many students to the United States as we send abroad at all. And those who come to study here often stay for a full academic year.
3. $24 billion - The amount of money, according to the U.S. Commerce Department, that foreign students have injected into the U.S. economy. They also give to the country in less quantifiable ways by providing new and global perspectives at campuses across the United States.
4. 15,000 - The approximate number of students we send to China, the world's fastest-growing economy, each year. U.S. students pursue the study abroad experience a little differently than their global peers. The United Kingdom is by far the most popular destination, followed by Italy, Spain and France. Not exactly up-and-coming economic or political powerhouses. And the Middle East, where the United States remains deeply embroiled? We send a mere handful to study there.
5. 90 percent - The percentage of American college students who do not study abroad at all.
The takeaway?
While these figures might appear dismal, we seem to be headed in the right direction. The number of American students going abroad has more than tripled in the past two decades and the uptick is likely to continue.
That's a good thing.
According to those behind the report — the Institute of International Education and the State Department's Bureau of Educational and Cultural Affairs — the study abroad experience is more valuable than ever.
"The careers of all of our students will be global ones, in which they will need to function effectively in multi-national teams," IIE President Allan Goodman said in a statement. "They will need to understand the cultural differences and historical experiences that divide us, as well as the common values and humanity that unite us."
This article is published with permission from Fusion, a TV and digital network that champions a smart, diverse and inclusive America. Fusion is a partner of National Journal and The Next America. Follow the author on Twitter: @Emily_DeRuy
This article is part of our Next America: Higher Education project, which is supported by grants from the Bill & Melinda Gates Foundation and Lumina Foundation.
We want to hear what you think about this article. Submit a letter to the editor or write to letters@theatlantic.com.
Emily DeRuy
is a former staff writer at
The Atlantic
, where she covered education.