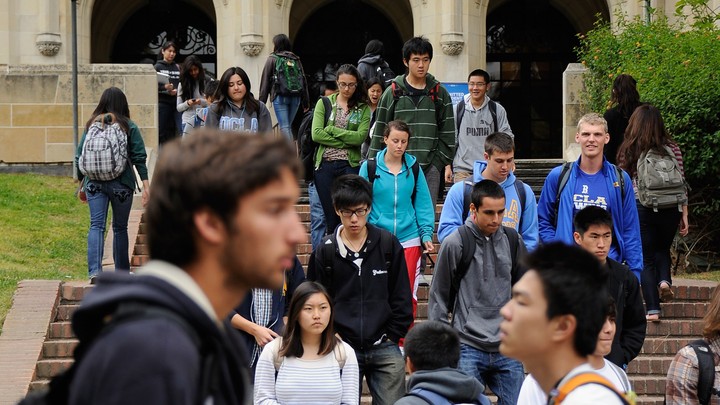 The Next America produces a weekly roundup of education stories relevant to diversity. These stories date from Oct. 31 to Nov. 11.
AROUND THE NATION
STUDENTS' PATH TO DEGREES SHOW DISTINCT ROUTES BY ETHNICITY, RACE. A recent National Education Association gathering of union district leaders discussed suburban neighborhood demographics where white and Asian-American students attend largely white schools, and African-American or Latinos attend minority-majority schools. Gary Orfield of UCLA's Civil Rights Project said pre-K through grade 12 schooling should be reconceived to pre-K through 16, to improve chances of ascenscion to the middle class. Reported University of Wisconsin-Madison education professor Gloria Ladson-Billings on the stratified U.S. education system: "The 468 top-tier universities in the country are largely white and Asian. The 3,250 two-year, four-year lower-tier schools are black and Latino. They are overcrowded, they are under-resourced, you're less likely to graduate from one of these, and you're more likely to have to work while you're doing it. So, the system is unequal all the way through." NEA Today
ARMY BACKS OFF FROM  DROPPING 13 ROTC SCHOOLS IN 10 STATES. The Army is reconsidering its decision to end Reserve Officers Training Corps programs at 13 U.S. universities, opting to place those programs on probation rather than to suspend them. Those schools, largely in the South, that had been on the chopping block typically commission no more than 15 officers a year. The Army wants to focus on 56 markets that are more reflective of changing U.S. demographics. See the schools originally listed to close in 10 states, including three in Kentucky. New York Times
MORE U.S. CHARTER SCHOOLS ASPIRE TO BE "˜DIVERSE BY DESIGN.' A 4-year-old New Orleans charter school that emphasized racial and economic diversity is showing results, like many similar schools across the U.S. The Century Foundation estimates about 25 "diverse by design" charters schools have opened in Denver, New York, Washington, and other locales in recent years. "To me it's a wonderful development," said Century senior fellow Richard Kahlenberg. "It's the old common school ideal "¦ that you have students from all different backgrounds coming together and learning what it means to be an American." Hechinger Report
WHY ARE AMERICA'S SCHOOLS STILL SEGREGATED? A Wisconsin doctoral candidate has published an article in the American Sociological Review that notes the factors driving segregation have increased in recent decades — and suggests that fixing the problem will require a new set of strategies. In the 1968-69 school year, about 77 percent of black students and 55 percent of Latino students attended public schools that were more than half-minority. In 2009-2010, 74 percent of black students and 80 percent of Latino students were enrolled in schools that were more than half-minority. More than 40 percent of black and Latino students attended schools that were 90 percent to 100 percent minority. Jeremy E. Fiel's article is titled, "Decomposing School Resegretation: Social Closure, Racial Imbalance, and Racial Isolation." The Atlantic
CATHOLIC EDUCATORS OPPOSE ADOPTION OF NEW GUIDELINES. A letter signed by more than 100 Roman Catholic educators, professors, and administrators has asked that U.S. Catholic schools ignore the new Common Core educational standards, claiming they lower standards, among other reasons. "We see the Common Core as a minimum, just as we've seen other state standards in the past as a minimum, and we intend to go way beyond that," said Sister John Mary Fleming of the U.S. Conference of Catholic Bishops. New York Times
TEACHERS WEIGH IN ON HOW TO IDENTIFY GRIT. Educators are trying to identify and quantify the intangible quality of grit. The Education Department has produced a paper, New York charter schools have produced report card for character traits, and Educators 4 Excellence in Los Angeles had published a report, calling grit a "game changer" for lifting performance. Hechinger Report
AROUND THE STATES
CALIFORNIA: LATINOS LAST IN COLLEGE COMPLETION. Though more than a third of California residents are Latino, only 11 percent of Latino adults hold a bachelor's degree, according to "The State of Latinos in Higher Education in California," a report released by the Campaign for College Opportunity. By comparison, 39 percent of whites and 23 percent of blacks hold bachelor's degrees. Diverse | La Opinion
FLORIDA: SEVENTH-LARGEST U.S. SCHOOL DISTRICT ADDRESSES 'SCHOOL TO PRISON PIPELINE.' An alternative supported by administrators, police, and the state attorney's office will empower Broward County Public Schools principals rather than school resource officers as the the primary decision makers in responding to student misbehavior. The move is an attempt to reduce the number of students being charged with crimes for minor offenses. In the school year that ended in June 2012, Broward had the most arrests, and 71 percent of the 1,062 were misdemeanors. The plan is an alternative to the zero-tolerance policies common in many schools. Associated Press
ILLINOIS: DISTRICTS ADJUST TO SURGING MINORITY POPULATIONS. The newly released 2013 Illinois School Report Card shows total minority enrollment at 49.4 percent, part of the reason schools across the Chicago region are hiring bilingual teachers, publishing newsletters in many languages and celebrating diversity. The biggest surge has been in Hispanics. Chicago Tribune
MISSOURI: RURAL SCHOOLS BUILD SAFETY NET FOR IMMIGRANT CHILDREN. About 75 percent of the students enrolled at rural Noel (Mo.) Primary School are immigrants and refugees who moved to the Ozark town (population 1,832) to work at the Tyson Foods slaughterhouse. Between 2008 and 2013, the languages spoken by students jumped from six to 11. Teacher Erin McPherson is in charge of more than 100 English-language learners in a school of about 220 students, ages 3 to 9.  The Gazette
NEW YORK: BROOKLYN SCHOOL MODEL TO BE COPIED STATEWIDE. Business executives, government officials, and educators pleased by a Brooklyn technology curriculum that has also been applauded by President Obama will extend the approach to 16 additional communities in the state. Currently, Crown Heights students engaged in the Pathways in Technology Early College pilot supplement their standard course load with extensive computer-science classes and complete the program with enough college-level work to also receive an associate's degree. Capital New York
TEXAS: REPORT ANALYZES IMPACT OF PRE-GRADUATION TESTING ON LATINOS. New legislation de-emphasizing testing in the state's high school graduation requirements will help Latino and black students, according to a policy brief released by the Urban Policy Research & Analysis at the University of Texas, Austin. The tests students must pass to graduate will drop from 10 to five. Latino Ed Beat
RESEARCH
U.S. MATH AND READING SKILLS IMPROVING. Every two years, hundreds of thousands of American fourth- and eighth-grade students take the National Assessment of Educational Progress. The test evaluates students' reading and math abilities through reading comprehension questions and grade-appropriate math problems. The results of the test have provided a snapshot of American education since 1990. Over the past two decades, scores have been rising, but slowly. The 2013 results are out, and the national average scores have increased — just barely — since 2011. The Atlantic
REPORT: CHILD'S FIRST 8 YEARS CRUCIAL TO ACADEMIC, OVERALL SUCCESS. An Annie E. Casey Foundation report on education readiness suggests that strong early childhood programs formulated for children through age 8 and that includes parental support lead to better success in school and adulthood. The Early Childhood Longitudinal Study found just 36 percent of third-graders had developed age-appropriate cognitive knowledge and skills. Progress Illinois
FIRST-GENERATION STUDENTS LAG IN COLLEGE READINESS, REPORT SAYS. About a quarter of high school graduates who took the ACT in 2013 met all four of its college-readiness benchmarks, in English, reading, mathematics, and science. But only 9 percent of students whose parents did not go to college met all benchmarks, according to "The Condition of College & Career Readiness 2013: First-Generation Students," released on by ACT and the Council on Opportunity in Education. Chronicle of Higher Education | ACT Report (pdf)
REGARDLESS OF INCOME LEVEL, 4 TIPS TO ENSURE CHILDREN'S ACADEMIC SUCCESS. NBC Latino
STUDY: BLACK STUDENTS WITH BLACK TEACHERS HAVE LOWER RATES OF TEEN PREGNANCY. Fewer than one-third of teen mothers finish high school and less than 2 percent of those graduate from college. A study of Georgia students, published in the Journal of Public Administration Research and Theory, looks at schools in Georgia and finds that the presence of minority and female teachers as mentors and role models improves the academic outcome of teen mothers. The Atlantic
SUCCESS FOR ALL PROGRAM SHOWS RISE IN READING. A new evaluation of Success for All program showed reading achievement improvement of about 12 percent in annual growth, compared to their peers. The SFA program is supported by a five-year federal grant in a Department of Education innovation competition.  New America
UNDERSTANDING THE LIFELONG BENEFITS OF PRESCHOOL. High-quality preschool is an effective way to reduce social problems associated with poverty because it teaches children the psychological skills they need to succeed as adults, according to an American Economic Review article. The authos of "Understanding the Mechanisms Through Which an Influential Early Childhood Program Boosted Adult Outcomes" considered the 40-year outcome of preschool students from Ypsilanti, Mich., in the mid-1960s.  Vanderbilt News
FINANCES and ECONOMICS
A DIFFERENT MODEL FOR MERIT AID. Raise, a micro-scholarship site, seeks to use merit plus behavior to reward students. So far 20 schools are signed up to support students. As an example, Tulane University expects to use the service to reward leadership and community service. The site's founders are also working with six low-income high schools to help students better understand what is needed for college success. Chronicle of Higher Education
COMMUNITY COLLEGE MAKES STUDYING PAY An experimental program at Ivy Tech Community College in Indianapolis seeks to help improve community-college graduation rate by keeping students focused on studying instead of working a part-time job. The Associate Accelerated Program offers scholarships that cover tuition, fees, and some expenses — allowing some students to graduate within one year. Wall Street Journal
NEW STUDENT-LOAN RULES ADD PROTECTIONS FOR BORROWERS. The Education Department has created rules that will make it easier for students who have defaulted on their loans to repay them. About 46 percent of the 600,000 distressed loans granted in 2010 were from for-profit schools. Loan holders who make nine on-time "reasonable and affordable" payments have the chance to rehabilitate their situation. New York Times
This article is part of our Next America: Higher Education project, which is supported by grants from the Bill & Melinda Gates Foundation and Lumina Foundation.
We want to hear what you think about this article. Submit a letter to the editor or write to letters@theatlantic.com.