EPA Is Getting Into Labels
The agency best known for its environmental regulations is trying to become consumer-friendly.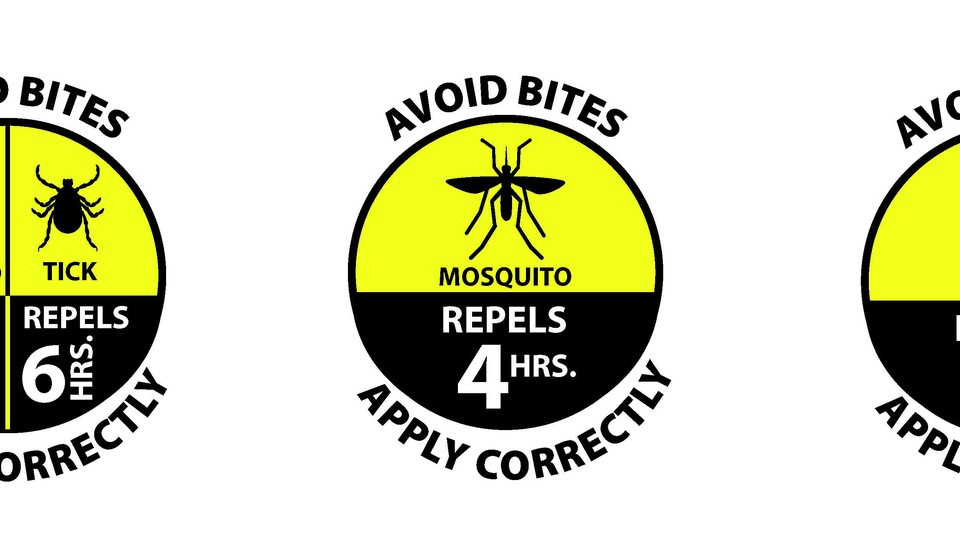 You wouldn't buy sunscreen without first checking the SPF label. You probably even check the nutrition facts on your food from time to time. And soon, the Environmental Protection Agency hopes, consumers will come to expect similar labels on used cars, insect repellents, and a host of other products.
"It is very much a concerted effort on the agency's part," said Jim Jones, who helped design EPA's insect repellent labels that debuted Wednesday. "We're really trying to figure out where we can provide information in a manner that is easily accessible to the average consumer and trusting that the American public makes informed decisions."
The agency is seeking public feedback on its new repellent labels, which tell consumers if a product keeps away mosquitoes or ticks, and for how long. That information isn't new, Jones said, but previous standards made it inconsistently placed and "densely communicated."
Attempts to standardize and simplify product information, EPA admits, are modeled after the precedent set by the Food and Drug Administration. "We used the SPF model," Jones said of the latest label. In the design stage, EPA sought the advice of the FDA, which also has been requiring nutrition labels on packaged foods since 1990. "The coordination with FDA was largely about learning from their experience," Jones said. "What works with consumers? What doesn't work?"
Insect repellent isn't EPA's first foray into standardized product labeling. Earlier this year, the agency expanded its fuel-mileage stickers to include used cars. Although the stickers' adjusted standards dropped mileage estimates from original claims, many in the car-sales industry lauded their uniformity and transparency. "Anybody who's selling a car, dealerships especially, are going to be looking for any edge they can get," AutoTrader.com site editor Brian Moody told National Journal last month. "What better way to get that edge than an official sticker from the government?"
Consumer advocates also welcome the expansion of government-standard labels. "It's helpful for the government to set some sort of standard so that all products are meeting that," said the Consumer Federation of America's Chris Waldrop. "You want to make sure that the label is something consumers can use and understand." Based on past success stories, Waldrop said, it won't take long for other labels to catch on. "Once [nutrition labeling] was on the package, consumers started using it and finding it useful," he said.
So far, feedback has been positive on the new repellent label, Jones said. Focus groups that tested the label found it to be helpful, and manufacturers have mostly welcomed the increased clarity.
So what's next on EPA's label campaign? Jones has his eye on the Design for the Environment program, which designates products that are environmentally safe. While its aims are good, "that label doesn't really resonate," Jones said. "We're going to redesign that label ... in a way that it's really clear to the consumer what we're trying to convey to them."