ENDA's Tipping Point in the Senate
Testimony by a transgender witness in July 2012 was essential to the non-discrimination bill's passage on Thursday.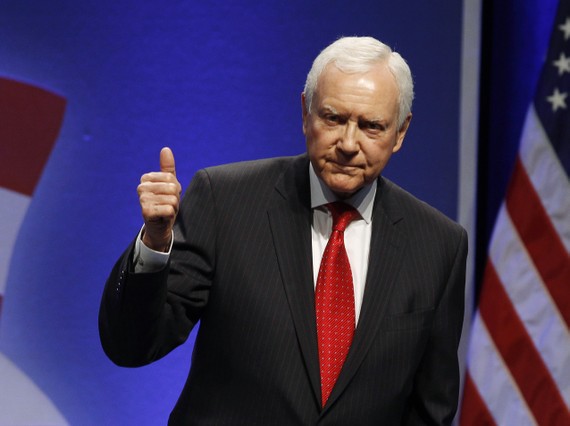 In July of last year, senators gathered in a wood-paneled hearing room and saw something they had likely never seen before: a black man at the witness table who, 20 years previously, had been a woman. He testified about how, before his sex-change surgery, he had been escorted by police out of women's bathrooms and stripped to "prove" he could be there. He talked of how he was fired from one of his first jobs (in finance) six months after he announced that he was transitioning from woman to man.
But the most important part of Kaylar Broadus's appearance before the Senate Health, Education, Labor, and Pensions Committee on that summer morning wasn't anything he said. His mere presence at the witness table, at the invitation of committee Chairman Tom Harkin, D-Iowa, was the signal to the gay, lesbian, and transgender community that they could go all out in promoting the Employment Non-Discrimination Act, a bill that bars workplace discrimination against them. Various versions of the legislation have been around since 1974.
The Senate passed it 64-32 Thursday.
Congressional aides point to that Senate hearing as a key moment in turning the tide in favor of legislation that had seen zero action since the House passed a similar bill in 2007. The Senate hearing signaled to gay-rights activists that this time around, they didn't have to worry about revolt within their ranks over transgender coverage, always a sticky point for squeamish lawmakers.
"Transgender freaks people out," admitted one gay-rights advocate. By contrast, nine out of 10 people personally know someone who is gay.
The House bill was embroiled in controversy from the get-go because it deliberately excluded transgender people in order to win "yes" votes from moderate Democrats in districts that had backed President Bush in the 2006 election. The exclusion angered gay-rights activists to the point of revolt. Their complaints led then-Rep. Barney Frank, D-Mass., who is gay, to hold an infamous press conference in which he spent 45 minutes lecturing advocates about the benefits of having House members vote on tough legislation that actually passes. "These guys need to get used to voting on this," he said.
Gay-rights advocates never forgot that moment. After the 2007 bill died in the Senate, they decided they wanted all or nothing on ENDA. Nothing was all what they got for five years, and the wounds were still smarting when Harkin convened the 2012 hearing.
Broadus's testimony effectively healed them—and activists got to work, spending much of the next year and a half in the field. They targeted grassroots messages to senators in red and purple states that their internal polling showed as the most gay-friendly: New Hampshire, West Virginia, Ohio, Arizona, Arkansas, Nevada, and Pennsylvania.
The Human Rights Campaign spent $2 million in these states, generating more than 162,000 emails, 80,000 postcards, 15,000 calls, and 1,000 letters.
The advocates made sure that the senators on their "gettable" list knew that they would not be penalized from the right for their support. The Human Rights Campaign circulated an extensive report showing that not one Republican state legislator had ever lost reelection because he or she voted for a state nondiscrimination law.
The tactic worked. Sen. Lisa Murkowski, R-Alaska, cited the gay outreach as main reason she decided to support the bill when Harkin's committee passed it in July. Sen. Orrin Hatch, R-Utah, also voted for it.
Congressional aides say Hatch was one of the most influential members in the GOP caucus on the bill. He waited until the day before the committee's vote to let Harkin know of his support. He wanted to be sure it struck the appropriate balance between nondiscrimination for the LGBT community and protection for religious groups, according to his aides. To get there, Hatch's staffers did lengthy legal review of every employment nondiscrimination bill that had ever been introduced. The exercise was particularly important because Hatch, one of the Senate's longest-serving members, had voted against ENDA in 1996. He wanted to be sure he could explain why he switched.
As it turned out, Hatch's explanation gave several religious senators, including Sen. Dean Heller, R-Nev., a reason to vote for the bill. Hatch said that the Senate's version of ENDA went further in terms of religious exemptions than a Salt Lake City LGBT nondiscrimination ordinance that had been endorsed by the Mormon Church. Both Hatch and Heller are Mormon. Hatch also made it clear to a host of other religious groups that the bill would do nothing to impede their activities. Because Hatch was the sponsor of the Religious Freedom Restoration Act in 1993, his word carried some weight.
But it wasn't Hatch—or even Heller, who this week gave supporters a solid 60 votes—that aides identified as the moment when they knew the bill would pass in the Senate. It was the deafening silence from Senate opponents in the committee markup, which was highly unusual for a meaty, controversial bill. Several Republicans had prepared amendments to it when the panel convened, but without explanation they declined to offer them. The bill passed quickly with nary a peep.
"You always worry about amendments, as you know. But it was pleasantly surprising to me that we brought it up and it passed in five minutes. No amendments. Nothing," Harkin told National Journal.
The radio silence from opponents continued on the floor; debate seemed pointless when the House won't take up the bill.
Advocates have a different take on the noticeable lack of public protest. They say it's easier to vote against nondiscrimination when you don't have to explain it, especially if that explanation will be forever preserved in the Congressional Record.