Egalitarian College Hopes, to a Degree
62 percent believe money and influence give an edge to attending a top school, though more Asians and Hispanics believe they have a fair shot at one.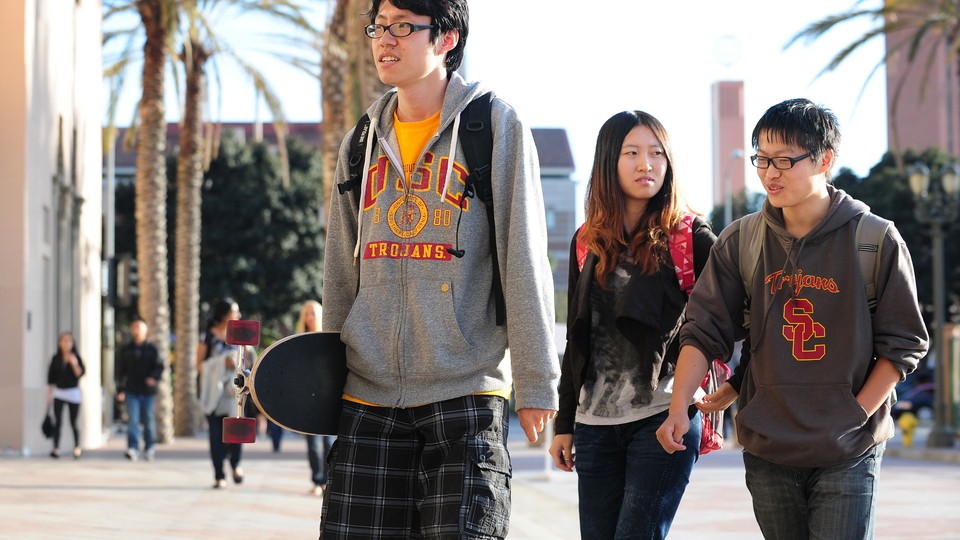 Americans see a class divide in higher education but don't necessarily believe that need-based aid is the way to address it, according to the latest College Board/National Journal Next America poll.
Sixty-two percent of all respondents said they believe that students from wealthy and influential families have a better chance of getting into America's best colleges. Yet 59 percent also approve of the move some states and institutions have made to provide less need-based financial aid and more merit-based financial aid. (Stephanie Stamm)
Asian and Hispanic respondents took a slightly more egalitarian view of higher education than their white and black counterparts: 39 percent of Asians and 37 percent of Hispanics said all students have an equal chance of getting into top colleges, based on their academic qualifications. Black respondents were most likely to believe that admission was class-based, with 68 percent saying that wealthy students have an admissions advantage.
But despite their sense that wealth matters, 64 percent of black respondents approve of shifting resources toward merit-based aid. Hispanic respondents were most strongly opposed to a shift toward merit-based aid, with 39 percent opposing such a change.
A lot of merit scholarships are essentially lures: discounts for wealthy, high-achieving students that colleges need to recruit to boost their bottom lines and their U.S. News and World Report rankings, Washington Monthly reported last month. Nearly a fifth of students receiving merit scholarships have less than a B average, the magazine reported; from 1995 to 2007, the number of full-time, first-time enrollees receiving merit aid at private colleges jumped from 24 to 44 percent.
The College Board/National Journal Next America Poll, conducted by Princeton Survey Research Associates International, surveyed 1,272 adults ages 18 and older from Oct. 14-24, in English and Spanish, through landlines and cell phones. It includes oversamples of 245 African-Americans, 229 Hispanics, and 107 Asian-Americans; the poll has a margin of error of plus or minus 3.9 percentage points for the overall sample, with larger error margins for the subgroups. The poll is one component of National Journal's Next America project, which examines how changing demography is changing the national agenda.
First in a five-part series Click here to download the topline results from the poll and access in your download folder.