Did the Shutdown Even Matter?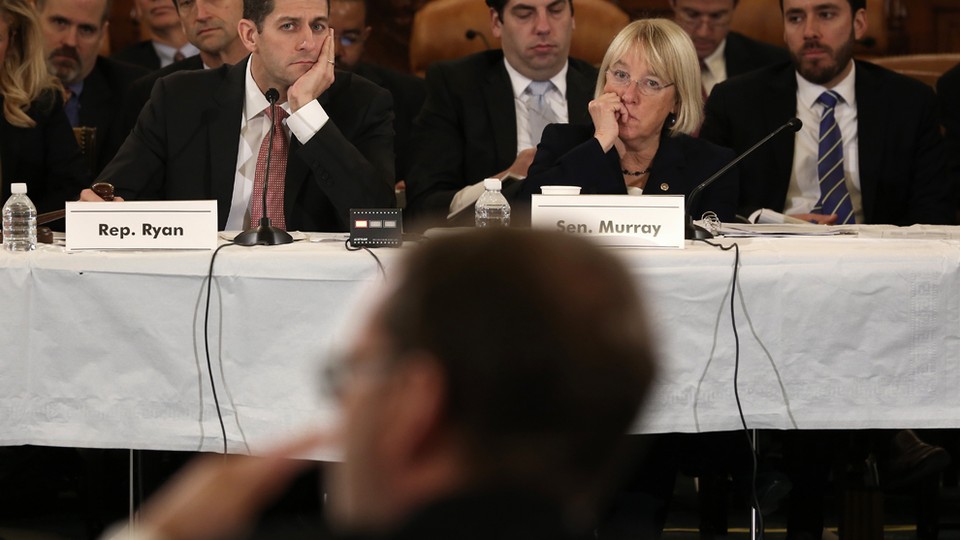 When budget negotiations began last month, Democrats felt confident that public opinion surrounding the government shutdown would force Republicans to the table, eager to prove their party could compromise.
But today, there's little sense of urgency on a budget deal. With less than four weeks to go before the conference committee's deadline, the public focus has shifted to the troubled rollout of the Affordable Care Act and pressure on Republicans has subsided.
"The shutdown is history. We are moving forward to try to get the next thing done," William Allison, a spokesman for House Budget Committee Chairman Paul Ryan, said last week.
Asked whether Ryan and others feel pressure to get something done because of the shutdown, Allison was blunt: "Nah," he said.
Rep. Chris Van Hollen, D-Md., a member of the conference committee, said the idea that Republicans may be feeling more at ease about the budget deadline now that concerns about the Affordable Care Act have taken center stage lined up with how many Democrats read the situation.
"Our perception is that they don't want to move forward on the budget, jobs, and the economy because they just want to play politics on health care," he said Monday.
Though talks between cochairs Ryan and Senate Budget Committee Chairwoman Patty Murray, D-Wash., are ongoing, it is becoming clear that Republicans are growing less concerned about reaching an agreement ahead of the Dec. 13 deadline, potentially putting Congress on a path toward another last-minute deal to keep the government functioning. The current continuing resolution expires Jan. 15.
As Allison put it, "If we don't do anything, the government doesn't shut down, there's not a second sequester that hits, there's not a debt limit, so if we fail to reach an agreement by December 13, the world keeps spinning and everything's fine."
Still, some say the expectations remain. Rep. James Clyburn, D-S.C., another member of the conference committee, said Monday that he wasn't so sure that pressure on Republicans was lessening. "I thought there was always pressure to do something before the 13th of December, irrespective of what happened in the intervening time. I still feel the pressure is on all of us to do something before December 13th."
Asked if he thought there'd be a deal, Clyburn was less confident. "I don't know. This is the third time around for me. Didn't work too well the first two times. Let's hope the third time's the charm," he said.
Democrats say they are open to certain spending cuts in exchange for revenue hikes, potentially in the form of closing tax loopholes that the party outlined last week. But Republicans are insistent that changes to the tax code should be left out of the budget negotiations — they prefer to tackle them in a tax-reform package — and have thus far shown little openness to revenue hikes of any kind.
"A budget agreement won't happen if Democrats continue to insist on more tax hikes for American families and employers, which will cost us more jobs and hurt our economy," House Speaker John Boehner said Friday. "Chairman Ryan, Senator [Mitch] McConnell, myself have all been clear: The president got his tax hike in January."
Even if budget negotiators were to reach an agreement by Dec. 13, it would not be binding. Congress would still have to write and pass a series of appropriations bills to fund the government. And with just one week's worth of legislative days in January before the current CR expires on the 15th, that's asking a lot.
As a result, Appropriations Committee Chairs Barbara Mikulski, D-Md., in the Senate and Harold Rogers, R-Ky., in the House have asked budget negotiators to send them a topline budget figure as early as Friday, in order to allow their committees time to prepare appropriations bills for fiscal 2014. But few believe the conference committee will hit that goal.
Van Hollen said he sees little sign of progress in the private negotiations between Murray and Ryan, or in the broader discussions with the other members of the committee. He put the chances of the committee coming to a deal by the Dec. 13 deadline at "50-50."
"There are ongoing discussions, but we are very far away from anything that could even be considered progress.... I see no evidence of progress," he said last week.
Still, nobody is gunning for another shutdown, either. With both parties still miles apart on long-term spending goals, Senate Minority Leader McConnell and others have begun discussions about how to keep the government open past Jan. 15 in the event that the budget conference committee fails to reach a deal.
Sen. Kelly Ayotte, R-N.H., who is involved in those discussions, warned that the meetings were not necessarily a sign that Senate Republicans expect the conference committee — of which she is also a member — to fail.
"I think it just shows you that we want solutions and we want to make sure that the government's not shut down again," Ayotte said.