Dems Say 'No, Thanks' to Republican Plans to End Shutdowns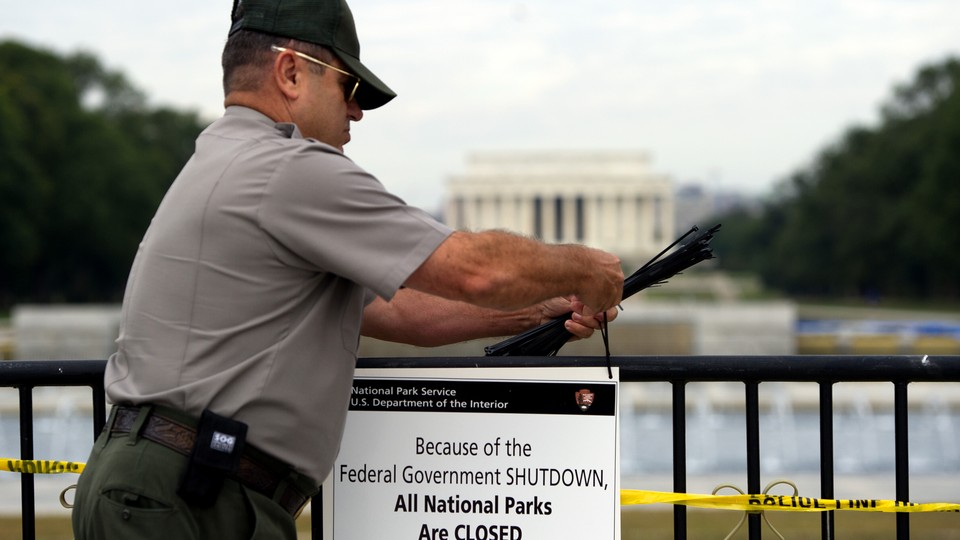 If there is no budget deal Dec. 13, House Republicans plan to pass a continuing resolution to keep government funded and then skip town. This leaves a tough choice for Senate Democrats: Pass the House CR and lock in sequestration or risk another government shutdown.
All of this could have been avoided. Some Republicans are pushing legislation that would forever end the prospect of shutting down the government. But Democrats and congressional appropriators — even on the Republican side — say the GOP fix could cause even more problems than it solves.
Back in January, Sens. Rob Portman, R-Ohio, and Jon Tester, D-Mont., introduced the End Government Shutdowns Act, which would put in place an automatic CR for any appropriations not completed by the Oct. 1 deadline. After the first four months, the bill would cut 1 percent of funding for the CR every 90 days until a new appropriations bill is passed by both chambers.
Rep. James Lankford, R-Okla., has introduced similar legislation in the House several times, and both bills have several Republican cosponsors in their respective chambers. Tester is the only Democrat who has signed onto either piece of legislation.
Supporters of the bills argue that they would give federal agencies more certainty and prevent members of Congress from having to vote on last-minute deals, which are oftentimes put together so hastily that few members have time to read them.
"You could end government shutdowns forever," said Sen. Ron Johnson, R-Wis., a cosponsor of Portman's bill and a member of the budget conference committee. "I think that's a really good piece of legislation. "¦ I think there's a fair amount of support for that Portman-Lankford-type language."
Portman is also a member of the budget conference committee, which is working to come up with a solution by Dec. 13 to avoid another crisis, and he has continued to push his fellow conferees to adopt his shutdown legislation.
But the expectations for the conference committee are low, putting Congress on a path to yet another fiscal deadline on Jan. 15, at which point the government will again shut down unless the increasingly intractable body is able to come to some sort of agreement.
The constant leaping from fiscal crisis to fiscal crisis is what inspired Lankford and Portman to draw up their legislation. A Tester spokesman echoed those sentiments in a statement: "Senator Tester would prefer Congress work together like it did before obstruction and partisanship became fixtures in recent years. Given the current climate that keeps even small bills from passing the Senate, this bill ensures that the federal government continues to function," spokesman Les Braswell said.
But despite the public backlash during the last shutdown, and the loud voices on both sides of the aisle calling for an end to shutdowns, the Portman and Lankford bills appear to be headed nowhere fast.
Both bills are stuck in their respective Appropriations committees — and they're likely to stay there. House Appropriations Committee spokeswoman Jennifer Hing told Government Executive in October that the committee would not support the Lankford or Portman bills. The legislation would, after all, severely undercut the committee's efforts.
Rep. Jack Kingston, R-Ga., who sits on the Appropriations Committee, hasn't taken a position on the Lankford bill, but he says that he is concerned about the effect it would have on his committee's work.
"I am a fan of regular order and Congress doing its work in a timely manner," Kingston said. "The problem with ruling by continuing resolutions is that you give up the opportunity to advance reforms and make government more accountable."
And although Tester has signed onto Portman's bill, a number of Democrats in both chambers say they would oppose the legislation as well. In the era of gridlock, Democrats need the threat of a shutdown as much as Republicans do.
A 1-percent cut in spending every 90 days is hardly enough incentive to bring both sides to the table — just look at sequestration. Those cuts, which are much deeper, were designed to force Congress to reach a deal. That plan failed, and sequestration is set to enter its second year of spending cuts in January unless Congress acts in the next few weeks.
Democratic worries about the Portman and Lankford bills go much deeper. One Senate Democratic aide said that leadership and many members of the Democratic caucus oppose the Portman legislation. They fear that the automatic 1-percent spending cuts would disincentivize Republicans from negotiating with Democrats over budget and appropriations issues.
"Why would tea partiers allow anything to move? They would just do what they're best at, which is nothing," the aide said.
Although Rep. Chris Van Hollen, D-Md., a member of the budget conference committee and the ranking member of the House Budget Committee, is supportive of "any genuine efforts to prevent future government shutdowns," he also opposes the Lankford bill, spokeswoman Bridgett Frey said.
"These bills contain a poison pill that creates a perverse incentive for tea-party Republicans to disrupt the regular appropriations process in order to slash important public investments," Frey said.
As the Jan. 15 deadline approaches, Democrats have continued to hold up the specter of another shutdown, hoping to force Republicans to the table. But Democrats so far have not put forth their own measure to permanently avoid these types of fiscal crises in the future.
"The Democratic alternative is passing appropriations bills," the Senate Democratic aide said.