Could Obamacare Problems Push Latinos to the GOP?
They once loved the health law, but enrollment issues are eroding their support. Republicans are giddy with the thought of snatching up their votes.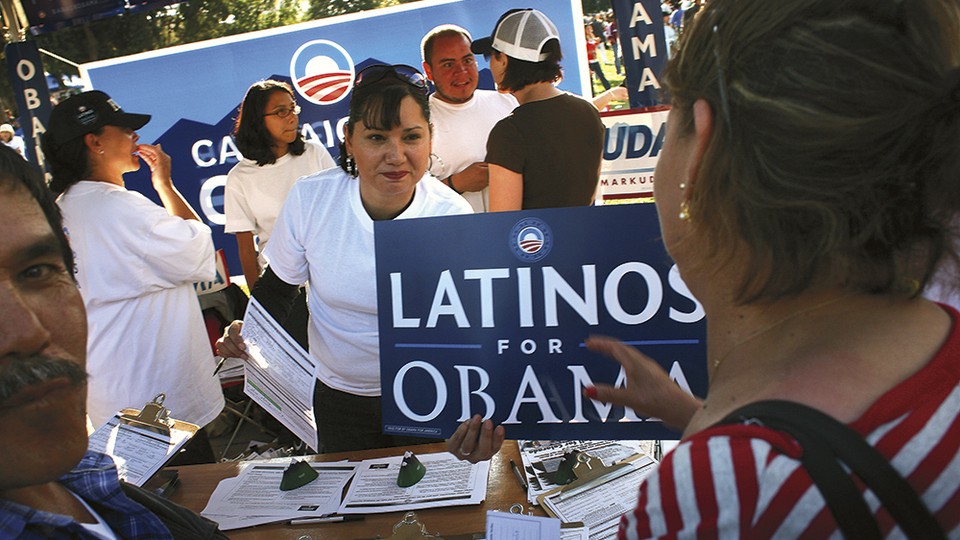 After two election cycles of Democrats successfully marketing Obamacare to Hispanic voters, the health care law's rocky start could turn into a bargaining chip for Republicans.
Hispanic adults have supported President Obama's Affordable Care Act at a rate twice that of whites. More than 10 million Hispanics — roughly one-fourth of the total uninsured population — stand to benefit from the law. An outsized proportion of the eligible Hispanics are the healthy millennials who could make or break universal health care.
But widespread problems with the enrollment site are hindering Hispanics (and everyone else) from signing up for subsidized insurance, while the Spanish-language website has been delayed until further notice. In a surprising gaffe by an administration that has put a premium on Hispanic outreach, at one point the site geared toward Hispanics featured pictures of Asian-Americans.
Add to that news of hundreds of thousands of people in states with large Hispanic populations receiving cancellation notices from insurers, and Republicans see an avenue to court one of the most sought-after groups of voters.
"This is an opening for Republicans because Latino optimism about expanding health care is starting to wane like the rest of the population," said pollster Gabriel Sanchez, an associate professor of political science at the University of New Mexico. "The Republican strategy of hammering at the health care law could work among Latinos."
Indeed, the latest Gallup Poll found Obama's approval rating sinking 9 points among Hispanics in the last week, the sharpest drop of any subgroup. The 49 percent approval rating is the first time Obama registered below the crucial 50 percent threshold with Latinos this year.
In the first publicly released survey analyzing Obamacare's impact on Hispanics since the launch, 34 percent said health care costs will get worse under the law. The Latino Decisions poll of 300 Hispanic adults in Colorado from Oct. 14-18 also showed slight downturns in views of the law's impact on the quality of health care and the ability of people to get or keep insurance.
Influencing those negative views is Spanish-language media, which frequently sympathizes with the administration's goal of immigration reform but has been documenting the health care law's troubled rollout. Univision, for example, interviewed a Brooklyn, N.Y., bakery owner whose phone number was mistakenly listed as a contact for ACA enrollment.
A leading Hispanic critic of the health care law and a potential presidential contender in 2016, Republican Sen. Marco Rubio of Florida has seized on the delay of the Spanish-language website.
"Hispanics have among the highest uninsured rates in the nation. Yet despite hundreds of millions of dollars devoted to a Spanish-language propaganda campaign, the Spanish-language Obamacare website hasn't even been launched," Rubio said in a recent statement. "It's not fair to punish anyone for not buying Obamacare when the website they are supposed to buy it on doesn't work."
Across the country, Hispanic groups have launched massive outreach programs to beat back widespread confusion about the law. That's especially critical while the Spanish-language website is down, said state Rep. Darren Soto, who represents a Hispanic-heavy district near Orlando, Fla., that overwhelmingly favored Obama.
"The website needs to be fixed sooner rather than later," Soto warned. "The outreach is critical because so many people aren't watching the news or on the Internet, but you can reach them at a Puerto-Rican parade or health care fair."
In Colorado, the advocacy appears to be making a difference. The Latino Decisions poll found that 54 percent said they were very or somewhat informed about the new health care law. Fewer than half, 43 percent, were unable to name any of its new policies.
Democratic consultants dismiss the argument that Republicans might gain from the health law's weak rollout, pointing to the GOP-led House's resistance to immigration reform. "Republicans have less than zero credibility with Latinos," said Democratic consultant Maria Cardona, who specializes in the Hispanic vote. "As long as they get the website fixed, the stature of the Democratic Party in the Latino community will be fine."
Democrats are banking on continued support from that community in a number of competitive congressional and gubernatorial races next year in Arizona, Florida, and Texas. A September survey by the Public Religion Research Institute found Hispanic voters preferring Democratic congressional candidates by 2-to-1. The survey also found overwhelming support for a pathway to citizenship for ille-gal immigrants.
"Immigration policy is clearly the most salient issue to Latino voters at the moment, so the ability for either Democrats or Republicans to court the Latino electorate is going to depend heavily on what happens with comprehensive immigration reform," Sanchez said. "However, health care has remained solidly behind only the economy and immigration as an important issue for Latino voters."
Hispanics overwhelmingly rejected Republican nominee Mitt Romney, with more than 70 percent favoring Obama. Romney blamed Obama's friendly immigration policy and the health care law. "With Hispanic voters, free health care was a big plus," Romney said last November.
But as the Republican National Committee ramps up its Hispanic outreach, Obamacare's problems will be a theme. Along with fumbling the rollout of the health care law, Obama failed to make good on his vow to pass immigration reform in his first year in office, and he has deported a record number of illegal immigrants, said Jennifer Korn, an RNC deputy political director.
"For the Hispanic community," she said, "Obamacare is the second major broken promise."