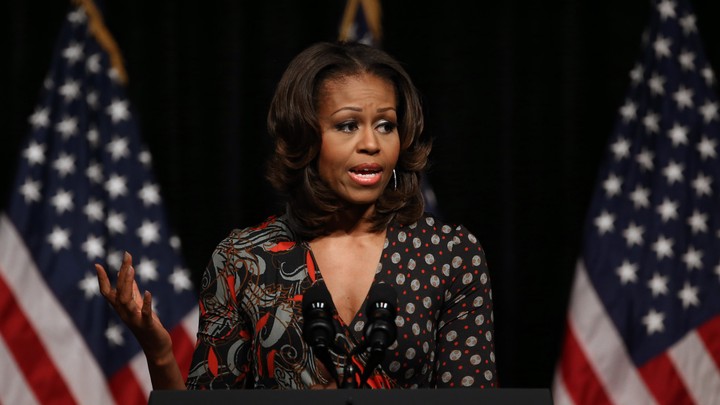 The Next America produces a weekly roundup of education stories relevant to diversity. These stories date from Nov. 11 to Nov. 18.
HIGHER EDUCATION
FIRST LADY'S NEW INITIATIVE: COLLEGE, "WHATEVER IT TAKES." Stepping forward to boost the president's education efforts, Michelle Obama urged sophomores at Bell Multicultural High School in Washington to increase the opportunities available to them by pursuing higher education. In kicking off an initiative that seeks to increase the number of low-income students graduating from college, she said, "No matter what path you choose, no matter what dreams you have, you have got to do whatever it takes to continue your education after high school." The Obama administration wants the U.S. to rank atop the world in percentage of college graduates by 2020, the year current high school sophomores on a traditional path will graduate. New York Times
IN TEXAS COURTROOM, A BATTLE RESUMES OVER RACE. The U.S. Court of Appeals for the 5th Circuit once more became ground zero for a crucial battle over race in the classroom. And again, in Fisher v. University of Texas at Austin, it seemed that the opponents of affirmative action could lose at this level — potentially sending the deeply fraught issue back to the Supreme Court. Reuters
REPORT EMPHASIZES IMPORTANCE OF LATINO COLLEGE COMPLETION IN CALIFORNIA.  Latinos in California have "unacceptably low rates" of college completion that must improve so that the state has a strong future, according to "The State of Latinos in Higher Education in California," a report compiled by the nonprofit group, the Campaign for College Opportunity. The most stark fact illustrating the challenge is that in 2011, only about 11 percent of Latino adults ages 25 or older held a bachelor's degree in the state, compared with 39 percent of white adults. Latino Ed Beat
HIGH NUMBER OF LATINOS IN CALIFORNIA CHOOSE COMMUNITY COLLEGE. Futurity
STUDENT-LOAN BORROWERS MAY GET RELIEF FROM FOR-PROFIT COLLEGES. The Education Department has released a proposal that signals more aggressive policing of for-profit colleges. The rules would make it easier to cut off funding to low-performing schools and, in some cases, force colleges to help borrowers who are stuck with large debts and low earnings. Business Week
SOME FACULTY DEMAND SKIN-COLOR-BASED HIRING. Some faculty at the University of Arizona have said they believe there are not enough people of color employed as professors on campus and are clamoring for administrators to enforce a way to even out the numbers. Since 2009, the university has hired 40 Asian, three black, and 12 Latino educators, two scholars of "two or more races," and 178 white educators, according to university figures. Education Views
UNDOCUMENTED STUDENTS URGING NORTH CAROLINA TO OFFER THEM IN-STATE TUITION. A group representing undocumented immigrant youths in North Carolina renewed its struggle Monday to have those students pay in-state tuition at public universities, by means of an online petition and telephone calls to the state attorney general and education officials. Latino Daily News
PRESCHOOL AND K-12
WHY UNIVERSAL PRESCHOOL IS ESPECIALLY IMPORTANT FOR KIDS OF COLOR. Expanding preschool wouldn't just benefit all children, their families, and the economy — it would have particularly strong benefits for the country's children of color, according to a recent report from the Center for American Progress. More than 60 percent of Hispanic children ages 3 to 4, more than half of African-American children, and just fewer than half of Asian-American children don't attend preschool. Yet according to studies, 4-year-olds attending preschool show academic gains over their white peers. ThinkProgress
MINNEAPOLIS PONDERS 2 TEACHERS PER CLASSROOM IN BID TO CLOSE ACHIEVEMENT GAP. Some classrooms in Minneapolis' struggling schools could soon have two teachers as the district turns to drastic steps to boost achievement in the wake of a report that shows academic results for minority students continue to lag. The Star Tribune
SURVEY: STUDENTS FORGOING ADVISERS WHO CAN HELP THEM GRADUATE. At a time when research shows that academic advising is a key to helping college students graduate on time, most say they aren't getting it. Sixty percent of students say someone other than an academic adviser is a primary source of information about their schoolwork. About a third of freshmen and 18 percent of seniors rely on friends and family, and another 18 percent rely on faculty who are not assigned as their advisers. Hechinger Report
MIGRANT EDUCATION PROGRAM LOOKS TO GIVE FARMWORKERS' KIDS A BOOST. While the Migrant Education Program serves about 345,000 students ages 3 to 21 — most of them Latino — across the country, about 80,000 of them reside in California. Within California's Imperial Valley, 7,000 are offered tutoring and are helped with credits they might miss because their families move around during the school year. Fronteras Desk via The Gazette
This article is part of our Next America: Higher Education project, which is supported by grants from the Bill & Melinda Gates Foundation and Lumina Foundation.
We want to hear what you think about this article. Submit a letter to the editor or write to letters@theatlantic.com.