Congress Expands Entitlements for Chimpanzees
"It's a great day for federally owned chimpanzees."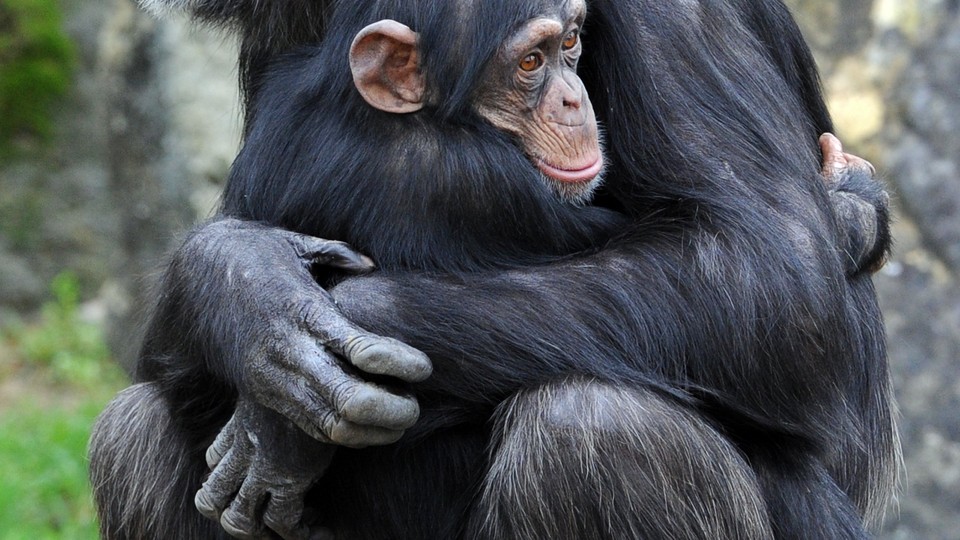 This week, in a moment of sober bipartisan agreement, the House and Senate voted to extend retirement benefits for the nation's research chimpanzees.
As National Journal's Elahe Izadi reported a few weeks ago, the National Institutes of Health was quickly approaching a $30 million ceiling for the amount it could spend on research-chimp retirements.
This left the agency in a bind, as the NIH is phasing out many of the experiments it conducts with chimps. A 2011 report found that most research conducted on them is unnecessary, and in the coming months 310 animals (out of 360) will be retired. Though it probably wouldn't have come to it, euthanasia could have been used if it was deemed to be in the best interest of the animals.
With the new bill, funding is secured through 2023. Over the next four years, the Congressional Budget Office says, it will cost $55 million.
Chimp advocates were ecstatic at the news.
"It's a great day for federally owned chimpanzees," Cathy Willis Spraetz, president and CEO of Chimp Haven in Keithville, La. (the national chimp retirement community sanctuary), told The Washington Post. "I am breaking out the champagne as we speak."
And it is exciting. Who wouldn't want to retire to a facility with ample "climbing, swinging, and resting options as well as views of the surrounding areas," along with 200 acres of forest and accommodations for "large social groups."
As advertised on the Chimp Haven website: "How the chimpanzees choose to spend their day is up to them."