Chris Christie-Susana Martinez: Is This Your 2016 Republican Ticket?
The governors of New Mexico and New Jersey are becoming fast friends.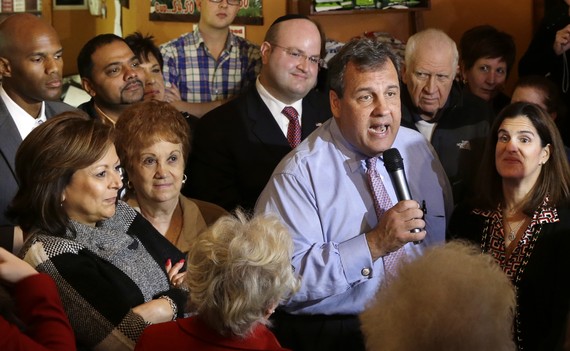 Sure, that's three years, one long and bitterly contested GOP primary, and a running-mate-selection process away, but it's fun to speculate. Plus there's already some evidence of their chemistry between Chris Christie and Susana Martinez.
For one thing, it looks like the New Jersey governor has already locked up an endorsement from his New Mexico counterpart. "I love his authenticity, I love who he is," she told the New York Times. "I will support Governor Christie in anything he decides to do in life."
And why wouldn't she? In the last few days, Christie has been basking in adoring media attention and even the begrudging acknowledgment of conservatives in his party. No one is better situated to catch the reflected rays than Martinez, since she was his most high-profile associate on the stump as Christie wound down his reelection campaign. He's gone out of his way to heap praise on her too.
Now, maybe it seems strange that the governor of New Jersey, leading his little-known opponent by an enormous margin, would bring in a faraway officeholder with much less political star power to help him close out his campaign. There's an immediate political reason why it makes sense plus a couple of speculative ones—and they all have to do with 2016.
First, the immediate one: Christie spent the final weeks of the race trying to run up his margin of victory in order to reinforce his case for a 2016 presidential run. Martinez's job was to show up in heavily Hispanic areas like Union City and help turn out the Latino vote. It worked—even as Hispanics turn against the Republican Party nationwide, Christie beat Democrat Barbara Buono 51-45 in the demographic, according to exit polls.
But Christie's embrace of Martinez makes sense in the longer run too. As Brett LoGiurato points out, the two have a lot in common, setting aside the 2,000 miles between Trenton and Santa Fe: They're young (for politicians), moderate, blue-state Republicans who have worked with Democratic legislators on some issues (while clashing on others). They're both former prosecutors, too. Whether that makes Martinez good vice-presidential material is a somewhat different question. She was mentioned as a contender for the No. 2 slot on Mitt Romney's ticket last year, and as a Hispanic woman she'd be a boost to a GOP that doesn't want to be seen as the party of old white men.
But she also hasn't been nationally vetted, making her something of an unknown quantity. And her similarities with Christie might be a disadvantage. Not since Bill Clinton and Al Gore, a pair of moderate Southerners affiliated with the centrist Democratic Leadership Council, teamed up in 1992 has a major party ticket combined similar figures. Instead, presidential candidates have sought a running mate who adds diversity of age, geography, or policy focus. Martinez is somewhere on the middle of that spectrum. But even if a joint ticket isn't in the cards, it makes sense for Christie to start gathering an informal coalition of fellow travelers. Given the animosity he engenders in the Republican Party's conservative wing, it will be useful for him to gather a posse.
In any case, the New Mexico press hasn't failed to notice Martinez's rising star. In fact, the Democrats with whom the governor has supposedly had such a good working relationship unloaded to the Santa Fe New Mexican in a piece Sunday. Their message: She's not the reasonable, pragmatic, moderate figure you might imagine. Now where have we heard that before?