Chris Christie and Terry McAuliffe: America Loves a Blowhard
Virginia and New Jersey elected governors with big personalities who promised to put partisanship aside and get results—a lesson for both parties in 2014 and 2016.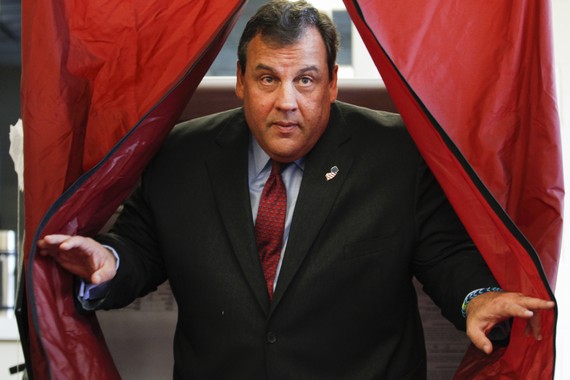 Voters in New Jersey and Virginia elected two larger-than-life figures in Tuesday's gubernatorial elections: Chris Christie, the famously tough-talking Republican, and Terry McAuliffe, the gregarious former Democratic National Committee chairman. Taken together, it was a great day for blowhards.
Christie and McAuliffe aren't really very similar, of course. But neither man could accurately be called a policy wonk or an ideologue; both premised their campaigns on a promise to subordinate principle to effectiveness, to substitute force of personality for subtlety of ideas. In New Jersey, voters—including many Democrats—commended Christie for putting partisanship aside and teaming up with President Obama to respond to Hurricane Sandy. In Virginia, voters—including many Republicans—were more repelled by Ken Cuccinelli's far-right crusades than they were by McAuliffe's sketchy business dealings. A swing state, shadowed by the federal government shutdown, rejected the Tea Party; a blue state embraced a loudly pragmatist Republican.
Cuccinelli didn't initially look like an underdog. A darling of conservatives in Virginia and nationally, he represented Democratic-leaning northern Virginia in the state legislature before coasting to statewide office with 58 percent of the vote in 2009. McAuliffe, meanwhile, had never held elected office and had foundered badly in his first bid for the governorship, getting whomped in the 2009 Democratic primary. As state attorney general, Cuccinelli's legal activism—against health-care reform, the EPA, abortion clinics, and climate scientists— gave the state's GOP establishment heartburn. But his popularity with the base helped him easily snag the nomination. At the state GOP convention in May, the conservative activists who thrilled to Cuccinelli's uncompromising rhetoric also picked a surprise lieutenant-governor nominee, E.W. Jackson, a pastor and political novice whose incendiary views on topics such as homosexuality made Cuccinelli seem practically centrist by comparison.
McAuliffe touted his business acumen, but questions were quickly raised about his entrepreneurial credentials. GreenTech, the car company he'd founded, was barely producing vehicles and was under investigation by both the Justice Department and the Securities and Exchange Commission. Yet McAuliffe proved a more focused and disciplined campaigner than he'd been in 2009. He worked behind the scenes to win over Democratic activists and clear the field of primary competitors. Once he had the nomination in hand, he assiduously courted the many moderate Republicans turned off by Cuccinelli's approach, winning donors and endorsements that helped him claim bipartisan bona fides. McAuliffe embraced Republican Governor Bob McDonnell's tax-hiking transportation plan; Cuccinelli rejected it, along with the federally funded Medicaid expansion. During the government shutdown that idled tens of thousands of Virginia federal workers, Cuccinelli appeared at a campaign event where Senator Ted Cruz of Texas also spoke (though they did not appear onstage together), and he declined to endorse the congressional deal that reopened the government. In the final weeks of the race, Cuccinelli sought to turn the contest into a referendum on the health-care law during its disastrous rollout. But either it was too late to change the course of the race, or the health-care issue doesn't excite voters as much as Republicans hoped—a conclusion that, if true, could have consequences in next year's midterm elections.
Christie, for his part, was known principally for his YouTube gallery of shouting matches with such critics as teachers'-union representatives until Hurricane Sandy hit the Atlantic coast in October 2012. An emotional Christie toured the devastation with Obama, lavishly praising the federal government's responsiveness to the crisis and, later, brutally lambasting congressional GOP when it temporarily refused to pass a federal aid package. Suddenly, Christie—a generally conservative governor by most measures—seemed like a maverick. His popularity skyrocketed; Cory Booker, the popular Democratic mayor of Newark, decided to run for Senate rather than challenge him. Democrats instead put up as Christie's opponent a state senator, Barbara Buono, so little-known she devoted a campaign ad to teaching voters how to pronounce her name.
Despite New Jersey's strong Democratic lean, Buono never got much traction against Christie. She struggled to raise money and got little help from national Democrats, including the Democratic Governors Association, which declined to spend money on the race, and Obama, who campaigned for McAuliffe but not Buono. The shutdown provided another opportunity for Christie to campaign against Washington dysfunction and separate himself from the unpopular congressional GOP. He also dropped the state's appeal of a court ruling legalizing gay marriage, which he personally opposes. A telling moment came during a debate between Buono and Christie when the candidates were asked to say something nice about one another. Buono could muster only a backhanded compliment, attempting to undercut Christie with a crack about him being good on talk shows. Christie launched into a seemingly sincere paean to Buono's record of public service, praising her civic-mindedness and coming off as magnanimous. It's easy to be gracious when you're the frontrunner by a mile, but the episode showed the agility of Christie's political instincts.
For Republicans not too deep in denial to draw the obvious conclusions, these two elections offer a clear lesson. (Already, however, conservative activists who once looked to Cuccinelli to prove that a staunch conservative could succeed are spinning his loss as the result of extraneous factors, such as the gift-taking scandal that has enveloped McDonnell and the presence of a Libertarian Party candidate on the ballot.) Christie has already begun pitching his success as a path forward for the GOP to put its divisions behind and become nationally viable again, a case that his reelection will bolster. Despite rumblings that his embrace of Obama would make him unacceptable to conservatives nationally, Christie leads some early surveys of 2016 presidential preferences—but then again, so does Cruz. It will be up to the Republican primary voters to decide which course to take.
Yet with a reelected Christie poised to become a major national figure, Tuesday's result may be a warning as much to Democrats as it is to the GOP. Republicans will have a hard time succeeding if they follow Cuccinelli, Cruz, and the far-right fringe. But the toxicity of the Republican brand proved no obstacle at all to a candidate savvy enough to stake out a forceful and distinct persona and convince voters he can hurdle partisanship to get things done. Any Democrats who previously thought demographics, tactical superiority, and Republican disarray made their party a lock in 2016 ought to look at Chris Christie and think again.