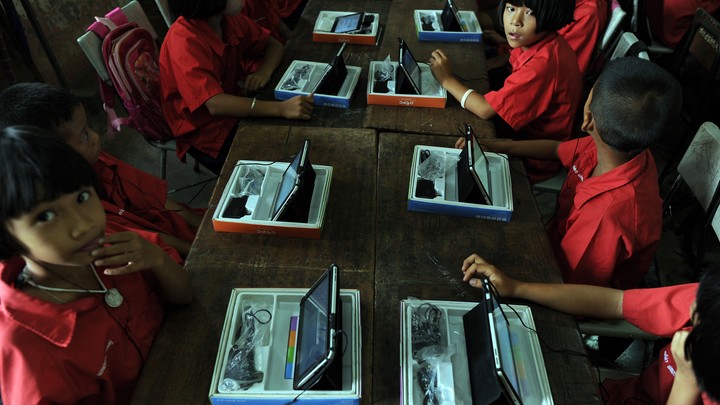 Every week, The Next America produces a collection of education articles that catch our eye. These date from Oct. 28-Nov. 4.
State Department to Boost Exposure to U.S. Learning via Coursera. Online course provider Coursera is working with the State Department to create "learning hubs" around the world, where students can get Internet access to free courses, plus weekly class discussions with local teachers or facilitators. For the U.S. government, the appeal lies in exposing students from all over the world to American universities and perhaps spur them to study in the U.S.  Instruction will be in English, and neither the facilitators nor MOOC providers will be paid. New York Times
Should Full-Time Enrollment Be Calculated Differently? Only three of 10 students who are technically enrolled in college full time will graduate on time, according to a report from nonprofit Complete College America. The federal government defines "full time" as 12 credit hours per semester, but students who do not take summer courses need to take 15 credit hours per semester to complete an associate's degree in two years or a bachelor's in four. Chronicle of Higher Education
Ta-Nehisi Coates on His Howard University Return. If you haven't yet, you should read Ta-Nehisi Coates' moving New York Times column on attending homecoming at his alma mater, Howard University, with his son. "As the options for kids like my son have grown in unimaginable ways, the fortunes of black schools have declined," The Atlantic senior editor writes.
The End of College Board School-Support Program. This summer, 20 College Board schools in Colorado, Maryland, and New York lost $100,000 in per-school additional funding and access to College Board resources, like leadership retreats and data-tracking, when the College Board abruptly ended a program that had supported small middle schools and college-focused high schools. Nonprofit news organization Gotham Schools links the change to the College Board's new focus on achievement at all grades, rather than on just the college-admissions process.  
What Happens to Children Who Fail High-Stakes Tests? Progressive magazine In These Times tracks down El Paso, Texas, students who say they were pushed out of high school because of their low test scores. As recently as three years ago, hundreds of low-scoring Latinos in El Paso were illegally diverted to GED programs, the article states. 
Chinese Students Explain Cultural Differences to American Peers. Chinese students at the University of Wisconsin-Madison have created a YouTube channel to help address cultural differences with their American peers. Among the topics explained:
Why Chinese students prefer to speak Mandarin instead of English, why they don't party as much as Americans, and difference concepts of physical attractiveness. Quartz
This article is part of our Next America: Higher Education project, which is supported by grants from the Bill & Melinda Gates Foundation and Lumina Foundation.
We want to hear what you think about this article. Submit a letter to the editor or write to letters@theatlantic.com.