Biracial Cool: Bill de Blasio's Fresh Electoral Asset
The New York mayor-elect's family—both fascinatingly ordinary and shockingly modern—proved to be one his greatest strengths.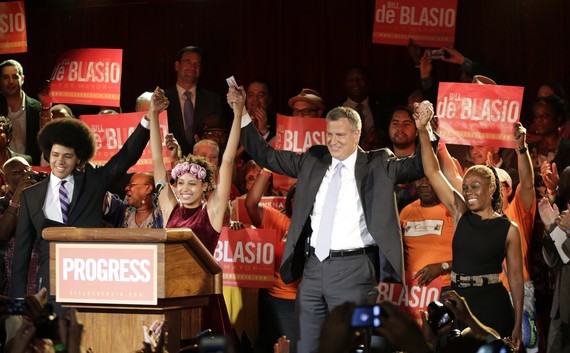 "I'm Bill de Blasio, and I'm not a boring white guy."
How's that for a political opener? This is how the New York mayor-elect describes himself. At an August fundraiser for the Young Progressives for de Blasio, his daughter Chiara introduced him to the crowd, making an appeal for a new kind of inclusive city politics. Flanked by her entire family, she remarked, "If we're gonna bring new ideas to the table and create a world, a society … where everyone has a chance, we need to start listening to everybody's ideas."
What are these bold and inventive ideas of the new mayor? Some of them follow a traditional Democratic nesting doll scheme: good government followed by more jobs succeeded by affordable housing topped off by better schools. Add in reason, compassion, equality, and whoomp! There it is—a consummate progressive platform. But the de Blasio campaign offered another idea that most campaigns can't: the racially integrated family.
Like it or not, it works.
De Blasio is white. His wife, Chirlane McCray, is black. Their two children, Dante and Chiara, are biracial. Their campaign literature relentlessly spotlighted the effortless interracial cool of Brooklyn bohemia—that wonderful, eucalyptus-scented world of woody brownstones, aromatic teas, and gloriously integrated Cheerios breakfasts. His website features his family and marriage first, ahead of "Issues." At his rallies, his wife and children are the feature rather than the curtain call. His mailings ask recipients to "Meet the BROOKLYN FAMILY who's fighting to change New York." They picture the smiling family, drinking orange juice and playing Trivial Pursuit.
The de Blasios: fascinatingly ordinary. But this is no ordinary picture; the visual is bursting with meaning. At the center is McCray, resplendent, turquoised, dreadlocked. She's no Laura Bush or Cindy McCain. On the left is Chiara, perfectly angled to let the viewer take notice of her two strand twists, gauged earlobes, and eyebrow piercing. She's "alternative." In the center sits Bill, tautologically white, and largely upstaged by these pictorial assertions of diversity. And then there's a blurred, active, Afroed teenage son to the right.
Behold this electoral spectacle of natural hair: six inches of political black gold, triumphantly flirting with your vote. Bill squeezed it. Obama praised it. Twitter hashtagged it #fromentum. The Daily News coined it: "Way to Fro!" Despite the hairstyle's long history as a natural affirmation of black pride and fortitude, Dante delivered the Afro to the masses, which have awoken to the charms of black hair. Even the genteel New York Times joined the frenzy, not only featuring "The Afro" in the Style section, but also allowing middle-aged white men to come clean about their secret Afro pasts. Everyone, it seems, wants to touch it.
It's undeniable that Dante's hair boosted the campaign. An ad starring the framed, back-lit orb helped to win votes in the primary, where de Blasio leapfrogged over frontrunner Christine Quinn and African-American contender Bill Thompson. If voters didn't already know, the ad seemed to say, the white de Blasio was seriously down with the black community and his commitment to black issues was genuine.
It's like the old Harlem Globetrotters cartoon where Gizmo had an enormous, problem-solving Afro. When facing a conflict, Gizmo just dug his hand in his hair until he found the answer—and no object was too big. Drowning? Here's a life vest. Falling? Take this parachute. Flight delay? He'll yank an airplane from his magical hair. Stop-and-frisk? Voila! Black wife and biracial kids.
To some, Dante's hair, Chiara's piercings, and Chirlane's support should be non-issues. Simple traits like marriage and physical appearance should be unremarkable characteristics when measured against actual campaign promises. Shouldn't policies on housing and education influence electoral outcomes, rather than hair texture and skin tone? Obviously, the answer is yes—and anything less is racist and exploitative, according to Michael Bloomberg. And the days of putting all of one's voting eggs in one racial basket are over, as Bill Thompson loss in the Democratic primary showed.
Isn't de Blasio just doing what other public officials do, humanizing himself via a stable family? Mitt Romney loved having his Justice League of sons on the campaign trail, and Chelsea Clinton's braces and hair constantly floated in the Billary background. Color-coordinated family portraits are de rigueur for gubernatorial candidates, and congressional hopefuls are practically expected to avoid singledom and divorce.
Ever since Richard Nixon's cringeworthy 1968 cameo on Laugh In, politicians have sought some talisman to make them "hip": a saxophone, some hoop skills, a Macarena dance. But perhaps those concerted efforts of cool are just too overt in our modern age of irony. It's trying too hard, and it seems desperate. Worse, it's not a reliable vote winner.
Enter the domestic hipsterdom of racially mixed family, a multivalent Rorschach for political campaigns. It appeals to multiple demographic groups. It demonstrates that race doesn't matter. It demonstrates that race does matter. Its mere existence is politically suggestive, even when the family members aren't doing anything. It's race baiting and race trading, with little effort on the family. Biracial cool: the newest electoral asset.
Using marriage and partnership to cement political allegiances is one of the oldest and most organic appeals to public relations and diplomacy. Dynastic marriages took place in the ancient world to forge alliances between nation-states. It was a favorite strategy of both Alexander the Great and Queen Victoria to meld political relationships. The blended children born into these marriages represented a united and hopeful future.
Even in our present age, political candidates are capitalizing on the wide appeal of mixed families. In certain jurisdictions, multiple alliances may work as an electoral asset. Jeb Bush's marriage to Mexican-born Columba Gallo improved his image among Latino voters in Florida. Barack Obama's famous incantations of Kenya, Kansas, Indonesia, and Hawaii made him an international everyman of mystery.
In no way, however, does de Blasio's victory signal a universal acceptance of interracial marriage. It's only been legal nationwide since 1967, and substantial vestiges of prejudice remain. In some parts of the country—and even parts of New York City—it remains taboo. His campaign might not work outside of New York and San Francisco, and it most likely would fall flat in a statewide or federal election.
Interracial marriage is still seen as a stain on political careers, as it has been for most of American history. The relationship of Thomas Jefferson and his slave Sally Hemings continues to vex, as it did in 1802. Harold Ford, Jr. lost his 2006 Senate bid in Tennessee because a commercial suggested that he dated white women. Bob Bennett, a former Republican senator from Utah, claimed in 1999 that the only way that George W. Bush could lose the 2000 presidential nomination would be if he stepped "in front of a bus or some woman [came] forward, let's say some black woman, with an illegitimate child that he fathered."
Even today, in the age of Obama, interracial marriage and partnership in public office is extraordinarily rare—even rarer than the mixed institution itself. Freedom of intimacy is far from a settled issue in American politics and society, and it encompasses more than race. Discrimination continues against single people and unmarried and same-sex couples, and these tensions about the proper way to live out our home lives translate into domestic referenda at the ballot box. The overwhelming norm is for politicians to be married, with children, to someone of their own race and of a different gender.
But witnessing a politician with a nontraditional family succeed at the polls wonderfully legitimizes the de Blasios' rightful place in the collective identity of "normal family." There's nothing wrong with celebrating these families as First Families—they've been in second class for too long.