Biofuels Producers Blame Big Oil for EPA Plan to Cut Renewable-Fuel Standard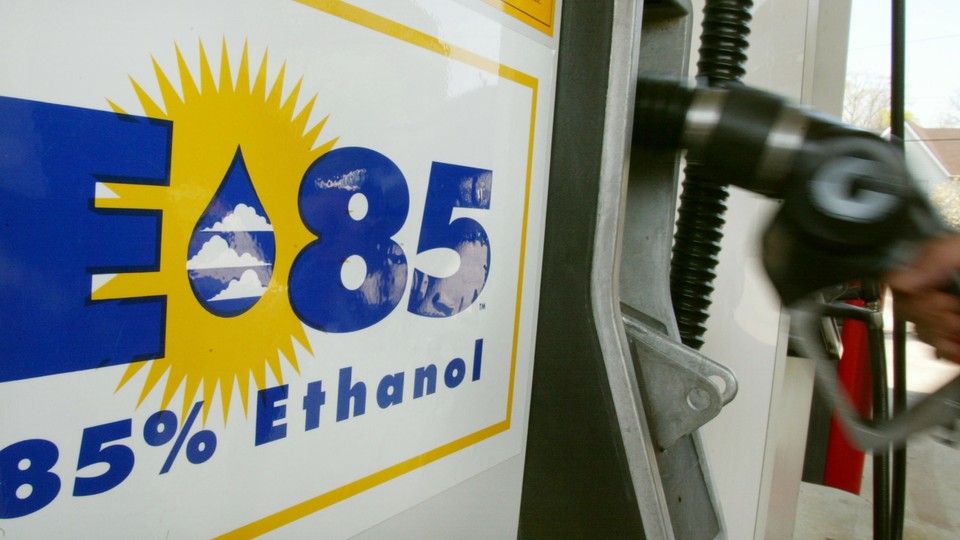 Biofuels makers and corn producers are not happy about the Environmental Protection Agency scaling back on renewable-fuel levels for next year, and they're united about who's to blame: the oil industry.
"EPA's proposal fundamentally betrays this administration's commitment to clean renewable fuels and caves to big-oil demands," said Brian Jennings of the American Coalition for Ethanol. Added Renewable Fuels Association President Bob Dinneen: "Last time I checked, the oil companies were doing pretty good on their own."
Petroleum groups are part of a coalition that has pushed for a reduction in the federal mandate for renewable-fuel production, arguing gasoline blends with higher ethanol content could prove damaging to engines and drive up fuel costs. "For the first time, EPA has acknowledged that the blend wall is a dangerous reality and must be addressed to avoid serious impacts on America's fuel supply and harm to American consumers," said Jack Gerard, president of the American Petroleum Institute. "[But] while the EPA took a step in the right direction, more must be done to assure Americans have the choice of fuel they want and we're continuing or call for Congress to act now."
EPA announced Friday that it is proposing to lower the statutory requirement for biofuels production in 2014 from 18.15 billion gallons to a recommended target of 15.21 billion gallons. The agency also proposes a range of 2 billion to 2.51 billion gallons of advanced biofuels with a recommended target of 2.2 billion gallons. The range falls below the proposed target of 3.75 billion gallons under the Energy Security and Independence Act of 2007.
Reactions to the proposal were unanimously negative from the biofuels industry, while oil refiners, food marketers, and even recreational groups were delighted. Critics of the renewable-fuels standard, which was enacted with the goal of reducing U.S. dependence on foreign oil, say it has increased both fuel and food prices by shifting vast amounts of corn into ethanol production.
"Study after study has shown that the corn-ethanol mandate has artificially driven up commodity costs by billions of dollars annually, and with it, consumer prices," said Rob Green, executive director of the National Council of Chain Restaurants. "Today's proposal by the EPA reaffirms our steadfast belief that Congress needs to repeal the RFS mandate once and for all."
"While we are thankful and support the action EPA is taking today, its timid adjustment reconfirms the program is broken beyond repair," said National Chicken Council President Michael J. Brown.
"We appreciate the clear step that EPA has taken to not only acknowledge the unattainable mandates included in the renewable-fuel standard but to also leave room for consumers, manufacturers, and industries, including the recreational-boating community, that rely on the continued availability of low-ethanol fuel blends," said the National Marine Manufacturers Association's John McKnight.
Among the other negative reactions were these:
"What we're seeing is the oil industry taking one last run at trying to convince administrators of the RFS to relieve the legal obligation on them to blend more biofuel based on clever arguments meant to disguise the fact that oil companies just don't want to blend more biofuel." — Brooke Coleman of the Advanced Ethanol Council.
"[Friday's] proposal reveals that EPA might still deliver a devastating blow to this nascent sector and a victory for the oil industry by cutting the volume requirements for advanced biofuels." — Advanced Biofuels Association President Michael McAdams.
"We cannot put oil's interests before the nation's needs. Blending more renewable fuel means more savings for consumers at the pump." — Novozymes North America President Adam Monroe.
Members of Congress also weighed in on the EPA proposal. Most significantly, House Energy and Commerce Chairman Fred Upton, R-Mich., and ranking member Henry Waxman, D-Calif., issued a joint statement generally supporting the EPA proposal — though in different tones — and indicating they are working together to address the growing controvsery about the renewable-fuel standard.
Other reactions fell along regional lines. Rep. Bruce Braley, D-Iowa, who is running for Senate in the middle of corn country, said "growth in Iowa's renewable-energy industry stands to suffer, putting job growth at risk" as a result of the policy shift.
Rep. Peter Welch, D-Vt., an outspoken RFS opponent, called the EPA announcement "welcome news" and a sign for Congress to change the policy.