Bill de Blasio and New York City's Liberal Comeback
The Democrat's overwhelming win is a victory for the Big Apple's other half.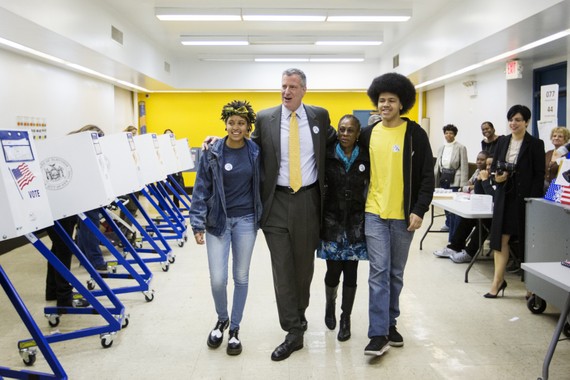 Updated, 9:07 p.m.
New York City Public Advocate Bill de Blasio decisively won the mayoral contest in America's largest city Tuesday, after weeks of maintaining an enormous lead in polling in the contest against Republican Joe Lhota.
Lhota, despite being one of the city's heroes of September 11 and a critical deputy to Mayor Rudy Giuliani during the terrible months that followed, failed to ever introduce himself adequately to voters and suffered from a lack of support from allies of outgoing Mayor Michael Bloomberg, an independent who was first elected on the Republican ticket in 2001.
De Blasio, meanwhile, was able to consolidate support and goodwill rapidly during the Democratic primary after former Representative Anthony Weiner's comeback campaign imploded and City Council Speaker Christine Quinn's hit a ceiling of support. De Blasio's "tale of two cities" message connected with a Democratic electorate hungry for a liberal standard-bearer, and he used the momentum from his primary win over Quinn and former Comptroller Bill Thompson to draw wide support across the city with promises to speak up for New Yorkers who felt left behind by the Bloomberg era.
It turns out there are a lot of them, and exit-poll results Tuesday night showed that his broad support held on election day. With his mixed-race family and his harsh criticism of Bloomberg's stop-and-frisk policies, de Blasio was able to unite the city's minorities and liberal whites into a formidable coalition looking for a new direction.
"De Blasio will win because New Yorkers have not accepted that this tale of two cities needs to be our future," said John del Cecato, the de Blasio campaign's chief media strategist, on Tuesday afternoon. But the win isn't just the heavily Democratic city returning to type after five terms with Republican or independent mayors, as some have postulated: The extraordinary margin of support for de Blasio—a lead of more than 40 percent in pre-election polls—showed a hunger for "a mayor who will take the city in a progressive new direction to address the needs of the middle class, working class, and poor while keeping our city safe and making it a city of neighborhoods again," del Cecato said.
Conservative opponents have warned darkly of a return to the crime and grime New York of the 1980s, the last time a Democrat won the office. But with crime down in cities nationwide and New York's physical spaces much improved over the past 20 years, that seems unlikely. As The New York Times reported in August, "New York has added 40,000 new buildings since [Bloomberg] took office, and the census counted an additional 170,000 housing units in 2010, up from 10 years earlier, more than any other city." And that's not even counting the improvements of the Giuliani era.
But New York's most recent comeback, after the Great Recession, was unevenly distributed. Wall Street soared to new heights, but the poverty rate ticked up by 2012 to 21.2 percent and income inequality reached record levels. Last year Manhattan had "the dubious distinction of having the biggest income gap of any big county in the country," according to the Times.
De Blasio is "where the city wants to be right now—the things de Blasio is talking about," said Jerry Skurnik, a Democratic New York political consultant. He ticked them off: reforming the police, less top-down government, addressing income inequality, a more traditional kind of New York government.
By that Skurnik also meant a more Democratic approach to government, one that considers paid sick days a more important way to help New Yorkers get healthy than outlawing oversized sugary drinks.
"The message he's doing really fits the mood of the city right now," said Skurnik. "People think Bloomberg did a pretty good job as mayor and they can't wait to get rid of him."