Beyond 'I'm Sorry': 5 Ideas to Help Make Obamacare Work
Sure, the president apologized to those whose insurance has been canceled. But fixing the new program will take more than words.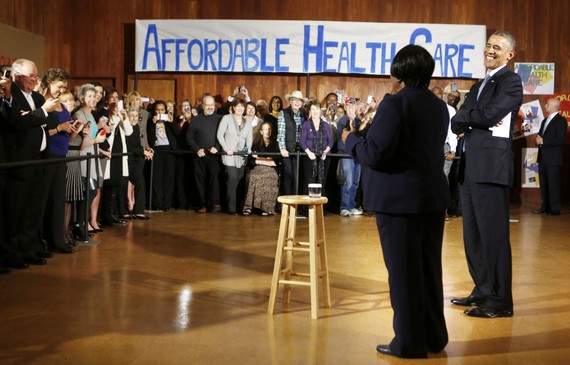 President Obama sat down with Chuck Todd on Thursday to issue a remarkable apology for misleading Americans by promising repeatedly "if you like your health plan, you will be able to keep your health plan" under the Affordable Care Act.
"I am sorry that they are finding themselves in this situation based on assurances they got from me," he said, addressing those in already in the individual health-insurance market whose plans are being canceled.
"We've got to work hard to make sure that they know we hear them and we are going to do everything we can to deal with folks who find themselves in a tough position as a consequence of this," Obama said.
The Huffington Post quotes an administration source saying the White House is "looking at an administrative fix for the population of people in the individual market who may have an increase in premiums, but don't get subsidies"—namely, finding a way to help subsidize the transition to more expensive plans for households that earn more than 400 percent of the federal poverty level, which would otherwise be ineligible for assistance.
That could go a long way to solving the White House's latest political problem with Obamacare. But it will take more than a financial fix to ease the transition overall, as helping these folks is far from the only challenge the ACA rollout faces on the ground.
Insurance policy is inherently fraught because it lies at the intersection of two of the most profound sets of human anxieties: those that attend being sick, weak, and no longer the master of your own fate—and those about finances, value, and worth. That's one reason it's so hard for people to talk about it calmly, and why there will need to be greater public and private efforts to reassure Americans as they confront the changed markets of 2014.
Here are five ideas that could help fix the Obamacare rollout:
1. More Handholding for People With Canceled Plans: The first and most urgent problem is helping people with existing insurance that's being canceled to move to new plans they can afford. Taking the Hippocratic Oath as a model, the priority has to be: First, do no harm. It's not OK if people who are having their plans cancelled don't enroll in a new plan by December 15 because they cannot afford one (or have to pay a lot more) or because they cannot use the website to find one. Unless they select or accept new plans, there will be people who will lose their insurance January 1, thanks to the private-market changes unleashed by Obamacare. A bigger risk is that a lot of people who don't need to be in very expensive plans will accept being rolled over into them by their insurers because they don't know they have any choice. Every effort has to be made to minimize the size of both these populations.
Fixing Healthcare.gov's problems and getting assistance to the people who don't qualify for subsidies would go a long way to solving the issue of people with canceled plans. But it still will not be enough. What's clear from the rash of Obamacare horror stories that have on closer examination proved untrue is that people need more handholding through this process of moving from their old health plans to new ones than the government is providing.
There needs to be a communications and transition-assistance effort targeted just at them—whether it's a special subset of operators on the 800 number, a separate number just for them, or a special web page that routes customers with canceled plans to guides who can help them get new affordable ones. Besides, the group is likely to be healthier than average, since so many of them had plans that excluded those with pre-existing conditions, so it will be good for the exchanges' long-term viability to enroll as many of them as possible quickly.
2. Enroll "Young Invincibles": The second most urgent problem is getting enough young healthy people into the exchanges to keep rates low in 2014. Between Healthcare.gov's technical troubles, the complexity of signing up through the exchange sites, and the fact that many of the uninsured are not the most civically engaged people in America, it's no surprise that most of the uninsured haven't even visited a single exchange website. It is going to take a lot to get them insured.
To get the young people whom the system needs to succeed into the exchanges will require more than just "navigators" and microtargeting key populations. Fortunately, if the Obama campaigns in 2008 and 2012 were good at anything, it was turning out and engaging young people, and that knowledge ought to be deployed in the campaign to sign people up for insurance, too. The campaigns made electing Obama a community project and a community conversation that involved meeting people where they were to talk about politics and voting. It involved barbershops and hair salons, coffee shops, laundromats, community organizations. Getting the insurance equivalent of low-information, unlikely-turnout voters to sign up for insurance—something much more complicated than going to the polls—will require tremendous work.
Just as Obama for America led the charge in 2008 and 2012, someone has to lead the charge to turn the conversation about getting insurance into something as engaging as the one about electing the president. OFA's "Healthcare for the Holidays" campaign to talk about insurance with your family at Thanksgiving is a good start. But OFA today is tiny compared to its size during the campaign cycles; for a campaign to work it will have to be enormous. And it will have to be strategic. Where are the office hours with navigators in high-profile communities of trendy young people? The Twitter Q & A sessions? The Reddit AMAs? The uninsured and the influential young aren't always the same people, but you're more likely to get the first if you've also got the second on board.
3. Make the Most of Medicaid Expansion: The expansion of Medicaid is both one of the greatest struggles and one of the high points of the system so far. The administration has actively pushed red-state governors to approve Medicaid expansions—the one area where there seems to be a concerted effort that's working. Working with every state that has agreed to a Medicaid expansion to create an Oregon-like opt-in system seems like the best way to go. If half of the uninsurance problem is going to be solved by expanding Medicaid anyway, and patients can be easily identified and enrolled without ever touching Healthcare.gov, they should be. This would help millions of people and be a surefire way to make Obamacare about more than a website.
4. Learn From the Best State Exchanges: While trying to fix Healthcare.gov, the administration should undertake a separate effort to see if it can reproduce the most successful state sites, so that as many states as possible can move out of the federal system before the next open enrollment period begins in October 2014. Some of the state-level exchanges have better tech than others—which is what you'd expect in the laboratories of democracy.
5. Get the Word Out: There needs to be a communications SWAT team to help make the ACA sites and information as easy to understand and accurate as can be. This can't be a traditional communications project geared toward managing the media—between the White House and HHS, there are enough people doing that—but rather a consumer-experience-oriented one focused on managing the forms, instructions, and private-sector efforts designed to help people understand how to get insurance through ACA and how to fill out the forms. If there are private-sector sites giving out incorrect information, someone should respond to them. If the online forms in a given state are hard to understand, someone should make sure they get corrected. If there need to be instruction manuals for how to apply—not just FAQs, but paper-and-ink ones people can underline and highlight and dog-ear—someone should publish them.
Nothing will ever take away the anxiety and passion people feel when it comes to dealing with their health insurance, because of what the product itself is designed to do. But a program of greater communication and more handholding all around might help reduce the drama, while helping the ACA fulfill its mission of expanding insurance coverage across America.