Baucus Floats Ways to Close Tax Loopholes for Overseas Businesses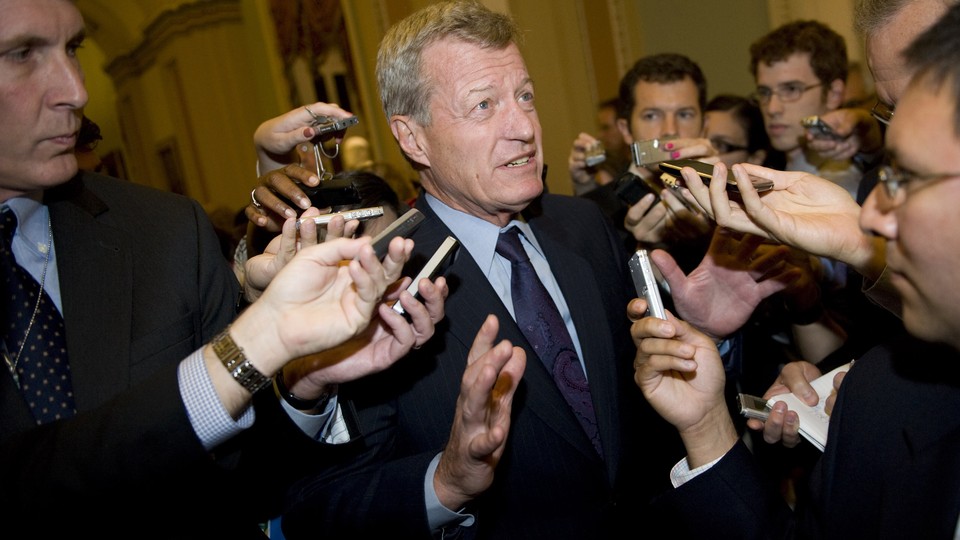 Senate Finance Committee Chairman Max Baucus on Tuesday unveiled a sweeping package of proposed tax-code changes targeting corporations that do business overseas, including calling for a minimum tax on the income they earn worldwide.
The plan is the first of three drafts touching on revising aspects of the tax system that Baucus is to release this week. It comes after House Republicans last week indicated their tax-reform efforts — led by Ways and Means Committee Chairman Dave Camp — have been put on hold, at least for the rest of the year, and the prospect of any actual movement toward a tax revamp soon is unlikely.
Baucus's release of his proposal for "international tax reform" also follows a closed-door meeting with other senators on the Finance Committee. It is a response to the general notion that current law creates too many incentives for multinational corporations to invest and create jobs overseas. About $2 billion in U.S. corporate earnings are estimated to be parked overseas.
The Baucus draft describes some of the objectives of the proposals, which include reducing incentives for U.S. and foreign multinationals to invest in or shift profits to low-tax foreign countries; reducing incentives for U.S.-based businesses to move abroad; and simplifying the tax rules so that firms with the most sophisticated tax advisers are not advantaged.
Under current law, U.S. companies owe taxes at a full federal rate of 35 percent on all income earned worldwide. But they can defer U.S. taxation until they repatriate the money. Baucus's plan to restructure the international tax system would lower the corporate rate by an unspecified amount.
But the draft includes two options for taxing income from products and services sold into foreign markets.
One would be a minimum tax that immediately taxes all such income at 80 percent of the U.S. corporate tax rate with full foreign tax credits, coupled with a full exemption for foreign earnings upon repatriation. Another is a minimum tax that immediately taxes all such income at 60 percent of the U.S. corporate rate if derived from active business operations, but at the full U.S. rate if not, coupled with a full exemption for foreign earnings upon repatriation.
Some corporations have been calling for a "tax-repatriation holiday" to bring those stockpiled earnings parked overseas back to the country. The proposals in the draft don't do that. But they also would make earnings of foreign subsidiaries from periods before the effective date of the proposal that have not been subject to U.S. tax subject to a one-time tax at a reduced rate of, "for example, 20 percent payable over eight years," it says. That could produce a onetime revenue shot for the U.S. Treasury of about $200 million, according to some estimates.
The two other draft proposals Baucus is expected to release this week will touch on tax administration and capital-cost recovery.
Treasury Secretary Jacob Lew said at a Wall Street Journal conference Tuesday morning that he had discussed the draft with Baucus on Monday, and he praised the chairman for putting forward a plan that "shares some significant characteristics with the president's framework," while including provisions that he hopes will find support among both Republicans and Democrats.
Lew said that such a plan to "deal with the disparity between the U.S. and international tax rates" could provide a "shot in the arm" to the American economy. Lew suggested using that onetime revenue to make critical investments in infrastructure. "It would build a foundation for a strong growth and job-creation economy," he said.