Another Anti-Obamacare Amendment Lurks in the Senate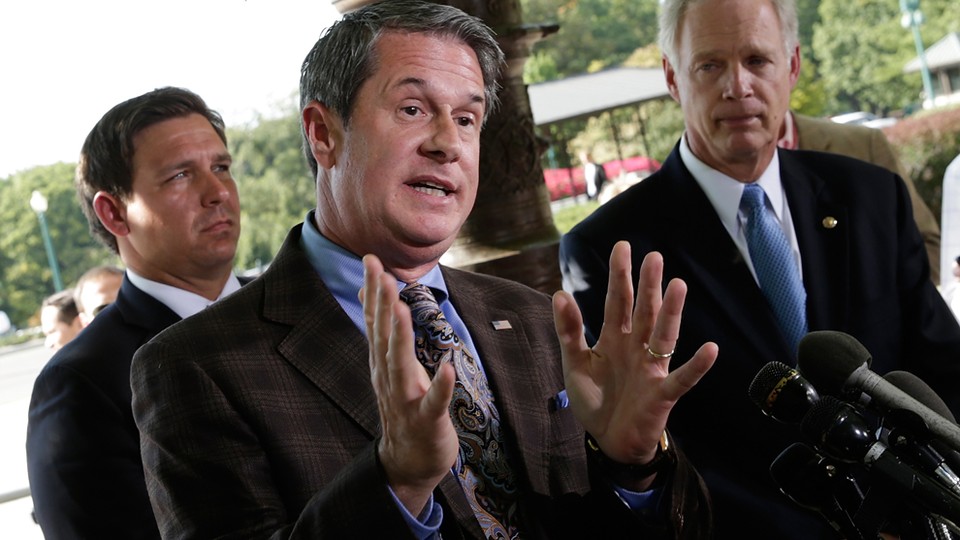 Say goodbye — for now — to the "Full Vitter" and hello to the "Show Your Exemption" amendment.
Sen. David Vitter, R-La., is once again threatening to hold up a bipartisan bill over an Obamacare amendment. But this time, it does not involve his proposal to curtail health care benefits for members of Congress and their staffs — or the "Full Vitter," as it was dubbed during the government shutdown. Rather, he's calling for a vote on a bill that forces members of Congress to disclose how their staffers get health insurance--to "Show Your Exemption," as Vitter puts it.
He's preparing to wage the fight during debate on one of two bills expected to hit the floor before Thanksgiving, a House-passed drug-compounding bill or the defense authorization bill. "That's going to be a key priority of mine," Vitter said on the floor Thursday. "Those are probably going to be the only opportunities for a vote this calendar year."
Earlier in the week, Senate Democratic leaders had offered to let Vitter propose his amendment on the drug-compounding bill if he would not try to attach it to any other bills. But no agreement has been reached yet. Rather than sink the compounding bill, leadership could just run out the cloture clock to get the bill through — which means it won't die, but be delayed.
Increasing regulation over pharmaceutical drug compounding arose as an issue after more than 60 people died and hundreds were left sick last year from tainted steroid injections produced at a Massachusetts compounding center.
Senate Health, Education, Labor, and Pensions Committee Chairman Tom Harkin, D-Iowa, told National Journal Daily that the agreement with Vitter "doesn't seem to be holding right now," and he hopes the Senate can move ahead with the compounding bill next week.
Harkin, who was riding the Senate subway car, then turned to Sen. Cory Booker, D-N.J., to explain the state-of-play to the new senator: "Hey Cory, here's the situation: The House passed this bill on voice vote. We passed it unanimously out of my committee. It's sitting at the desk. It would pass on a voice vote out of the Senate, but for one senator."
This isn't the first time Vitter has blocked or slowed bipartisan legislation with bills concerning federal workers' health benefits, but this time his ambitions are smaller.
Members of Congress and congressional staff are required to buy coverage through the Affordable Care Act's new insurance exchanges, rather than the system the rest of the federal workforce uses. The law defines "congressional staff" as employees of "the official office of a member of Congress" — a definition that appears to cover lawmakers' personal offices, but not necessarily leadership and committee offices.
Rather than try to define an "official office," the federal personnel agency left it up to each member of Congress to decide which staffers are official and thus are required to use Obamacare's exchanges. Staff not designated as "official" can remain in the system for federal employees.
Vitter's "Show Your Exemption" amendment would require lawmakers to disclose their "official" designations, so the public could see which staffers use which system.
It's a big step back from Vitter's other proposal, which has frustrated lawmakers and staff from both parties. The "Full Vitter" would prevent the federal government from helping to cover the cost of health care benefits for lawmakers and staff.
The last go 'round with Vitter's Obamacare amendment was on a bipartisan energy bill that Senate Majority Leader Harry Reid, D-Nev., eventually pulled off the floor in September. House Republicans also floated the "Full Vitter" as a possible concession in return for reopening the government and raising the debt ceiling, but the idea went nowhere in the Senate.
The government, like nearly all large employers, contributes to its employees' health care plans. Vitter, who has his eye on the governor's mansion in Louisiana, wants to strip that contribution for lawmakers and staff.
Vitter's efforts to attach his amendment to unrelated, bipartisan bills are not earning him friends in the Senate. Sen. Lamar Alexander, R-Tenn., the ranking member of the HELP committee, wants a vote on the compounding bill "as soon as possible, and expects strong support for the legislation," said Alexander spokeswoman Liz Wolgemuth. "The FDA commissioner has warned that a crisis like the meningitis outbreak will happen again unless Congress clarifies oversight of compounders."