Amy Klobuchar for President?
"You notice that was not a denial, right?"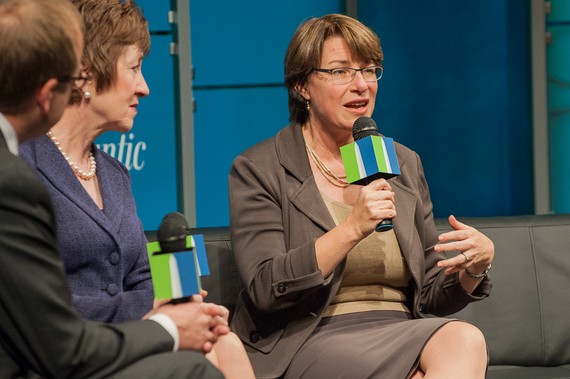 The big political story of the week, apart from the Obamacare enrollment numbers, has been speculation about whether Massachusetts Senator Elizabeth Warren will challenge Hillary Clinton and make a play for the Democratic presidential nomination—or at the very least transform the race for the eventual nominee.
ABC News' Jonathan Karl raised that question with Senators Susan Collins (Maine Republican) and Amy Klobuchar (Minnesota Democrat) during an afternoon session at the Washington Ideas Forum.
"Democratic women senators all signed this highly secret letter—that we all know about—encouraging Hillary to run for president. How hard was it to get to get Elizabeth Warren to sign?" asked Karl.
"I don't think it was very hard. I think people are very excited about the possibility of [Clinton] running, and so it's no surprise we all signed a letter, including Elizabeth, asking her to run," said Klobuchar.
Karl asked about the level of party-wide support for the former New York senator and secretary of state, and whether there would be almost a primary by acclimation. "I don't have a crystal ball, but there's clearly growing Democratic support for her," Klobuchar said. "I just did the Arizona Democratic dinner on Saturday night and I've been around the country doing these things and there's a lot of positive support for her."
"And if she doesn't run, Amy Klobuchar runs for president?" Karl asked.
"I'll be working very closely with Susan Collins on many bipartisan solutions," Klobuchar deadpanned, smilingly avoiding the question.
"You notice that was not a denial, right?" Karl remarked, turning to Collins.
"I did," Collins said knowingly. "You'll notice she's traveling all over the country. Did you pick that up?"