America's Most Dangerous Workplace Isn't Where You'd Expect
Fishing boats and coal-mine accidents grab headlines, but far more workers are getting hurt in a quieter, calmer place.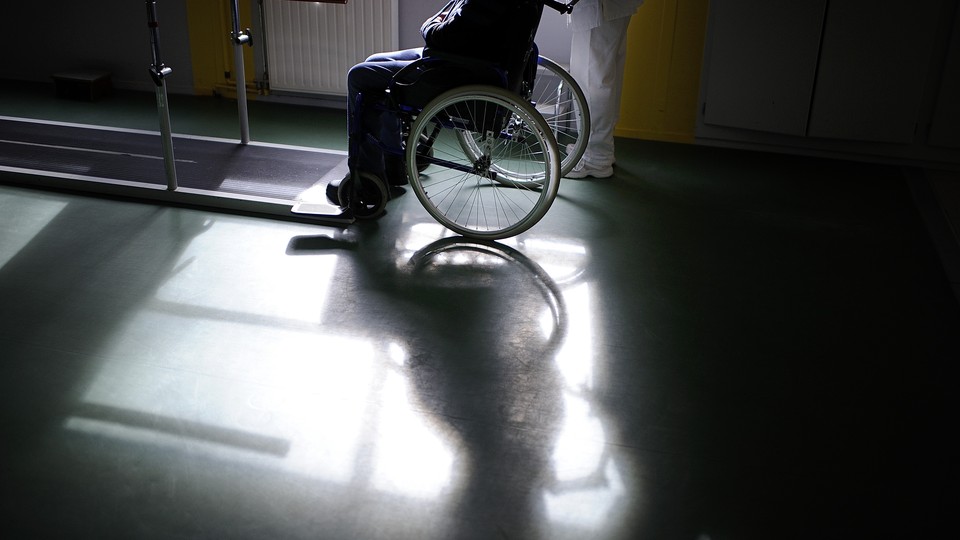 Nursing-home workers don't risk drowning like Arctic fishermen. Nor do they face being trapped in collapsed coal mines or crushed by heavy machinery. But, at least by one measure, nursing homes are the most dangerous workplaces in the nation.
More than 7 percent of full-time nursing-home employees suffered a nonfatal workplace injury or illness in 2012, according to Bureau of Labor Statistics data released Thursday. The injury rate was even higher at nursing facilities operated by state governments, where 13.1 percent of full-time workers experienced an illness or injury.
Private sector nursing homes' injury rate (7.3 percent, to be exact) is more than three times the rate of miners (2 percent), and double that of construction workers (3.6 percent).
Nursing-home dangers garner less public attention — and infinitely fewer shows on the Discovery Channel — than other industries, because the injuries occur in far less dramatic fashion.
The leading cause of injuries are muscular or skeletal disorders caused by the repeated lifting and moving of patients, said Barbara Dawson, president of the American Industrial Hygiene Association.
The workers also risk contracting patients' diseases — including HIV and hepatitis — if they are stuck by exposed needles. In addition, nurses and other industry employees face exposure to tuberculosis and other airborne diseases, which are especially common among nursing-home patients.
Dawson said new and better beds at nursing homes are helpful in addressing the risks of moving patients. And in a further bid to reduce the injury rate, Rep. John Conyers, D-Mich., introduced legislation that would direct the Labor Department to set standards to protect workers.
The BLS data released Thursday also underscore the difficulty of determining the danger prevalent in each workplace. The data do not reflect the severity of an injury, and include nonfatal incidents.
Nine nursing-home workers were killed on the job in 2012, according to BLS data released in August. Thirty-four workers in the commercial fishing industry were killed during that span, as were 38 miners and 25 oil- and gas-drilling employees.