Alabama Derailment the Latest Oil-by-Rail Flashpoint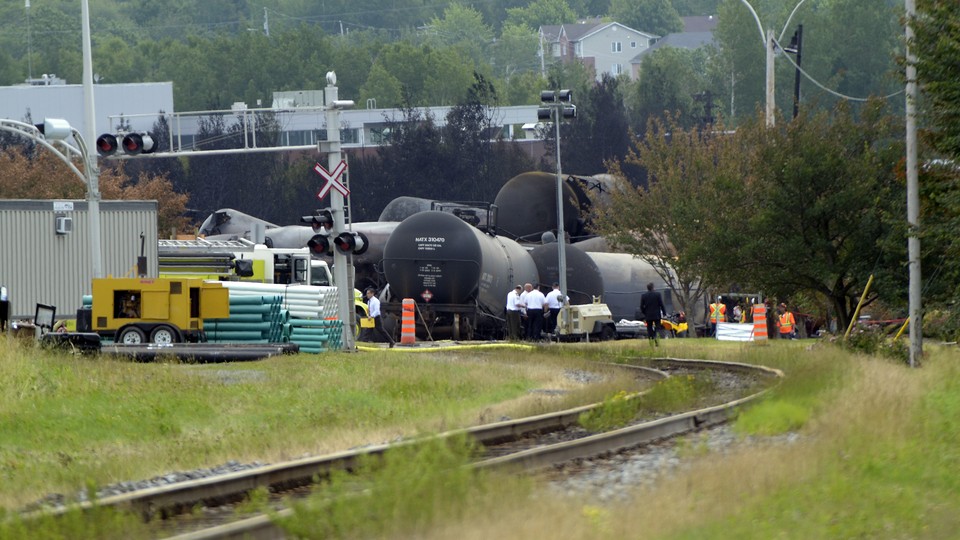 Friday's derailment of a crude-oil train in Alabama is the latest in a series of incidents that have put increasing scrutiny on rail-safety standards and prompted pipeline advocates to call for expansion of that method of oil transportation.
No injuries were reported in the rural derailment, but 11 cars were left burning with flames shooting 300 feet into the air. Several Canadian derailments earlier this year prompted tightened safety standards, but some say that's not good enough. Greenpeace Canada's Keith Stewart told National Journal that rail transport of oil has "been unsafe since the 1990s."¦ [But the cars] continue to be used."
While Stewart sees that as a reason to invest in renewable energy, others are calling for an increase in pipelines. "Pipelines are safer than rail," Association of Oil Pipe Lines President Andrew Black said in an interview last month. "There are fewer pipeline incidents per tons of crude oil moved."
That number is skewed, said Holly Arthur, spokeswoman for the Association of American Railroads, because pipelines are not held to the same stringent reporting standards as railroads. "At the end of the day, pipelines spill more of the material than do railroads," Arthur said. "Both modes are incredibly safe."
The safety debate shows no signs of stopping, but it's unlikely that will stop pipeline advocates from citing the latest derailment as an example of why projects like the Keystone XL pipeline should be approved. And while that argument continues — and more pipelines are stalled — more and more oil will continue moving through the U.S. by rail.