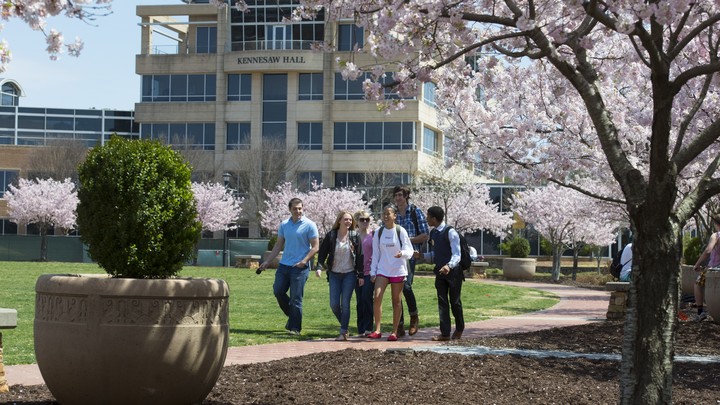 Stephanie M. Foote intimately understands the challenges to adjusting to college. After a dismal freshman year, she had to transfer from Winthrop University in Rock Hill, S.C., to Coastal Carolina University — a jarring experience for a high school student who had found getting good grades rather easy.
Since that humbling experience, she has dedicated her life to addressing the issues of adjustment and retention of first-year collegians. Now an education professor at Kennesaw State University, 25 miles north of Atlanta, she works in its Department of First-Year and Transition Studies and is directing the launch of a master's of science degree in first-year studies that will start in autumn 2015. For 11 consecutive years, U.S. News & World Report has ranked Kennesaw State in the top 10 for first-year programs.
Nationally the trends are for an increasingly diverse student body, including a rise in first-generation collegians and community college transfers. For instance, 69 percent of Hispanic high school graduates last May are in a two- or four-year program this fall, up 30 percent since 2000. Accompanying that demographic infusion is the need to offer programs and services to ensure the social and academic success of students from varied cultures and socioeconomic backgrounds.
The title of Foote's 2009 University of South Carolina dissertation was "A Multi-Campus Study of the Perceived Effects of First-Year Seminars on the Experience of Students in Their First Semester of College." Previously she directed the Academic Success Center and First-Year Experience at the University of South Carolina (Aiken) and now edits the Journal of College Orientation and Transition.
This interview, conducted by Jody Brannon, has been edited for length and clarity.
The idea of the new graduate program is rooted in our culture. My department is unique because we have tenured and tenure-track faculty dedicated to teaching first-year seminars, one of the few — two that we are aware of in the country. [The four seminar choices required of students with fewer than 30 credit hours emphasize "life skills, strategies for academic success, campus and community connections, and foundations for global learning."]
Stephanie Foote is an associate professor in education at Kennesaw State University and director of its forthcoming master of science program in First-Year and Transition Studies. (Courtesy photo)Our former president, Betty Siegel, [who stepped down in 2006] was the catalyst for the development of my department in 2007, and in many ways, the graduate program acknowledges her vision for student success and especially for first-year students.
Although the transition to the first college year has long been a concern in higher education, the growing body of empirical evidence demonstrates that the first year really matters. And one key to making a difference at this critical point is to train faculty and staff in more meaningful ways.
As we were developing the curriculum for the new graduate program, we drew on research, best practices, as well as the interdisciplinary faculty in our department. Additionally, we looked to our institutional history and what was happening on a state and local level and thought about how that might influence efforts aimed at helping first-year students in the future.
Historically, we are an institution that has served all students — traditional and nontraditional. Increasingly, we are working to meet the needs of a diverse student body — a mix of first-generation, continuing adults, and at-risk or educationally vulnerable students. In Georgia, like many other states, we have fewer traditional students in the pipeline. We have programs to support these students, as well as transfer students, students of color, veterans, and students who might be considered "in the middle" — those not being served because they aren't the highest achieving students or those most at risk.
Over the last several years, I've had an opportunity to look closely at these other populations of college students in transition [the culmination is her book College Students in Transition: An Annotated Bibliography], and I've come to the conclusion that as the paths to and through higher education become more diverse, it will be important to broaden our perspectives and approaches to working with these students. It's simply not enough to give students access to higher education. As an institution we feel a great deal of responsibility, not to just retain students but to act seriously in the area of success.
With all of these changes and the movement toward more accountability, which is evident at the national [Complete College America program] and state levels, this is an important time in the history of higher education and in the emerging discipline of first-year studies. For all of these reasons, I'm excited to have the opportunity to launch this new graduate program for prospective faculty and staff that will be working with and teaching first-year students as well as other populations of students in transition. Our students will learn about the challenges of the initial college transition, develop skills and knowledge needed to create and manage curricular and co-curricular programs that respond to these challenges, and engage in research that potentially extends the discipline of first-year studies.
In many ways, directing this graduate program is the culmination of my life's dedication to first-year students and student success that began when I failed my first year of college. Although it was the first time I had truly failed at something, I realized it was an important experience for me. Through this process of failing, I learned about my real motivations and aspirations. For some of us, we need to have failure to truly understand and appreciate success.
All in all, I was lucky to have had this experience because it led me to this profession and to the discipline of first-year studies. As a college senior, I even wrote a capstone paper about first-year seminars — and it was then that I knew it would be my area. In graduate school, I was fortunate to have worked for and studied under some of the leading scholars in first-year studies. It's fulfilling to think that through the graduate program at KSU, I might now have an opportunity to pay forward some of the mentoring I received while making a lasting contribution to a discipline that means so much to me.
'MY VIEW' OF THE NEXT AMERICA
Are you part of the demographic that is the Next America? Are you a catalyst who fosters change for the next generation? Or do you know someone who is? The Next America welcomes first-person perspectives from activists, thought leaders and people representative of a diverse nation. Email us. And please follow us on Twitter and Facebook.
'MY VIEW' OF THE NEXT AMERICA
Are you part of the demographic that is the Next America? Are you a catalyst who fosters change for the next generation? Or do you know someone who is? The Next America welcomes first-person perspectives from activists, thought leaders and people representative of a diverse nation. Email us. And please follow us on Twitter and Facebook.
---
Jody Brannon contributed to this article
We want to hear what you think about this article. Submit a letter to the editor or write to letters@theatlantic.com.