Would Obamacare Delays Make Any Difference?
Here's a guide to understanding what's going on with Obamacare, who wants to delay what — and whether any of it would have an impact.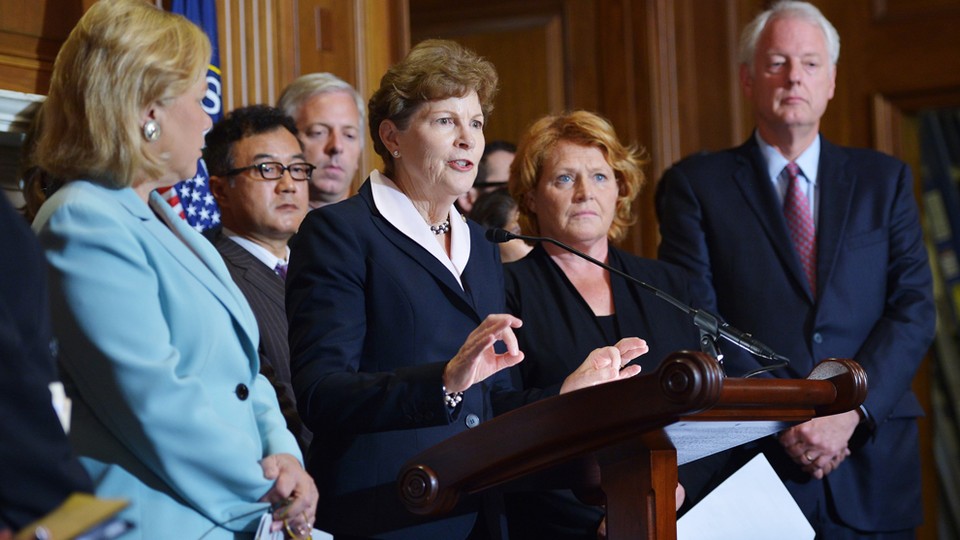 The various proposals to delay Obamacare are almost as confusing as the law itself.
Members of Congress are in a frenzy over the problems plaguing HealthCare.gov. Republicans are reheating their calls for delays as they try to capitalize on the Health and Human Services Department's terrible public relations, and Democrats, seeking political distance from the botched rollout, are floating their own set of delays.
Toss in a poorly understood announcement from the White House last week and it's easy to see why analysis of the way forward is often confused. Here's a guide to understanding what's going on, who wants to delay what — and whether any of it would make a difference.
Option 1: Delay the individual mandate. The Affordable Care Act requires most American taxpayers to either buy insurance or pay a tax penalty. Some lawmakers — mostly Republicans, but also Sen. Joe Manchin, D-W.Va. — have proposed delaying the mandate for a year. That means the requirement to buy insurance wouldn't apply for that period, and the government also wouldn't collect penalties from people who remain uninsured.
While lawmakers have called for a one-year delay, a mandate delay could be as short as a month or two, or less.
A long delay of the individual mandate, on its own, doesn't make much sense as a way to make up for the slow start to enrollment. The point of the mandate is to bring young, healthy people into the system to offset the costs of guaranteeing coverage to sick people.
Removing the mandate in the first year would not itself give consumers more time to buy insurance, and would actually make it easier for people, especially young people, not to sign up for coverage. That's not what Democrats need to make Obamacare work.
"The only reason to delay the mandate is out of a sense of fairness," said Austin Frakt, a health care economist at Boston University. "It doesn't help the market in any way."
Frakt said the Obama administration could delay the mandate on its own, without congressional approval, because the law includes an exemption for anyone who has experienced a "hardship" applying for coverage. The inability to sign up online would probably count.
Option 2: Extend the open-enrollment period. The Affordable Care Act provides a six-month window for people to sign up for coverage in the first year. It began on Oct. 1 and ends on March 31. A defined enrollment window was included to prevent people from simply signing up for insurance on their way to the doctor's office — or, worse, the emergency room.
(There are exceptions for people whose circumstances change at another point in the year — for example, if they have a child they need to insure, if they get married, or if they become pregnant.)
Sen. Jeanne Shaheen, D-N.H., and a handful of other Democrats are calling on the administration to extend the enrollment window, allowing consumers to buy insurance later than March 31. Some have suggested a two-month extension, or one that simply lasts as long as HealthCare.gov continues to have problems.
"Extending this period will give consumers critical time in which to become familiar with the website and choose a plan that is best for them," Shaheen wrote in a recent letter to HHS Secretary Kathleen Sebelius. "Individuals should not be penalized for lack of coverage if they are unable to purchase health insurance due to technical problems."
Extending the enrollment period without delaying the mandate would mean consumers who missed the mandate deadline could still enroll, and would simply pay a penalty for each month they remained uninsured after Jan. 1.
Extending the open-enrollment window would require congressional approval, Frakt said.
Option 3: Do both. As of now, the end of the enrollment window is March 31. The cutoff to avoid paying the individual mandate's penalty will also be March 31, the White House has said. Most health policy experts say that if the enrollment window is eventually extended, it only makes sense to push back both deadlines together.
Mismatched deadlines have already caused plenty of confusion. The cutoff for the individual mandate was initially set for Feb. 15 — meaning there was about a six-week period in which people were allowed to buy insurance but could have been fined anyway.
That didn't make a lot of sense, so the White House announced that it would push the mandate cutoff to March 31.
Even that small change touched off reports of "delaying the individual mandate," though the actual change was simply technical. But we'll probably have to go through that all again if the White House decides to extend the open-enrollment period.
Option 4: Do nothing. If the administration can get HealthCare.gov on track by the end of November, it might not need to worry about the optics of any delays.
"Unless there is far more disaster than the administration is admitting right now, it would be a really bad idea to delay, and cause more problems for insurers nervous already about what kind of risk pool they're drawing from," said Tim Jost, a Washington and Lee University law professor and a supporter of the Affordable Care Act. "On the other hand, if no one can get through [the] site, I'm sure insurers would prefer [to delay]."
Jost and Frakt said that if HealthCare.gov is functional by its new deadline, people will still have plenty of time to sign up for insurance. Some might miss the Dec. 15 deadline for a policy that takes effect on Jan. 1, but will still have three full months to sign up. That should be enough time, they said.
{{ BIZOBJ (video: 4532) }}