Will the Left Turn on President Obama Like the Tea Party Did on President Bush?
He has transgressed against liberal and progressive values. His supporters are likely to see that more clearly once he leaves office.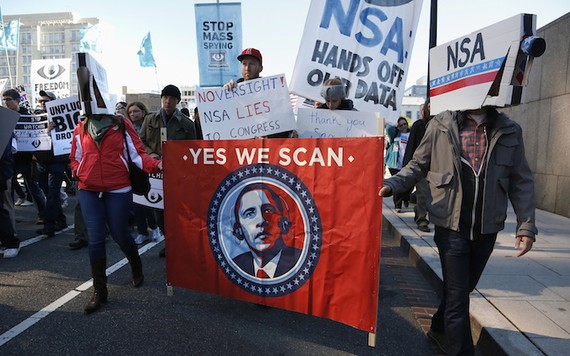 During President George W. Bush's tenure, most Republicans felt that criticizing him would just help Democrats. Only the end of his presidency freed them to see its flaws clearly. Staunch conservatives who voted for him twice suddenly found themselves swept up in a Tea Party rebellion against his team's approach to governing. They felt chagrin at the ways he had transgressed against their values, and they resolved to change the GOP so that the same mistakes would never recur.
Will some Democrats behave similarly when President Obama leaves office? Right now, most feel that criticizing the White House can only help House Republicans. But one day soon they'll be able to look back at Obama's two terms with clearer eyes. How many will feel chagrin at policies that transgressed against their values? How many will pressure their party's establishment to change?
We may start finding out during the Election 2016 primaries.
What will the Democratic Party's next presidential nominee say about a drone policy that killed hundreds of innocents without acknowledgement, apology or compensation?
About the precedent of putting U.S. citizens on a secret kill list?
About the NSA spying on virtually all Americans?
About the pre-trial treatment of Bradley Manning and the persecution of whistleblowers?
About indefinite detention that persists to this day at Guantanamo Bay?
Hillary Clinton is poised to be the candidate of continuity. Like Bush and Obama, she would govern as an executive-power extremist, is implicated in the civil-liberties transgressions of recent years, and would almost certainly seek to expand rather than rein in post-9/11 powers given to the national-security state.
Will she be acceptable to liberals and progressives? Perhaps. Democrats will have an incentive to suppress this debate during the 2016 election cycle. If Hillary Clinton wins, they'll have an incentive to keep suppressing it. I don't know whether the party's progressive wing would allow that to happen or not. The aftermath of a Republican win in 2016 is easier to predict: Democrats would become more vocal about national-security state excesses, put a higher priority on civil liberties, and worry more about executive power.
Circa 2005, few Tea Party Republicans could conceive of how they'd feel about Bush and his record just a few years in the future. I wonder how good today's Democrats are at anticipating how they'll ultimately feel about Obama's presidency.