Why the Government Shutdown Isn't Anywhere Near Over—in 1 Graph
Two parties, divided by a common loathing
Americans are perfectly, identically, symmetrically split on whether the GOP is justified in demanding major changes to Obamacare in exchange for funding the rest of the government, according to a new Pew Research poll. It's just another reason why this shutdown isn't likely to end any time soon.
Asked whether Obama should agree to a shutdown deal that includes changes to his health care law, the "yes" responses among Republicans, Independents, and Democrats went 77 percent-40 percent-18 percent. Asked whether the GOP should agree to a deal to fund government without health care changes, the R-I-D responses were practically palindromic: 14 percent-43 percent-75 percent.
Now in pretty-picture form: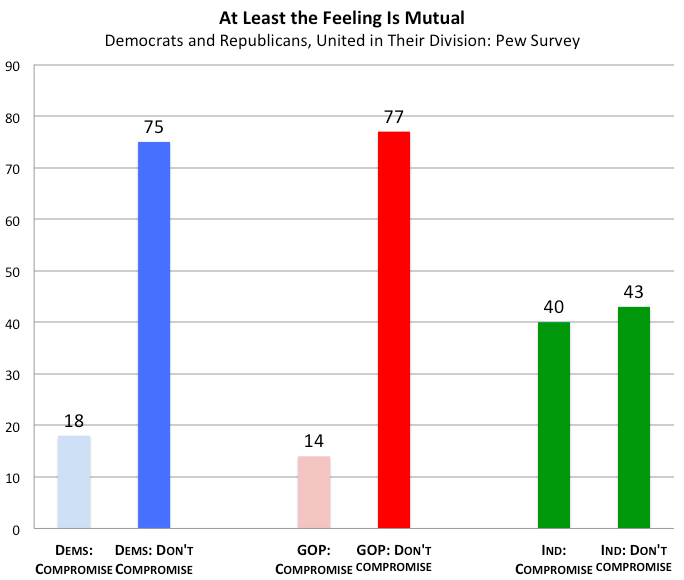 As Molly Ball reported today, Democrats told pollsters for The Economist that they value compromise, much more than Republicans conceded. But in this specific debate, at least one poll has Americans practically perfectly divided on the issue of compromise.
This is a good time to recall that polls, while wonderful measures of what people think, are less perfect illustrations of what government should do — and the fact that politicians are motivated and self-justified by surveys doesn't mean the gyrations of public opinion should change anybody's mind about a policy debate. And if you want to know where I stand on the government-shutdown debate ...